Help find homes for some of the cutest, cuddliest pets around.
Aksys Games, the company behind Pretty Princess Magical Garden Island, launched Pups & Purrs Pet Shop on Nintendo Switch. The game is a follow-up to Pups & Purrs Animal Hospital, which was released on Switch in 2021.
Pups & Purrs Pet Shop is a management simulation game that allows players to manage a pet store where they can care for 18 breeds of adorable cats and dogs.
When players first begin playing Pups & Purrs Pet Shop, they'll be able to name their female character and customize her appearance by choosing from a variety of eyelash and eyebrow combinations, eye colors, hairstyles, and hair colors.
From there, players will go to work at the pet shop, where they'll meet their coworkers, Mai and Shun, as well as the store's owner, Yuko. To start, players will only be able to feed the animals that are for sale at the shop, but they'll unlock additional caretaking abilities over time, such as being able to shampoo an animal's fur, teaching animals to enter a pet carrier on command, and playing with animals using toys.
Over time, players will also unlock the ability to manage the overall shop, for instance, by running the register and vacuuming the floor, among other tasks.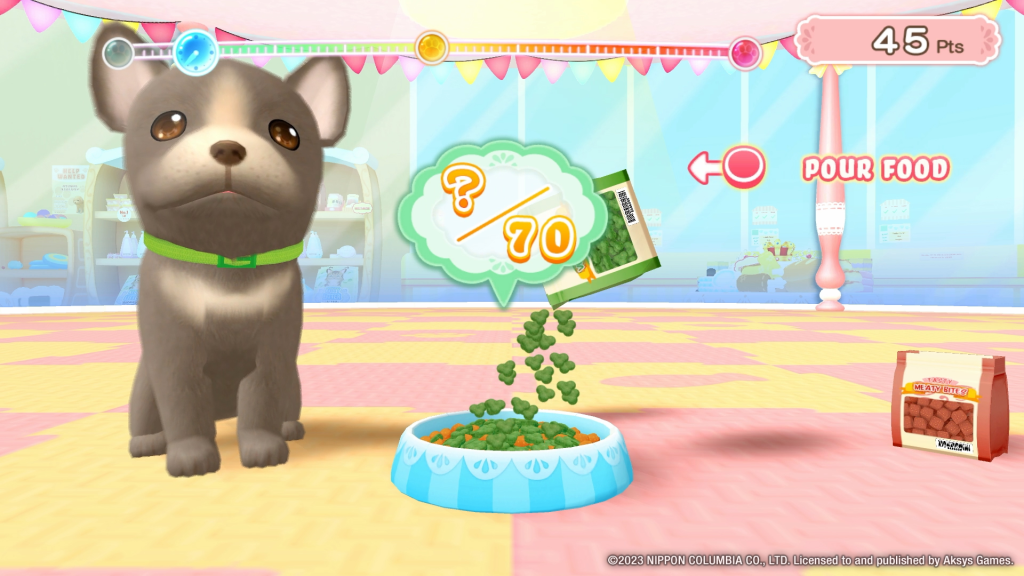 Players can complete these caretaking and management tasks by playing short mini-games. For instance, players can feed an animal by tilting the analog stick on their controller to mimic the action of pouring food from a bag into a dish. In this mini-game, players are challenged to stop pouring when the dish has the correct amount of food.
As another example, the cash register mini-game asks players to press the "L" and "R" buttons to rotate a hand scanner so it can scan the barcodes on the products a customer is purchasing.
Overall, Pups & Purrs Pet Shop features 20 different mini-games for players to try out.
At the end of each mini-game, players will earn points and up to three stamps based on their performance. The more stamps players earn during an in-game work day, the more Pups Purrs Points (the game's currency) they'll receive at the end of their shift. Earning higher scores will also cause players to unlock higher difficulty levels for the game's mini-games.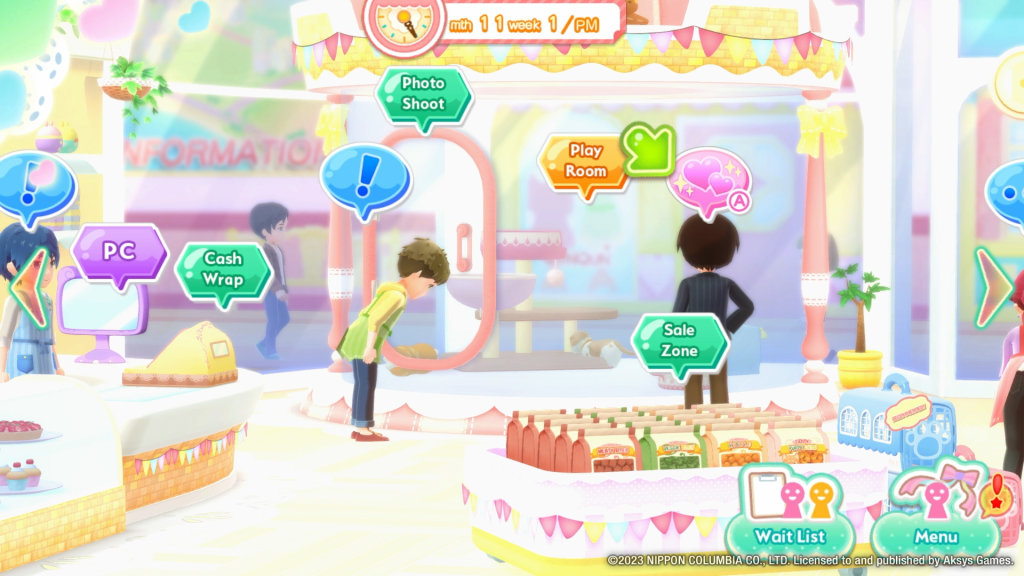 As players perform tasks around the pet shop, they'll be able to complete in-game challenges that will reward them with a variety of prizes, like accessories for animals to wear (such as bows) and items to decorate the shop's play room. For instance, one challenge asks players to earn a certain number of points on the cash register mini-game.
Players can also earn Pups Purrs Points by completing challenges. Players can spend Pups Purrs Points on new clothing and hairstyles for their in-game avatar, as well as on new pets that they can take care of and sell at the pet shop.
When players want to take a break from the game's Story Mode, they can return to the Main Menu and try the game's "Work Mode," which allows them to play the mini-games they've unlocked in Story Mode as many times as they'd like.
Pups & Purrs Pet Shop is now available on Switch for $39.99. The game is rated E for Everyone by the ESRB.
While Pups & Purrs Pet Shop is a kid-friendly game, players will need to know how to read to follow along with the game's story, or play alongside someone who can.