Celebrate Mega Pokemon.
Week Three of the Mega September event has kicked off in Pokemon Go! As part of this week's festivities, trainers can complete a new series of Timed Research tasks called "Mega Buddy Challenge," which will actually have an impact on the game's Halloween event in October.
Specifically, in a news post, Niantic, Pokemon Go's developer, said players can complete these tasks to have "a chance to unlock an exclusive Timed Research during this year's Halloween Event that features Mega Gengar for the first time in Pokemon GO!"
There are four sets of three tasks to complete in the Mega Buddy Challenge Timed Research. They'll be available to complete from September 22 at 8 a.m. local time until September 28 at 10 p.m. local time.
Here's what these tasks ask you to do and the rewards you'll receive for completing them!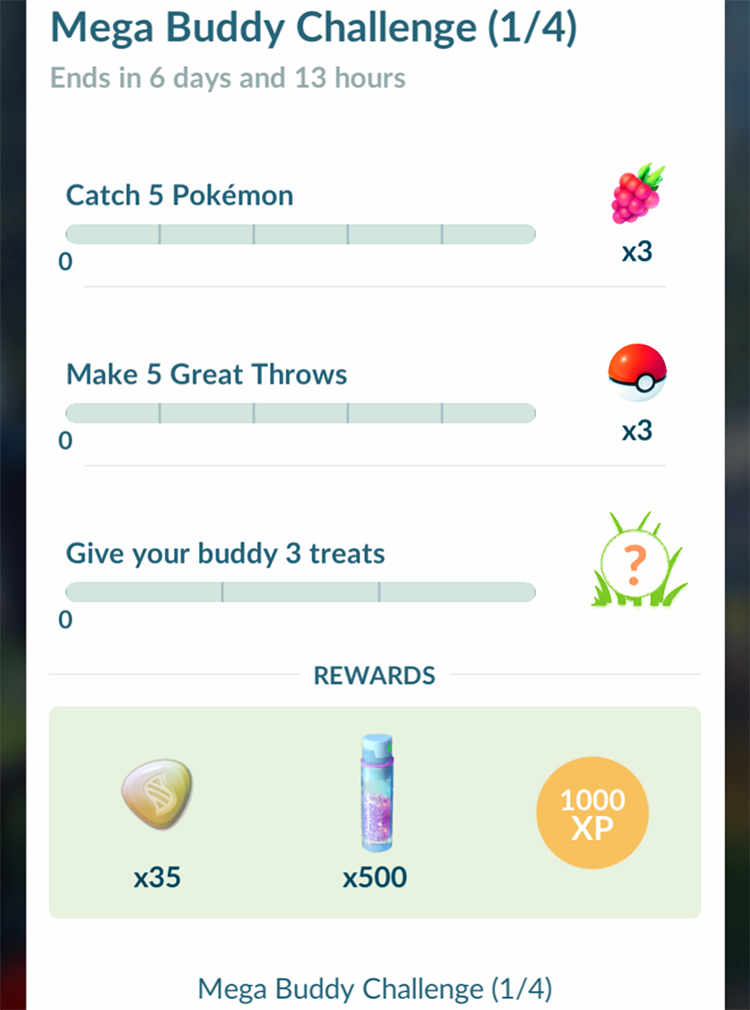 Mega Buddy Challenge Part 1
Catch 5 Pokemon – 3 Razz Berries
Make 5 Great Throws – 3 Poke Balls
Give Your Buddy 3 Treats – An encounter with Houndour
Final Rewards: 35 Beedrill Mega Energy, 500 Stardust, and 1,000 experience points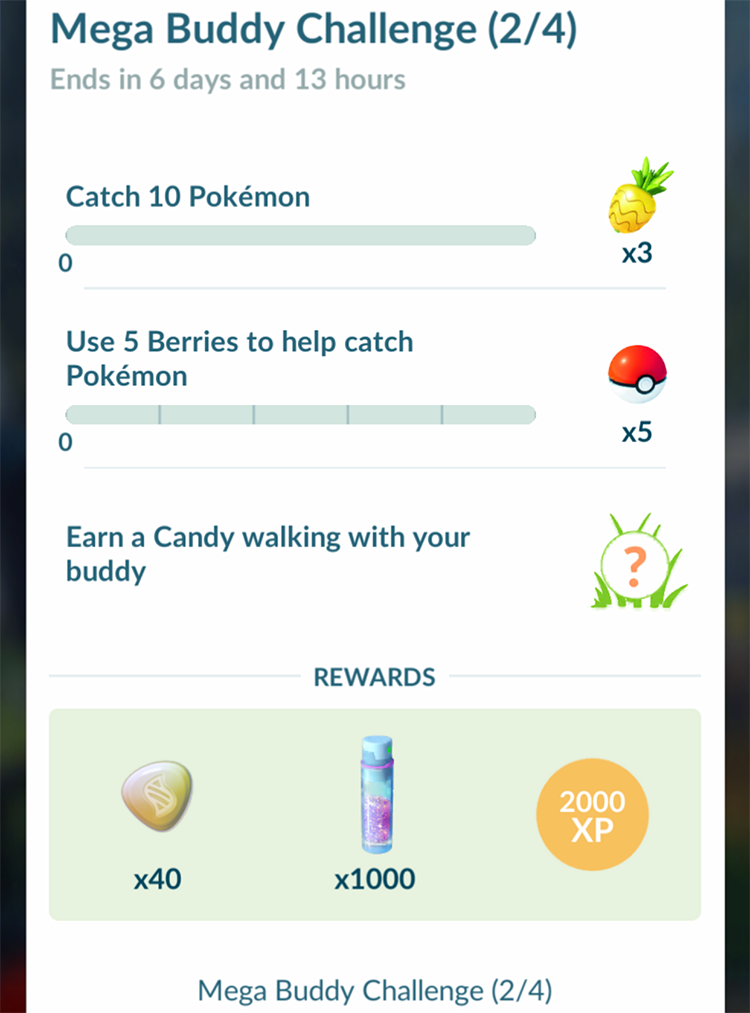 Mega Buddy Challenge Part 2
Catch 10 Pokemon – 3 Pinap Berries
Use 4 Berries to Help Catch Pokemon – 5 Poke Balls
Earn a Candy Walking With Your Buddy
According to The Silph Road subreddit, you'll receive an encounter with Buneary for completing the third task in this set.
Final Rewards: 40 Beedrill Mega Energy, 1,000 Stardust, and 2,000 experience points
Here are the tasks and rewards for Parts 3 and 4 in this series, according to The Silph Road subreddit.
Mega Buddy Challenge Part 3
Catch 9 Different Species of Pokemon – 3 Golden Razz Berries
Mega Evolve a Pokemon – 3 Great Balls
Earn 7 Hearts With Your Buddy – An encounter with Haunter
Final Rewards: 60 Beedrill Mega Energy, 1,000 Stardust, and 2,000 experience points
Mega Buddy Challenge Part 4
Automatically Completed Task – 3 Silver Pinap Berries
Automatically Completed Task – 10 Poke Balls
Automatically Completed Task – 5 Ultra Balls
Final Rewards: 2,000 Stardust, 5,000 experience points, and an encounter with Snorlax