Compete against other players in real-time matches.
WWE Undefeated is a free-to-play fighting game on mobile devices that's inspired by World Wrestling Entertainment.
In WWE Undefeated, you'll collect a variety of WWE Superstars from past and present, and take them into one-on-one, real-time matches against other players around the world. Rather than being a traditional wrestling game that takes place in a square ring, WWE Undefeated is a fighting game with some traditional fighting game mechanics (like health bars at the top of the screen and a "best two-out-of-three" setup).
During each match, you'll be able to attack your opponent as well as defend yourself by tapping on cards representing your Superstar's moves. Some of these moves (like punches and kicks) are generic, while others are Superstars' signature moves (like The Rock and the People's Elbow).
Each card (or move) requires a specific number of Energy points to play. You can hold up to 10 Energy points at once, and these points recharge automatically over time. As a match progresses, each Superstar's finishing move will also charge in the corner of the screen. Players can activate the move when its meter is full.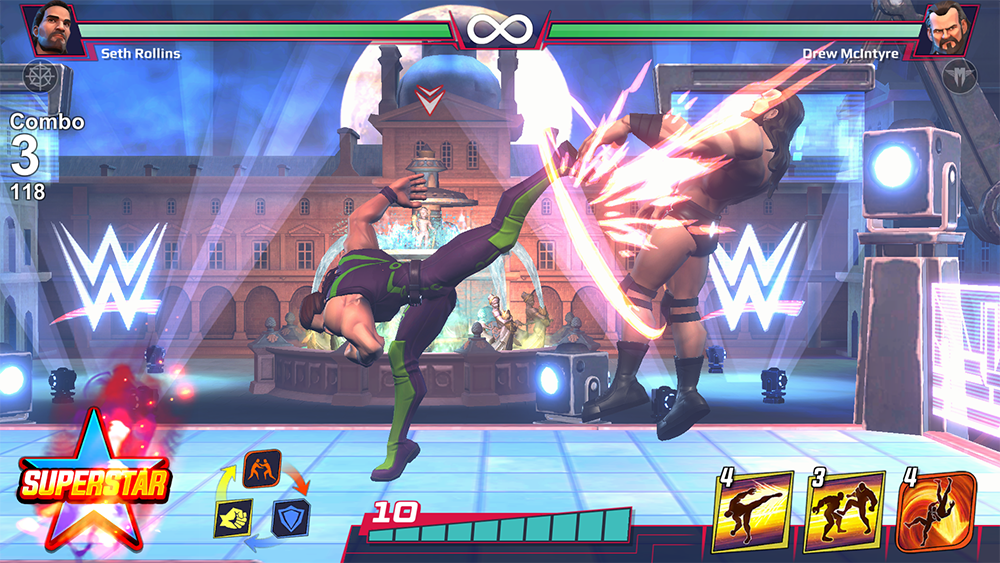 The first time a player drains their opponent's entire health bar, they'll go in for the pin, but the other player will kick out and their health bar will recharge. The first player to successfully drain their opponent's health bar for the second time will get the pin and win the match.
As you win matches, you'll earn points that will allow you to climb through the in-game Leagues.
You'll also earn a variety of rewards as you play, such as new Superstars, new move cards that can be added to your Superstars' decks, and more. As you collect duplicate cards and Superstars, you can use the extras to upgrade your moves and Superstars to make them stronger.
Many of the game's rewards are locked in mystery chests, so you won't know which items you'll receive before you open them. In addition, these chests usually take time to open, but you can skip the timer using premium currency (this isn't the only way you can spend real money in the game).
WWE Undefeated is available to download for free on iOS and Android devices. The game is rated 12+ on iOS and E10+ for Everyone 10+ on Google Play.
Check out some gameplay from WWE Undefeated on iOS in our video below.