The narrative game is coming out next year.
As part of LudoNarraCon 2021 (an online game convention focusing on narrative games), SuperParent checked out Wayward Strand from developer Ghost Pattern.
Wayward Strand is an "interactive story" game that takes place aboard an airship hospital in the 1970s. Players become Casey Beaumaris, an aspiring young journalist whose mother works on the ship. Casey has been brought aboard the airship to visit the hospital's patients (many of which are elderly), but she also wants to write an article about the airship for her school's newspaper. She'll be on the ship for only three in-game days, so you'll have a limited amount of time to get to know the ship's patients and gather information for Casey's article.
Rather than having a linear story to complete, Wayward Strand features multiple characters who go about their lives on their own during each in-game day. Characters will perform actions and have conversations with each other, and multiple conversations and activities will take place around the ship at the same time whether Casey is around or not.
Players will be able to choose which characters to talk to and which rooms to visit, which means they may miss certain conversations entirely as they choose to talk to someone else in a different room. The end result is a game that will give each player a different experience after a single playthrough, based on their choices. (Of course, it will also be possible to replay the game to make different choices and see different parts of the story.)
Wayward Strand is being designed for players of multiple age groups to enjoy. In fact, Ghost Pattern hopes multiple family members will all play the game separately, and then come together to discuss their experiences.
Ghost Pattern said, "We like thinking of different members of a family playing Wayward Strand and each having completely different experiences, which they can chat about together, offline over the dinner table to build a fuller version of the stories on board the ship."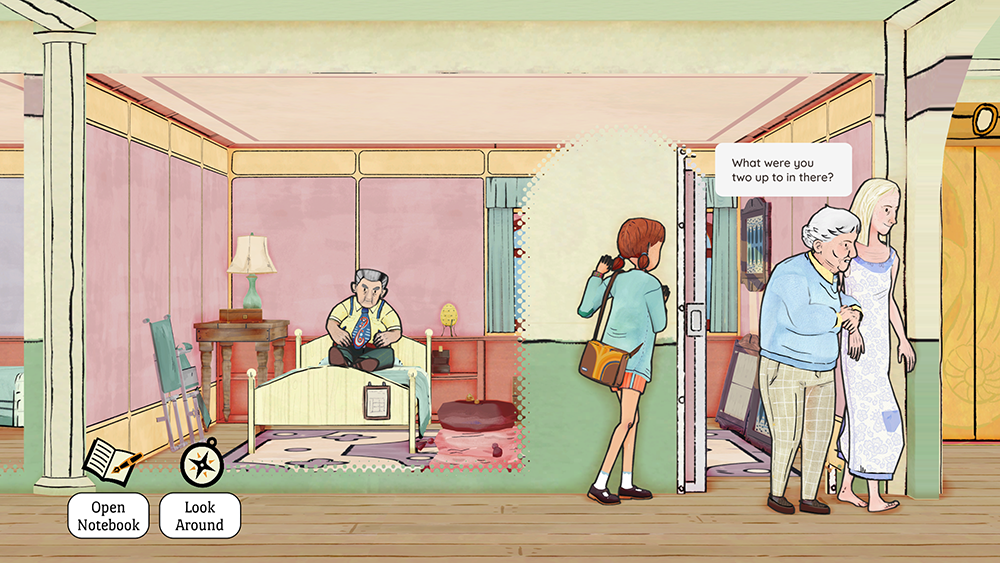 In addition, the game's setting and characters (a hospital with elderly patients) may inspire conversations around some important, but sometimes difficult topics.
The developer said, "Lots of the topics and storylines on board are great learning points for younger children or teenagers to explore with the adults and older people in their lives. Themes like care and neglect, infirmity and death, friendship and community as well as lots of women's themes."
Wayward Strand is expected to be released on PC and Mac in early 2022. You can download a free demo for the game on PC as part of the LudoNarraCon convention. The demo lets you experience the morning hours of Casey's first day on the ship.
Disclosure: SuperParent received early access to the Wayward Strand demo for coverage purposes.