This year, it's time to say goodbye to Chutes and Ladders. Level up with these great board game selections.
While Fortnite V-Bucks, Pokemon Let's Go Pikachu and Eevee, and the recently remastered Spyro the Dragon trilogy are likely to be popular items on your kids' wish lists, we thought you might want some reasons to pry them from their screens. There's nothing quite like tabletop gaming to bring you and your family together for fun, laughter, mystery, and mayhem.
The SuperParent Tabletop Gift Guide is here to steer you to the right games in a number of different categories. Each entry includes a note about price, required reading level (pre-reader, early reader, advanced reader, and teen), number of players supported, average play length, play style, and theme.
We've also got special sections for Harry Potter and Marvel tie-ins to help you sift through the flood of licensed games on store shelves. So, without further ado… here's what's hot for your gamer (and the rest of your family) this holiday.
(Thanks to Brittanie Boe of BeBold Games for her assistance in assembling this guide. You can see her board game videos on her YouTube channel and follow her on Twitter)
Agility and Dexterity Games
Some board games require strategy and planning. Others just ask you to show off feats of athleticism. Agility and dexterity games are more about your body than your mind, and they can be deliciously fun.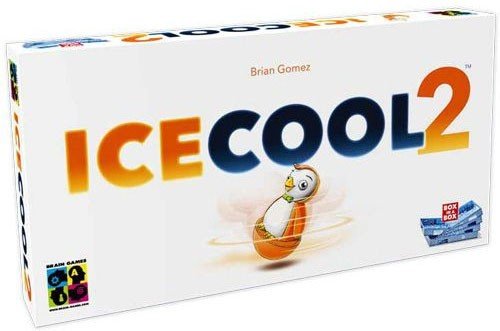 ICECOOL 2
Price: $39.95
Publisher: Brain Games
Reading Level: Pre-reader
Players: 2 to 4 (up to 8 when combined with the original ICECOOL)
With a flick of your finger, you'll send your tiny penguin bouncing off walls and through doors to catch the fish scattered around the board. One of the players each round is "the catcher," chasing the other penguins before they nab all their fish. There's no reading required, but the special powers granted by the scoring cards might need some additional explanation for young children. Whether you play this by itself or integrated with the original ICECOOL (upping the player count to a maximum of eight), this is a great one for family laughs. (Cats love it, too!)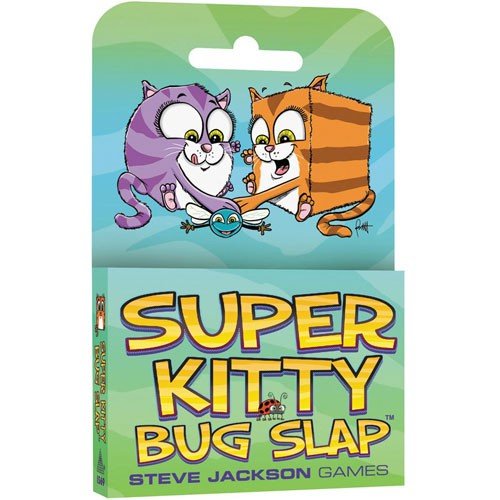 Super Kitty Bug Slap
Price: $6.95
Publisher: Steve Jackson Games
Reading Level: Pre-Reader
Players: 3 to 5
Super Kitty Bug Slap is perfect for pre-readers, requiring no familiarity with numbers or letters. It does, however, require a keen eye to match cards flipped over by the dealer. Each player card features a kitty of various shapes and colors and a fly or ladybug. When the dealer flips a card, you'll want to quickly determine if something on it matches your player card (cat color, cat shape, or bug type). The first person to slap the card adds it to their scoring pile. Watch out, though. If you collect a card that doesn't have a match, you'll lose points.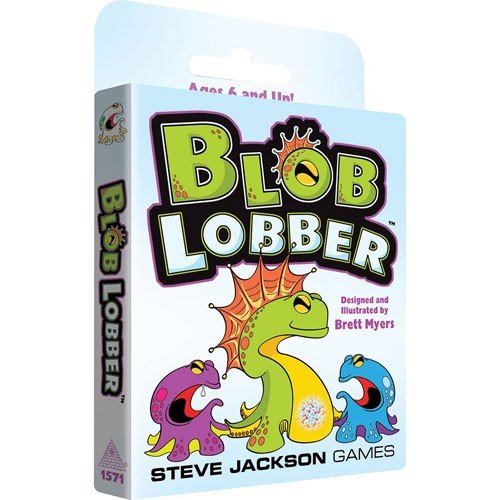 Blob Lobber
Price: $6.95
Publisher: Steve Jackson Games
Reading Level: Pre-Reader
Players 2 to 4
Like Super Kitty Bug Slap, Blob Lobber requires no understanding of numbers or letters. Each card has two sides: one represents a bomb and the other adds more blobs to the board. Players flip cards from above the table, trying to blow up blobs matching the other players' colors (and avoiding their own color, which loses points).
Quick-Playing Card Games
What do you do when you have a bunch of kids and need to keep them entertained? Pull out a deck of cards, of course. When Go Fish! and Old Maid have run their course, you'll need to up your game, though.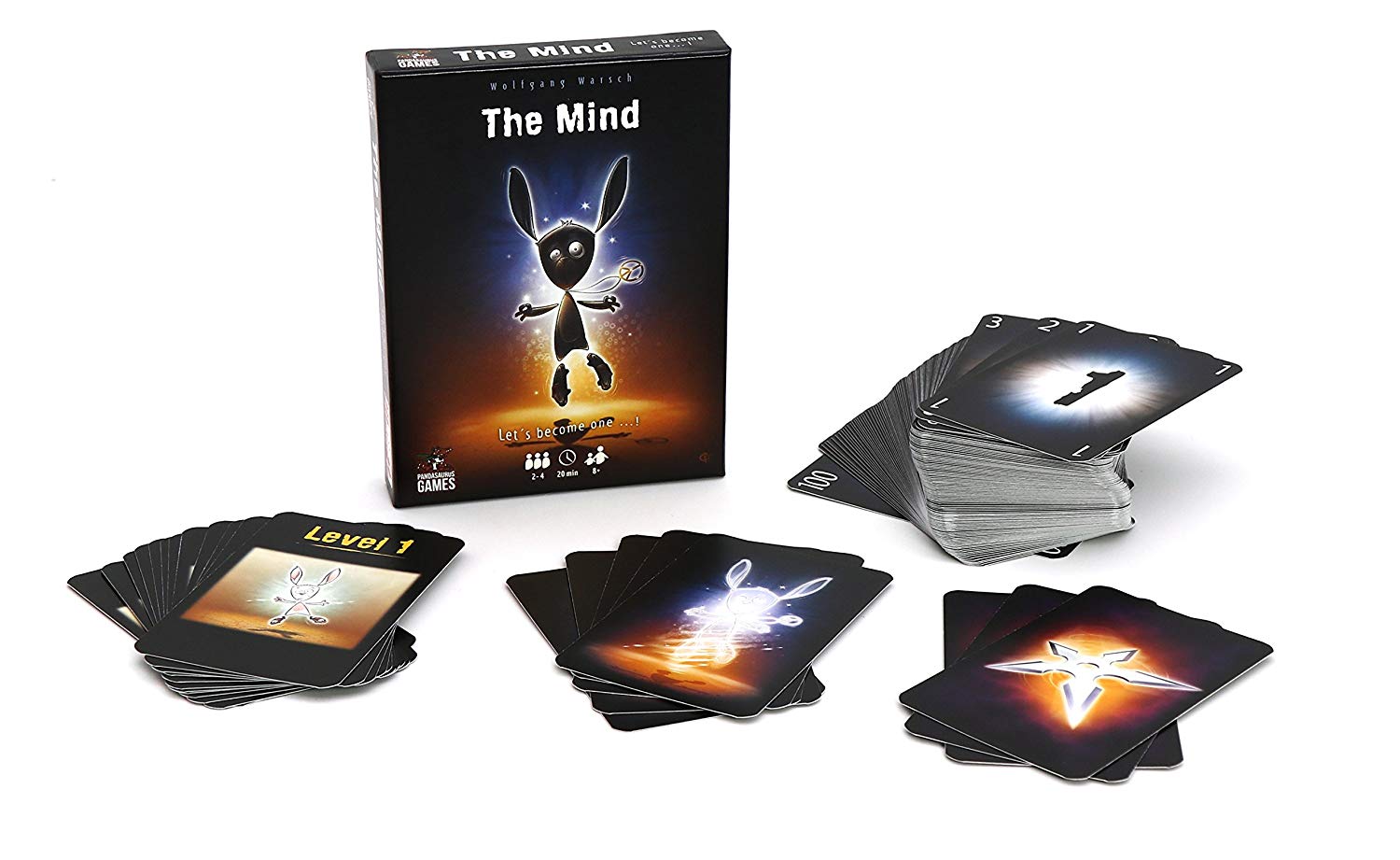 The Mind
Price: $14.99
Publisher: Pandasaurus
Reading Level: Pre-Reader
Players: 2 to 4 (recommended), but you can add more
The Mind is simple. Every player is dealt cards featuring a number between 1 to 100. All you need to do is put them down in numerical order… without communicating. You start with three lives. On level one, each player is only dealt a single card. If you're successful, you'll progress to the next level and your hand size increases. How far can you and your family get by syncing up your minds and predicting each others' play?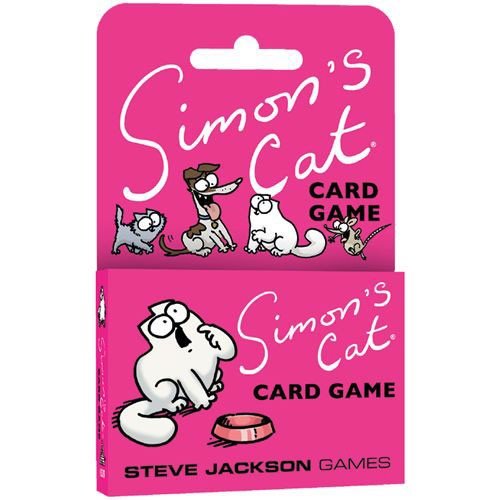 Simon's Cat
Price: $6.95
Publisher: Steve Jackson Games
Reading Level: Pre-Reader
Players: 3 to 6
Simon's Cat is a riff on the timeless card game, Uno. It mixes things up with a bit of narrative styling. Each player attempts to get rid of their mischief cards without getting caught by Simon. You'll either need to play the same color or the same number as the previous card (just like Uno), but if you can't continue the chain, you get a "mess" card. The player with the most messes at the end of the round has been caught by Simon. Get caught three times, and all the other players have successfully pinned their mischief on you.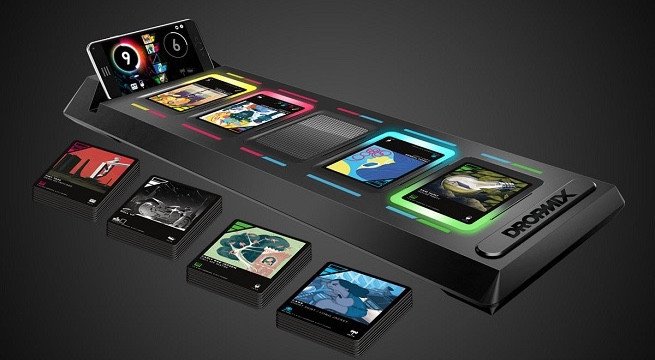 Price: $69.99 (after recent price drop, often discounted by retailers)
Publisher: Hasbro
Developer: Harmonix
Reading Level: Pre-Reader
Players: 1 or more (freestyle and party modes), 2 to 4 (clash mode)
Requires compatible iOS or Android phone or tablet and free companion app.
Harmonix is no stranger to music and rhythm video games, with popular titles like Rock Band and Dance Central. The studio's team-up with Hasbro takes Harmonix's music-making into the real world. WIth three modes of play, there's something for every aspiring DJ. The Dropmix box includes the board and 60 cards spanning musical genres (rock, pop, hip hop, dance, country, and more). You'll need to download a free app on your compatible iOS or Android device to make it all work, though.
The Clash mode is where the meat of the game lives. Players pick one of the pre-assembled decks (or make their own) and race to 21 points by playing colored cards representing different musical parts (vocals, drums, guitar, bass, etc) in one of five slots on the board. Freestyle mode lets you create unique mixes with any of your cards. Party mode is a collaborative sprint to play cards from your hand that fit the app's requests. It requires communication and quick thinking.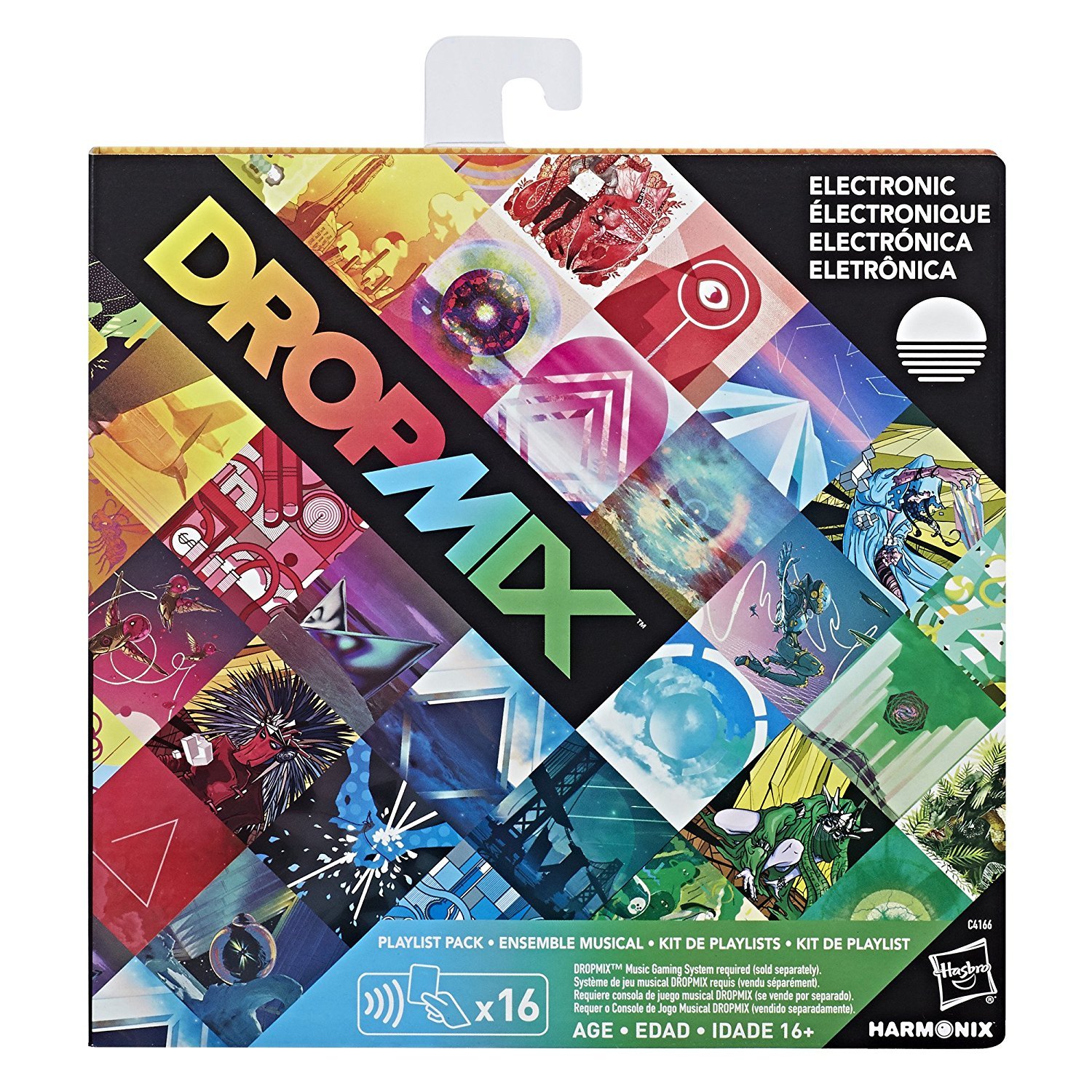 Dropmix Playlist and Discovery Packs
Price: $14.99 and $4.99 respectively
Publisher: Hasbro
Developer: Harmonix
Reading Level: Pre-Reader
Players: 1 or more (freestyle and party modes), 2 to 4 (clash mode)
Requires compatible iOS or Android phone or tablet and free companion app and Dropmix base game.
Additional sixteen-card genre packs and five-card "discovery" packs are available to augment your collection. Dropmix is great out of the box, but gets even better as you add additional songs. Interested in checking out what players have done with the game? The official website has a number of videos featuring sample mixes.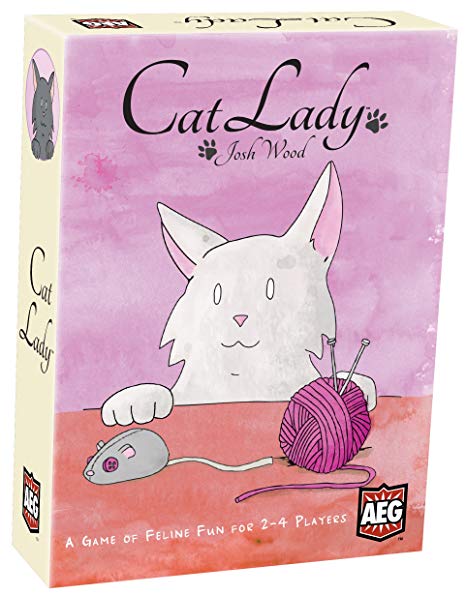 Cat Lady
Price: $24.99
Publisher: AEG
Reading Level: Early Reader
Players: 2 to 4
You don't have to love cats to love Cat Lady. If you're looking for something that plays quickly and has just enough strategy to get your mind going, this is the purrfect fit. During each game, you'll collect cats, food, toys, cat costumes, and catnip. The trick is that you need to make sure each of your cats is fed at the end of the game with their favorite combinations of food: tuna, milk, and chicken. Leave a cat hungry and you'll lose points and its special abilities. The scoring is a bit complex, so the little ones might need help. Otherwise, Cat Lady is a family-friendly affair. We're not kitten!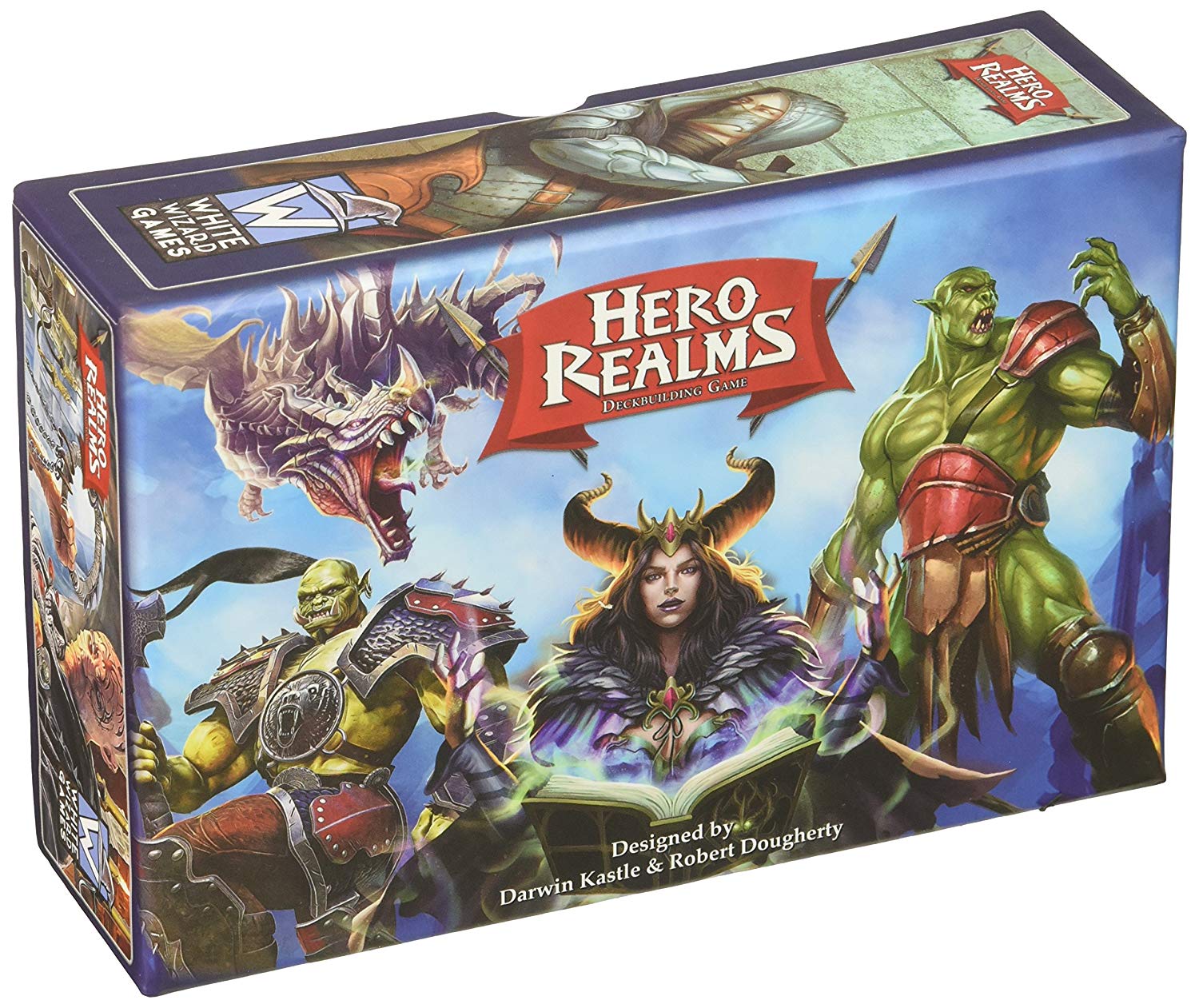 Hero Realms
Price: $19.99
Publisher: White Wizard Games
Reading Level: Advanced Reader
Players: 2 to 4
Hero Realms is one of our favorite deckbuilding games. It combines some of what makes Magic: The Gathering great without the need for blind booster packs. Everything is available right in the box, but you can expand it with a variety of inexpensive add-ons or take on a campaign alongside your friends or against them. If you prefer a space theme, White Wizard's other deckbuilder, Star Realms ($14.95) is a great stocking stuffer.
Games for Larger Groups
So you're having a party and want to play a board game. We've got suggestions for some games that can accommodate your kids and their friends.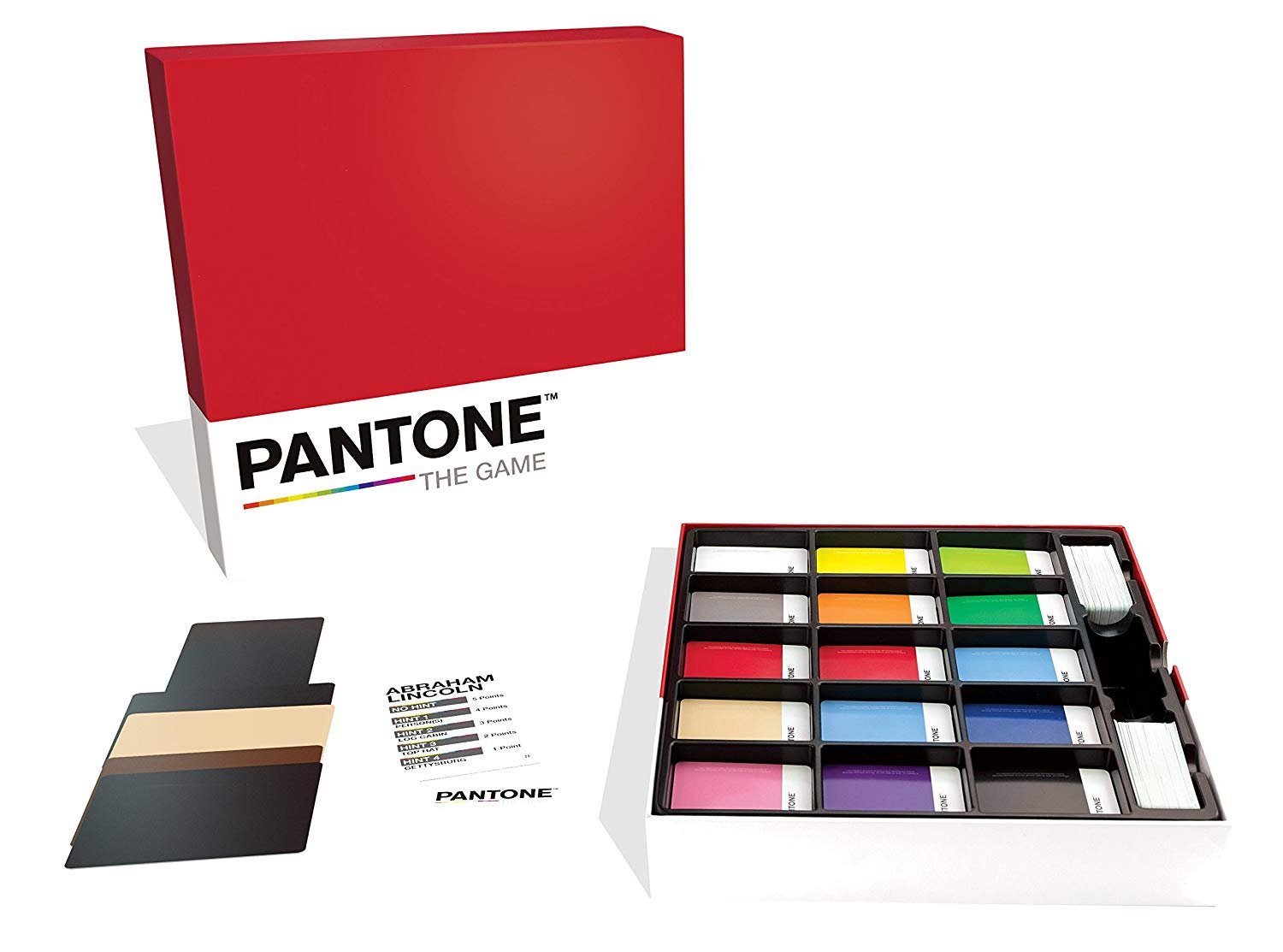 Pantone
Price: $30.00
Publisher: Cryptozoic Entertainment
Reading Level: Early Reader (May require assistance)
Players: 2 or more
Pantone (a game named for and in partnership with the world-famous company responsible for most of the colors you see in print and online) has a simple concept. Players use rectangular color swatches to represent pop culture figures like Oscar the Grouch, Indiana Jones, Pikachu, and Mister Potato Head. The fewer clues it takes for the other players to guess your creation, the more points you'll earn. It starts easy, with access to as many color swatches as are in the box. Each round further restricts your choices, testing your creativity as an artist and your visual perception when guessing. Think of Pantone like charades: all the laughs with none of the body contortion.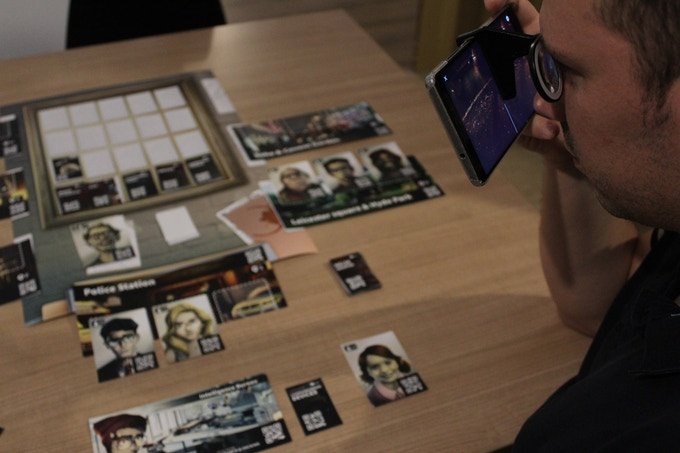 Chronicles of Crime
Price: $39.99
Publisher: Lucky Duck Games
Reading Level: Teen (Note: Some mature content)
Players: 1 or more
Requires compatible iOS or Android phone and free companion app.
The streets of London aren't always safe. You and your friends step into the role of Scotland Yard investigators solving murders and kidnappings. With five scenarios in the base game (and more to purchase via the app for $4.99 each), you'll use the included components and a free app to work your way through mysteries. There's also an optional VR component ($14.99) that allows you to look around the crime scenes to uncover whodunit.
Chronicles of Crime is an entirely cooperative game, and you can include as many players as you'd like. It's one of the best detective games we've played.
Games to Challenge Your Mind and Nerves
It's time to plot world domination. Only one player can be the victor, so get ready to show your family who's boss!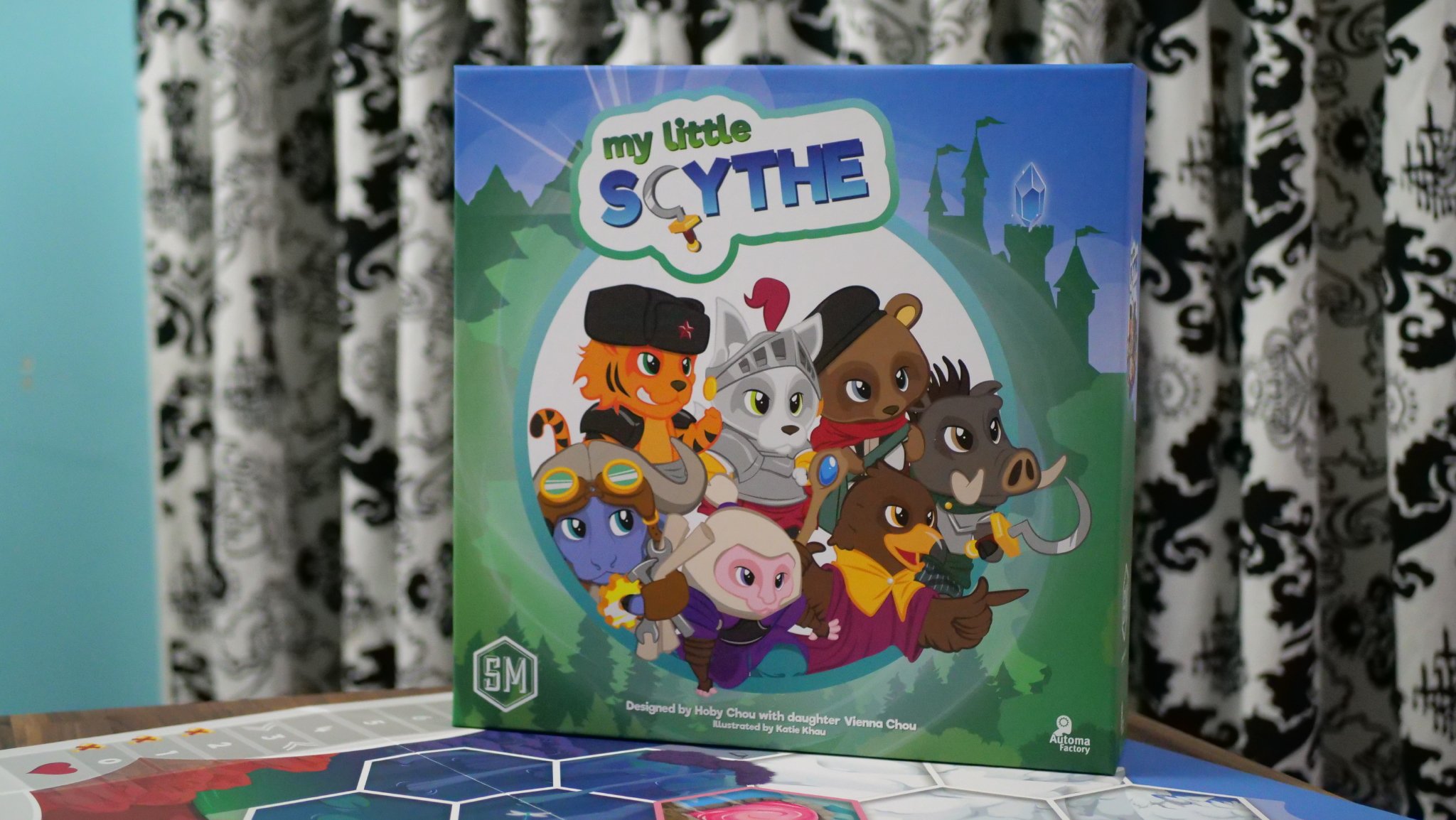 My Little Scythe
Price: $50.00
Publisher: Stonemeier Games
Reading Level: Pre-reader
Players: 1 to 6
My Little Scythe is a kid-friendly version of Stonemeier Games' award-winning strategy title, Scythe. Originally born as a fan-mod by Vienna Chou and her father Hoby, My Little Scythe takes the complex strategic elements of the original and makes it accessible for young children. Players get to deliver apples and gems to the castle, have food fights with one another, and decide whether to be selfish or generous on their path to earning four of eight possible achievements to win the game. There is some reading required, but as long as someone else at the table can help, pre-readers can easily enjoy this game. For more, check out SuperParent's in-depth review of My Little Scythe.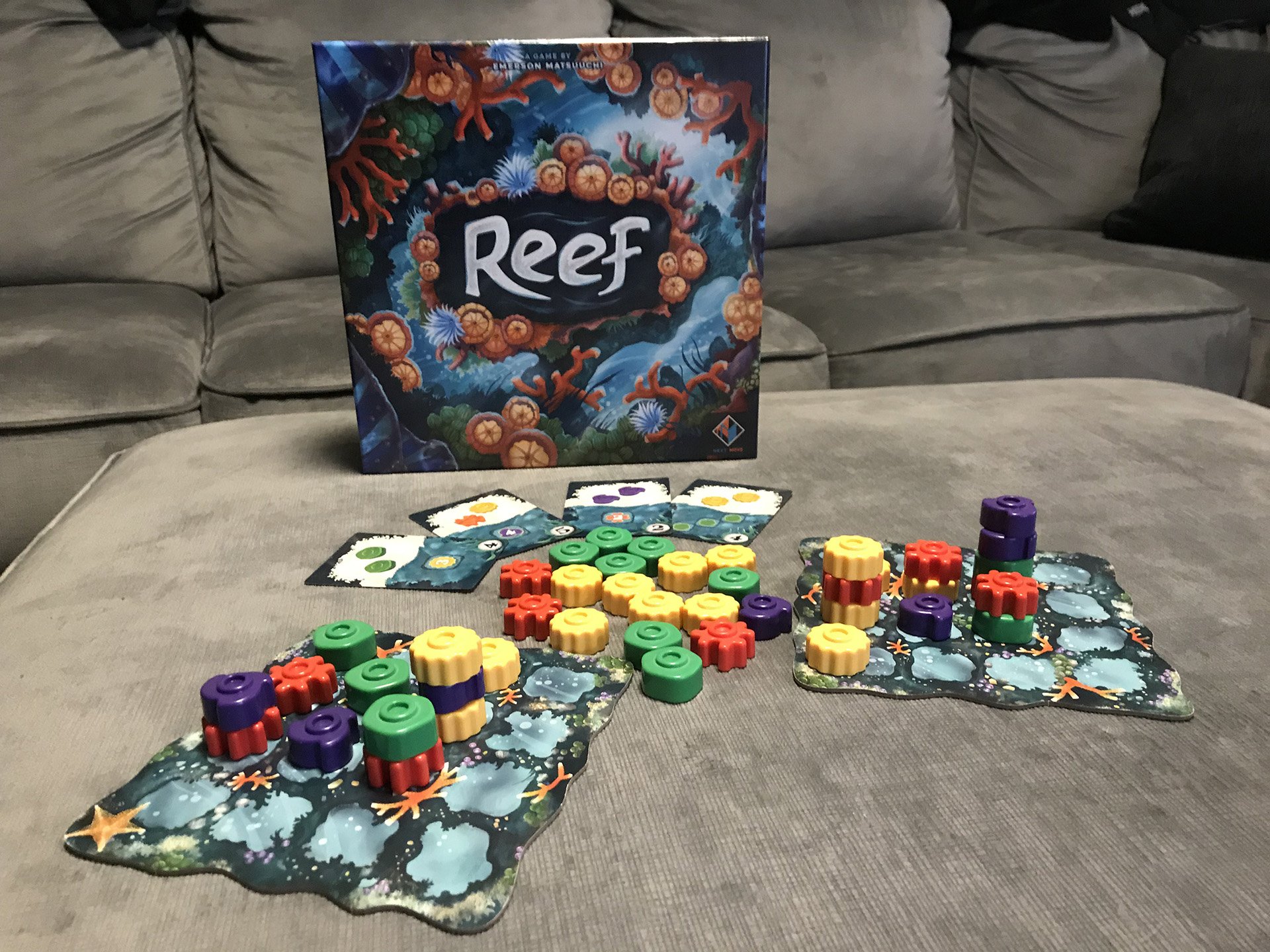 Reef
Price: $39.99
Publisher: Next Move Games
Reading Level: Pre-reader
Players: 2 to 4
Reef is a game about creating colorful coral patterns on your board and matching them to cards in your hand. Each turn, you'll either draw a card into your hand or play one, placing new coral pieces. If you also have coral in a pattern that matches the card you play, you'll score points. Reef is easy for kids to pick up and a great starting point to get young players to plan ahead, but it also has enough depth to keep parents engaged.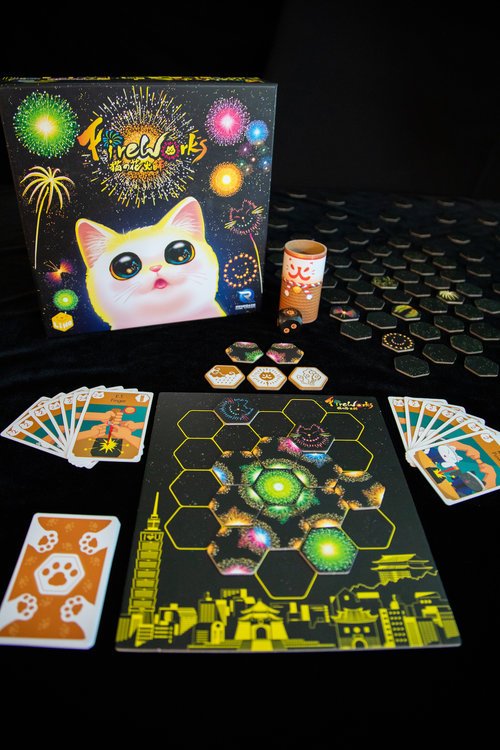 Fireworks
Price: $25.00
Publisher: Renegade Games
Reading Level: Pre-Reader
Players 2 to 4
This quick-playing game is another colorful pattern-making affair. Unlike Reef though, Fireworks challenges players to flip over tiles by "launching" the firework die into the box (decorated to look like a starry night). If no tiles are flipped over, players will draw an action card and have to contort themselves (often with the aid of other players) to fling the die into the box on another attempt to reveal the fireworks side of the starry night tiles. The addition of a physical component and amusing Twister-like actions sets Fireworks apart from other abstract pattern-making games. Provided someone at the table can help tally the scores, this one is perfect for pre-reading players.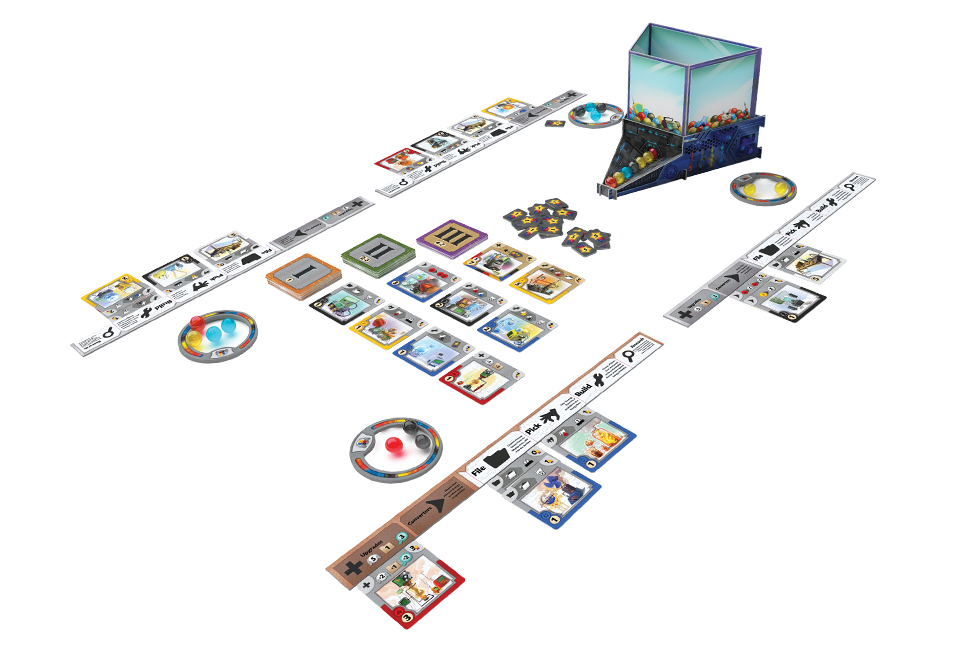 Gizmos
Price: $34.99
Publisher: CMON
Reading Level: Pre-Reader
Players: 2 to 4
Gizmos (the spiritual successor to CMON's Potion Explosion) is a game about building machines with different elements represented by large, colorful marbles. This game starts simple, but by creating the titular Gizmos, each turn will become a series of fun combos that lets you collect more and more marbles and build more powerful machines. There's some strategy involved, but with easy-to-learn symbols, even pre-readers can find something to love in Gizmos.
Lanterns: The Harvest Festival
Price: $35.00
Publisher: Renegade Games
Reading Level: Pre-Reader
Players: 2 to 4
Japan's beautiful lantern festivals make for a lovely game for all ages. In Lanterns: The Harvest Festival, players take turns placing lake tiles and collecting colored lantern cards. Once per turn, players can turn in different assortments for victory points. Lanterns feels like a fast-playing twist on Ticket to Ride without the scarcity or long series of slow turns where players only draw cards. Everyone gets a lantern card on every player's turn, speeding the collecting process and putting the focus on smart tile placement and gathering the right combinations of cards to score the most victory points. There's no reading required, and only simply math is necessary to calculate victory points at the end, making this perfect for most pre-readers.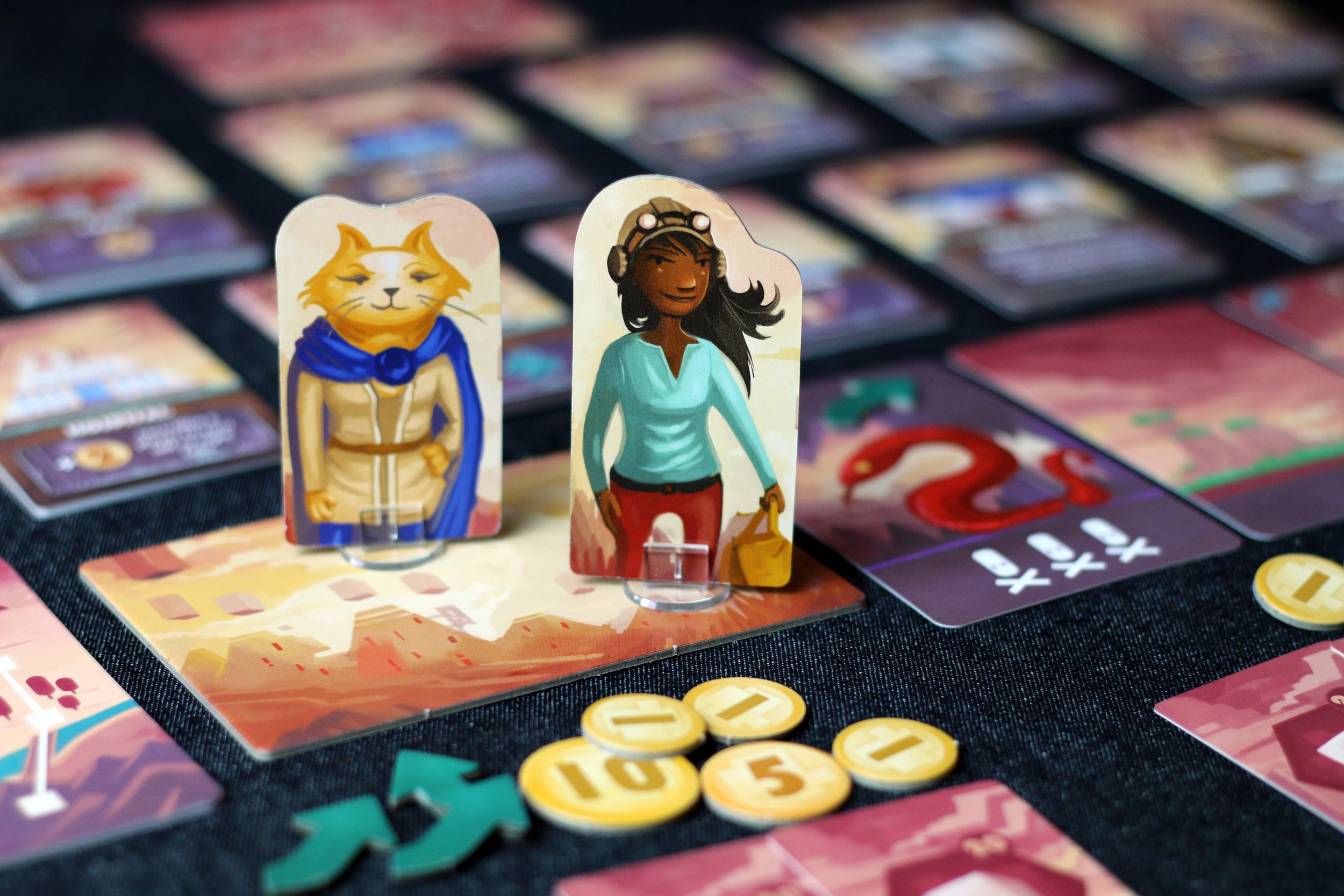 Megaland
Price: $19.99
Publisher: Red Raven Games
Reading Level: Early Reader
Players: 2 to 5
Megaland is a "push your luck" game, challenging players to risk it all for big rewards. If you've ever played a platformer like Super Mario Bros., you'll feel right at home in Megaland. Each turn, you'll run the level and earn treasure with each new area you encounter. However, if the beasts take your last heart, you'll lose all your loot. Stop before that happens, and you'll keep your treasure to help build your town and earn coins. The first player to 20 coins wins. Megaland plays quickly and features beautiful art and clever design.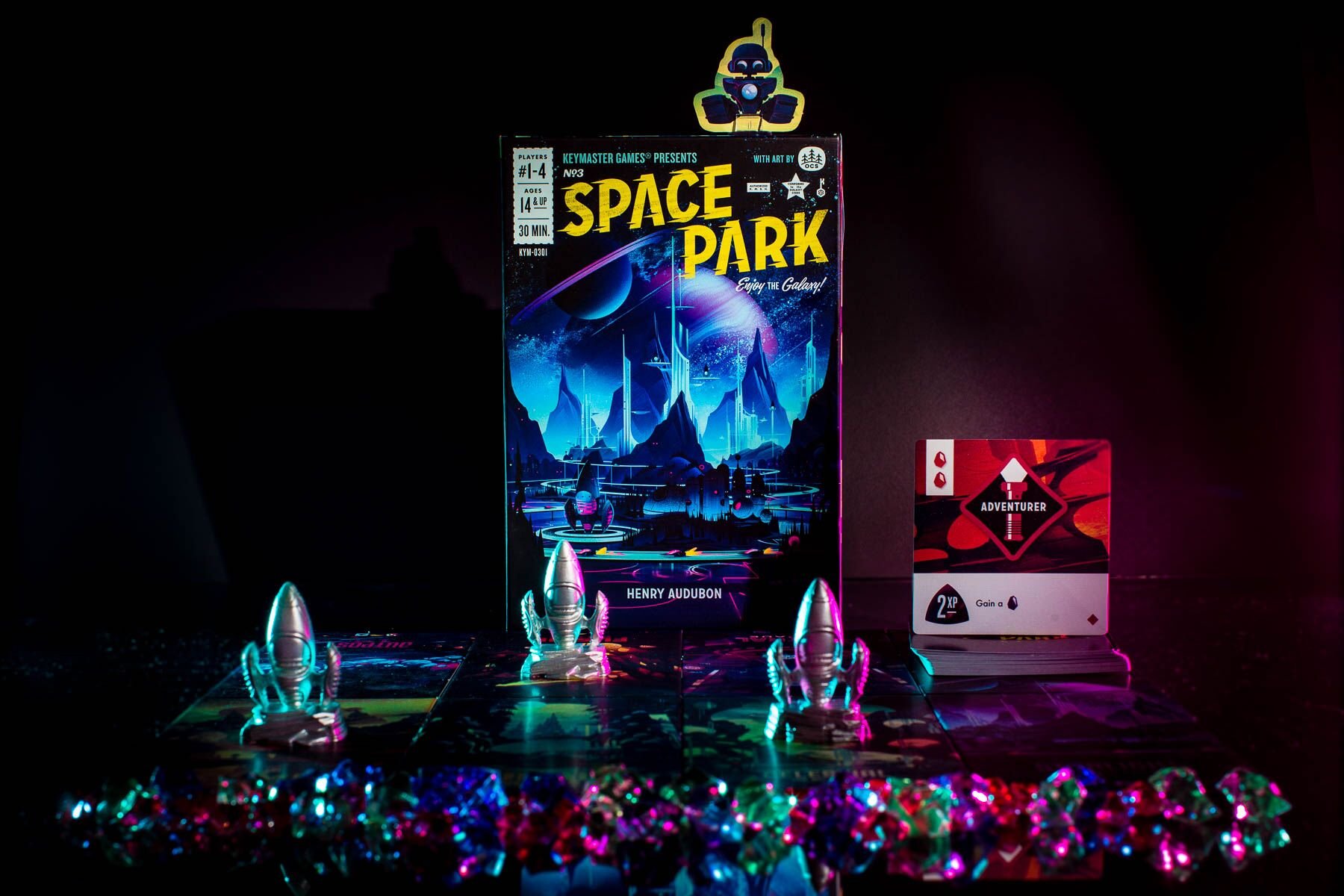 Space Park
Price: $34.99
Publisher: Keymaster Games
Reading Level: Early Reader
Players: 1 to 4
Travel the stars, visit exotic locales, and earn merit badges. Space Park is a quick-playing game with gorgeous art. On your turn, only three of the seven locations can be visited. You'll need to mine crystals and turn them into XP-granting badges as you and your family race to 20 points. Space Park is easy to learn and takes only 30 minutes to play, making it easy to get to the table.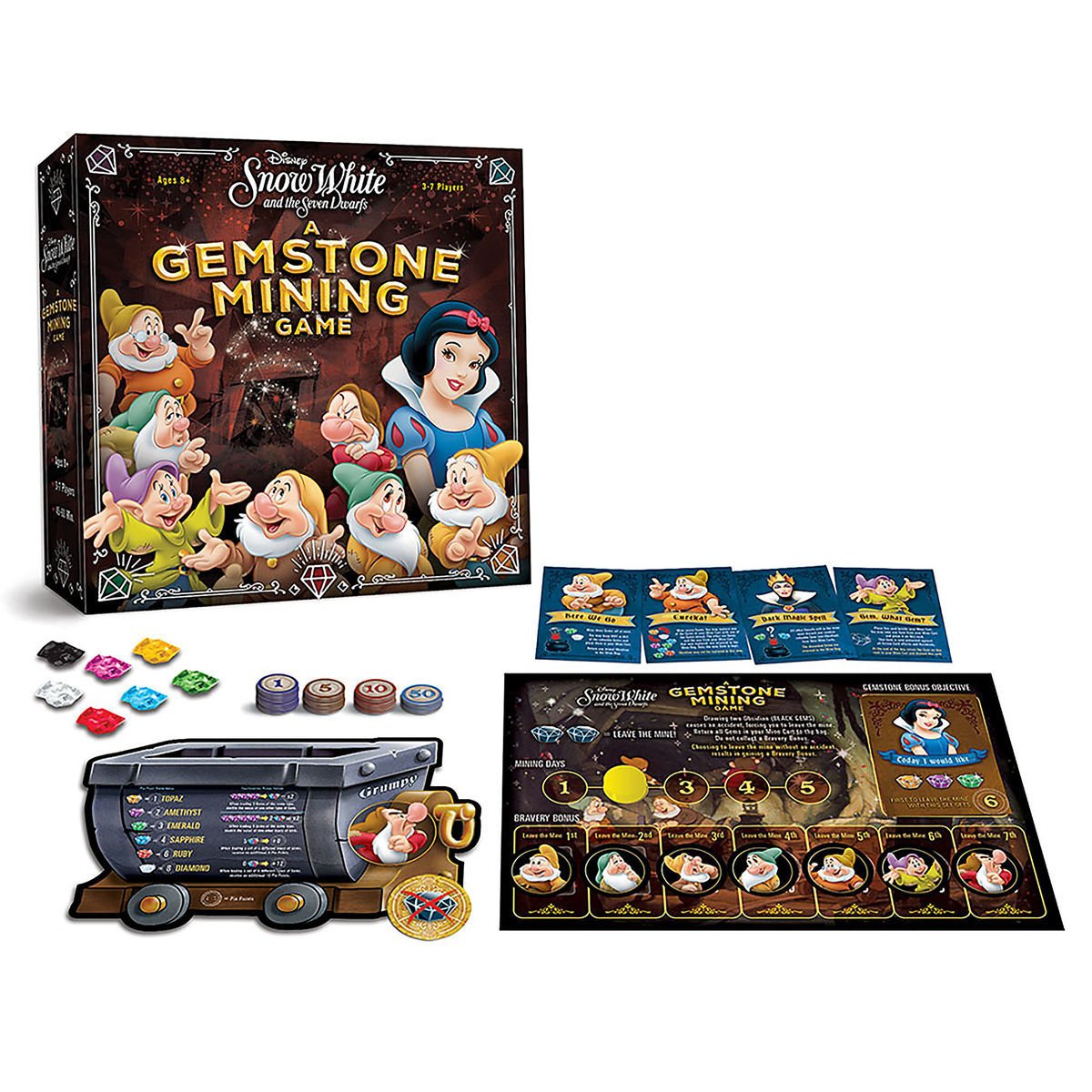 Disney Snow White and the Seven Dwarfs: A Gemstone Mining Game
Price: $34.95
Publisher: USAopoly
Reading Level: Early Reader
Players: 3 to 7
Hi ho! Hi ho! It's off to work we go! In Disney Snow White and the Seven Dwarfs: A Gemstone Mining Game, you and your friends compete to mine the best gems by pulling them out of a bag blindly. You can stay in the mine and keep trying to dig up rare jewels, but draw two obsidian stones and you'll lose it all. This push-your-luck game is themed perfectly for kids. Younger readers may need some help at first understanding how some of the cards work. However, each includes iconography that they can come to identify with a little practice. With great components and an adorable theme, this is an endearing addition for your collection.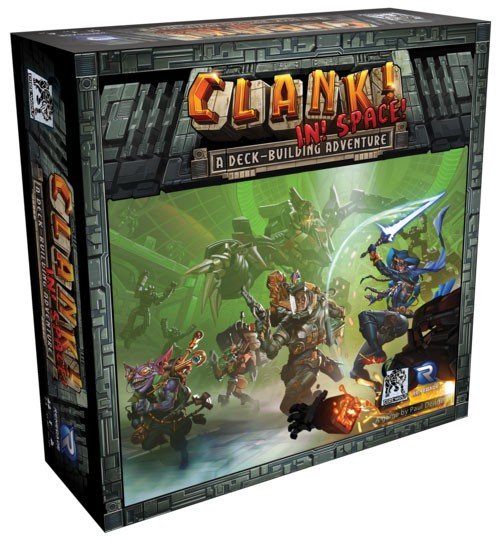 Clank! In Space
Price: $60.00
Publisher: Renegade Games
Reading Level: Advanced Reader
Players 2 to 4
You and your friends are space pirates and your latest mark is the evil Eradikus. Break into his flagship, steal one of his artifacts, and get out before he finds you. Clank! In Space is Renegade Games' follow up to its fantasy dungeon dive, Clank! The franchise combines the best of deckbuilding games and traditional board games. You can read more about Clank! In Space and its first expansion, Apocalypse ($25.00) in our review.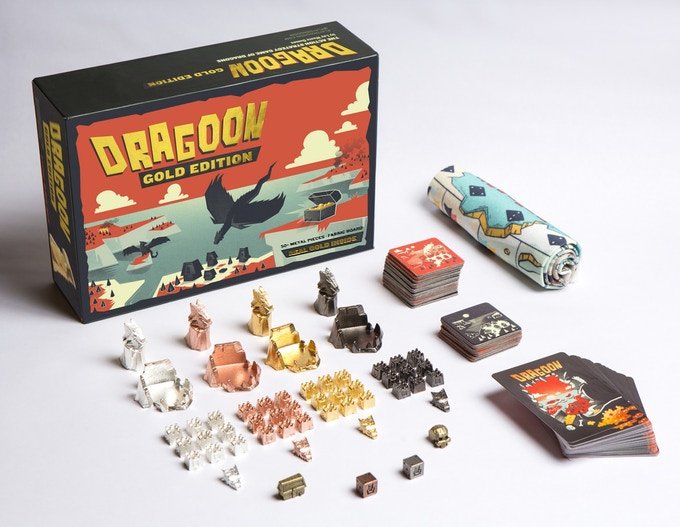 Dragoon
Price: $50.00
Publisher: Lay Waste Games
Reading Level: Advanced Reader
Players: 2 to 4
One dragon is bad news. Four? Utter destruction. You and your friends will be vying to dominate and destroy the most villages on the map. Dragoon is a gorgeous game of dragon backstabbing and a race to hoard the most gold. It's available with plastic pieces or (as shown above) with beautiful metal pieces ($90). This game is a showpiece worth the splurge, and the metal is more durable for letting smaller kids have fun.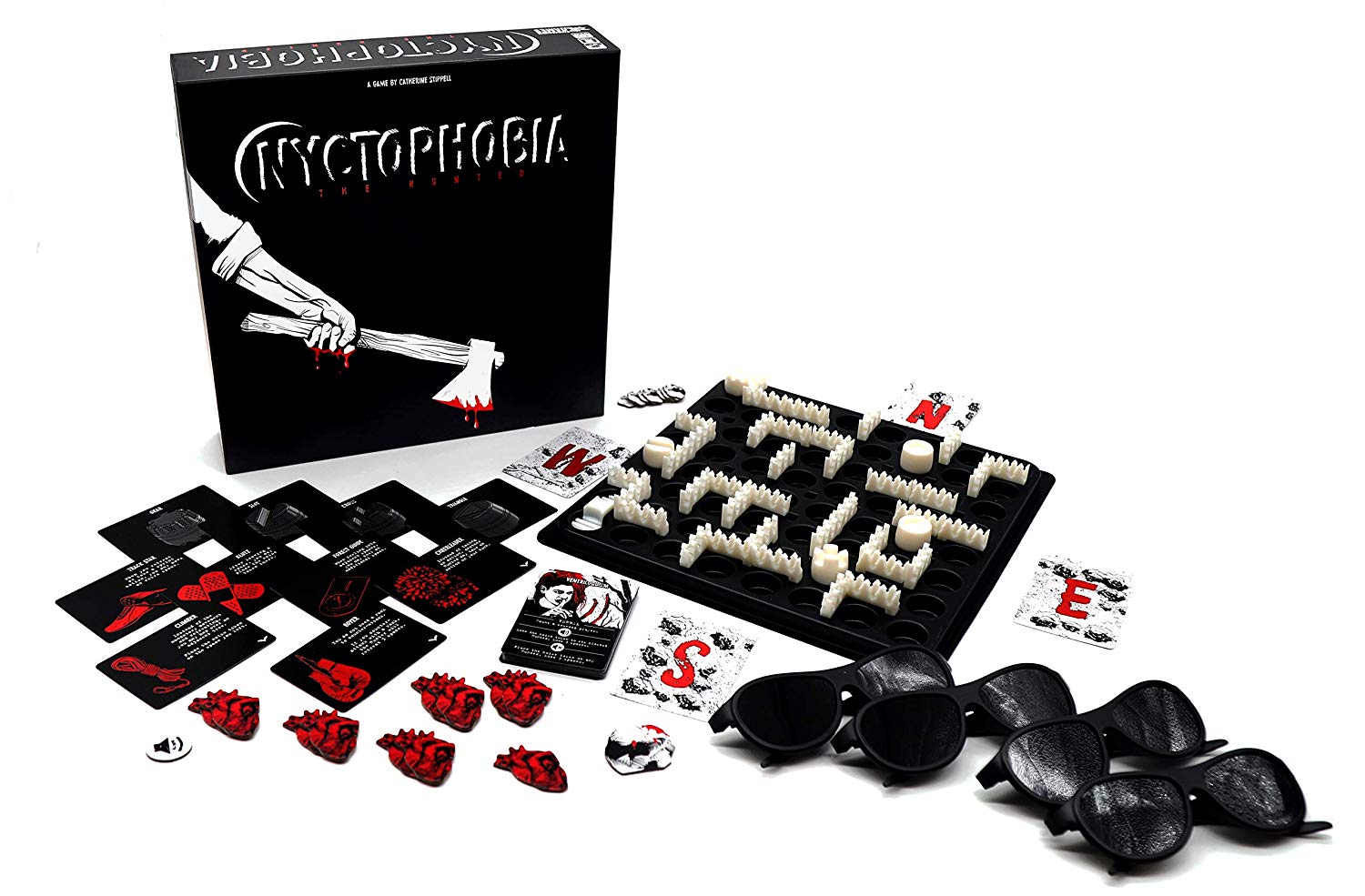 Nyctophobia
Price: $40.00 ($30.00 for Target Exclusive version)
Publisher: Pandasaurus
Reading Level: Pre-reader (however, parents should review and adjust content for younger players)
Players: 3 to 5 players
Nyctophobia (the fear of the dark) was inspired by Catherine Stippell's blind uncle, who loves board games and often requires them to be modified so he can enjoy. In Stippell's game, players can't see the board and must only navigate by touch. One player remains sighted, chasing the others as a hunter or warlock in the wide release version or a vampire in the $30 Target Exclusive edition. The goal is for the hunted to navigate through the "woods" on the modular plastic board to find the car before the villain can catch them. Pre-readers can easily play as one of the hunted, but parents and others playing the villain might want to modify the game text on the cards to make them a little less scary.
Word Games
We're always telling our kids to use their words. With these games, you can expand their vocabulary while scoring points.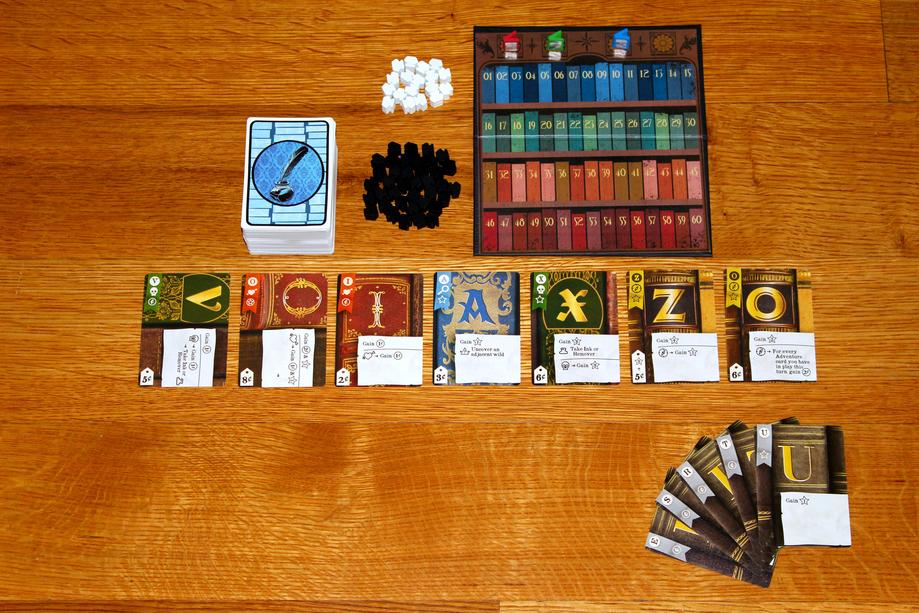 Hardback
Price: $37.82
Publisher: Fowers Games
Reading Level: Advanced Reader
Players: 2 to 5
We are not ashamed of our love of deckbuilders (there are a number on this list, after all). Hardback is the deckbuilding game for Scrabble fans. What a novel concept! Each card you add to your deck has a letter on it. Draw your cards, spell a word, buy more cards, and score victory points. The better your vocabulary, the more points you're likely to score.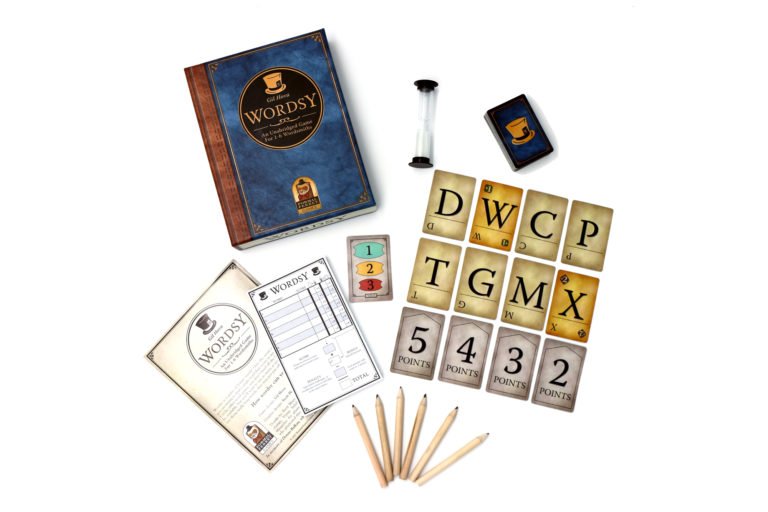 Wordsy
Price: $19.99
Publisher: Formal Ferret Games
Reading Level: Advanced Reader
Players: 1 to 6
Unlike many word games, Wordsy gives you free use of the entire alphabet. However, you'll only score points for using the eight letters currently on the board. Played over seven rounds, Wordsy offers more flexibility while adding a timing mechanic that only triggers after the first player is done crafting their word. It's a great option for those who feel too restricted by Scrabble.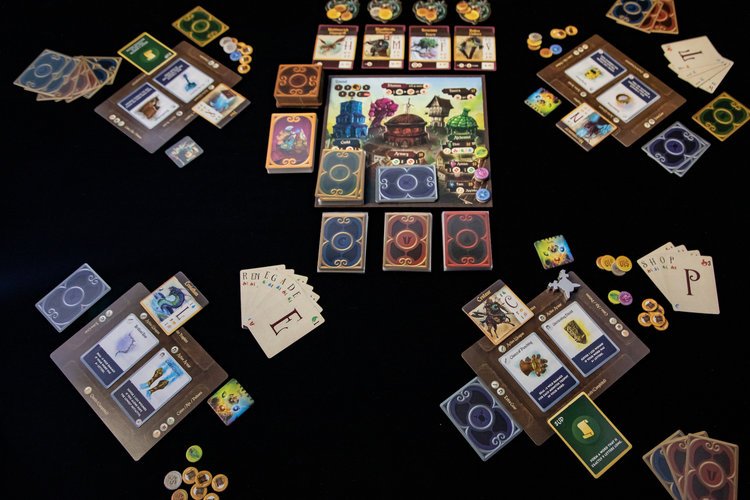 Spell Smashers
Price: $45.00
Publisher: Renegade Games
Reading Level: Teen
Players: 1 to 5
Word games like Scrabble aren't for everyone. Some players just need to get their blood pumping a bit with swords, sorcery, and monster slaying. That's where Renegade Games' Spell Smashers comes in. Each round, you'll draw new letters, fight monsters, take wounds, and visit town to stock up on gear and potions or regale the tavern patrons with your feats of daring. We tell our kids to use their words instead of their fists. In Spell Smashers, you can do both.
Disclosure: Some of the products included in this guide were given to SuperParent by the manufacturers for review.