Save a kingdom by becoming its Princess.
Pretty Princess Party is a life simulation and party game on Nintendo Switch. We recently had the chance to check it out.
What is Pretty Princess Party about?
In Pretty Princess Party, you play a young girl who is transported to a magical village that has fallen on tough times. The castle and village are nearly abandoned, and there is no princess left at the castle to tend it. As such, the castle has become overgrown with spiky vines that block access to many rooms.
You'll be able to create and customize your own character and take over Princess duties at the castle with the goal of clearing the vines and redecorating the castle's rooms to return the castle (and the village) to its former glory.
What do you do in this game?
Gameplay in Pretty Princess Party is split into two main parts: mini-games and interior decorating. Since you're new to being a Princess, you'll need to take "Lessons" (that is, play mini-games) in order to raise your character's ratings in three themes: Cute, Elegant, and Cool. Each theme is connected to a wide variety of furniture items that you can unlock as you progress through the game.
There are six Lessons to complete, which see you competing against three other princesses controlled by the game (only three Lessons are available to start). As an example, the Study Lesson shows you pictures of objects like food and animals, and asks you a series of "yes" or "no" questions about them. These questions are incredibly simple, and ask things like "Is this [object] green?" or "Can this [object] be eaten?"
Elsewhere, the Dancing Lesson is a rhythm game that asks you to press a button in time with the music as symbols scroll across the screen, the Horseracing Lesson asks you to move your horse between three running lanes to collect flowers and avoid obstacles, and so on.
As you complete mini-games, you'll earn a currency called Lumina, which can be used to unlock new furniture items, as well as clothing and accessories for your character.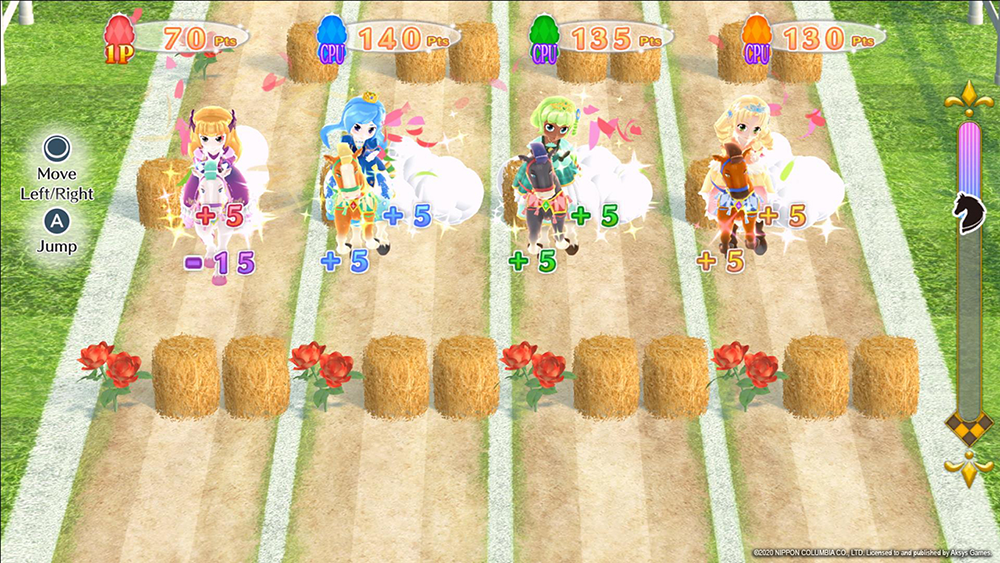 You start with a small selection of furniture items to choose from, but you can eventually unlock a total of 1,300 furniture items and 316 "style" items for your Princess.
You'll use the game's furniture items to decorate 20 different rooms in the castle. Each room has a theme (like office or library), and you're required to place five specific items in each room before the game will consider it properly decorated. For instance, the "Reception Room" needs a fireplace and at least one kind of "seating," while the Library requires a bookcase, a lectern, and so on.
Beyond these required items, you can place lots of additional items in each space and arrange everything how you see fit. There is no skill rating or "right and wrong" way to place items. The only thing the game cares about is having the five required items in each room. You have complete design freedom, and you can even return to previously decorated rooms and give them a new look as you progress and unlock new items. When you're finished with a room, you can take a picture that's saved to your in-game photo album.
As you restore the castle, friendly rabbits will move into the empty houses in the village, and you can decorate their homes to unlock additional furniture items that you can use going forward. In these cases, the rabbits will ask you to create a space with only three specific items, rather than five.
The room decorating gameplay is the best part of Pretty Princess Party, as it lets you use your imagination and spend as much time as you want to make sure each room is just the way you want it. Unfortunately, the rest of the game has some problems.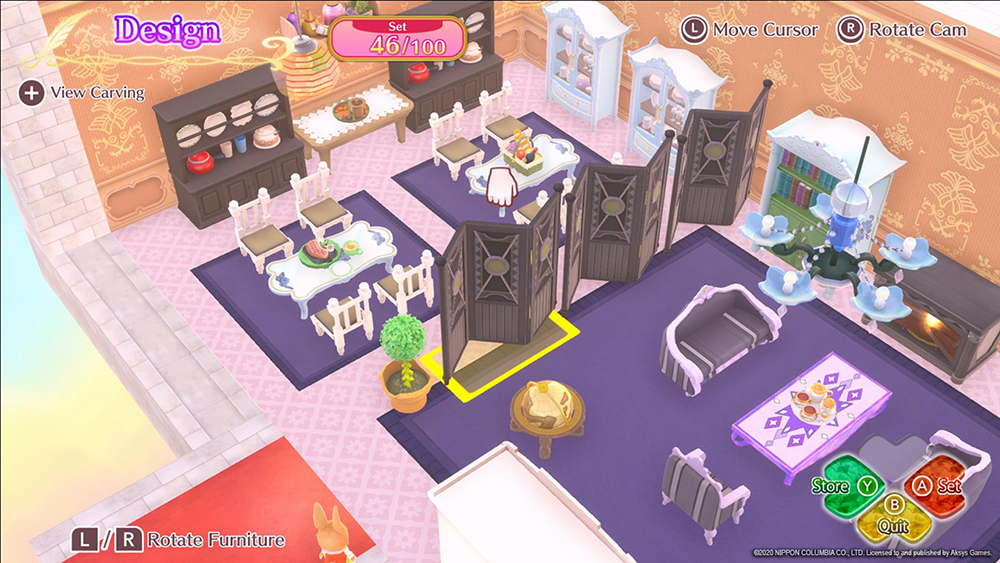 What are the game's issues?
First and foremost, there are only six mini-games (Lessons) to complete, so you'll need to replay each game a lot in order to collect enough Lumina to unlock all of the game's furniture items. This means the Lesson portion of the game can quickly become tedious, feeling more like work than play.
This is especially true when you consider that certain items are only unlocked as you reach specific "levels" in the game's three themes (Cute, Elegant, and Cool). If you need one specific item to complete a room, you may need to focus on a small number of mini-games, playing them over and over again (because they match the right theme) in order to unlock the item you need.
In addition, the process of actually unlocking furniture and style items is painfully slow, since you're required to unlock items one at a time, regardless of how many Lumina you have on hand.
Finally, you won't know which five items are required to complete many rooms until you pay Lumina to uncover this information. This "deciphering" process takes time to complete, or you can pay additional Lumina to complete it instantly. This is a mechanic pulled from many free-to-play mobile games and it doesn't really make sense in a premium title (timers are meant to incentivize players to spend real money in mobile games to skip the wait).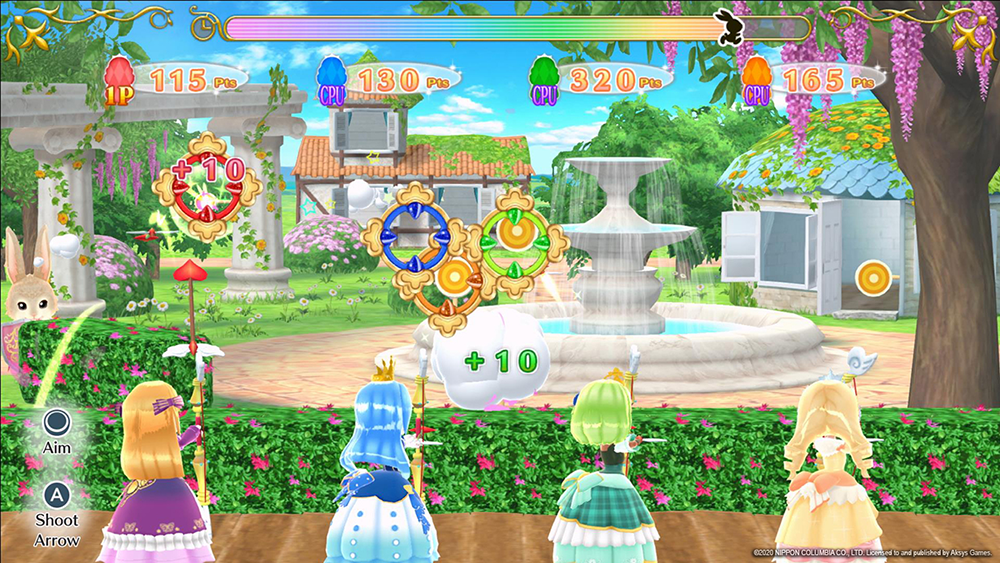 With all of these problems, is Pretty Princess Party fun to play?
Yes and no. The game has a large variety of furniture items to collect, and it's pretty fun to decorate the castle's many rooms since you can give each one a look of its own. However, the rest of the game lacks real depth and is best enjoyed in short bursts, before the mini-games start to feel too repetitive.
Is there anything else parents need to know about this game?
Outside of the single-player story mode, Pretty Princess Party includes a multiplayer mode that allows up to four people to play the title's mini-games together on the same Switch.
In addition, the game does not support the Nintendo Switch Pro Controller.
What's the final verdict?
If Pretty Princess Party had more mini-games to choose from, we'd probably be more likely to recommend it. As it stands though, there isn't enough variety here to keep the game feeling interesting over the long term.
Even though decorating rooms around the castle and village is fun, it's really hard to overlook the lackluster gameplay found throughout the rest of the experience.
---
Pretty Princess Party is now available on Switch. The game is rated E for Everyone by the ESRB.
Disclosure: Aksys Games gave SuperParent a code for Pretty Princess Party for coverage purposes.