The mobile app will allow fans to earn a variety of digital rewards over time.
If you're a Pokemon fan, or know a little who is, there's a free new mobile app you'll (probably) want to check out on iOS or Android: Pokemon Pass. The Pokemon Pass app will serve as a digital rewards hub, giving players the chance to earn digital stickers, wallpapers, and even free Pokemon for Pokemon video games.
Long time Pokemon fans may remember taking a special trip to stores like Toys "R" Us or GameStop back in the day just so they could collect a free Pokemon in games like Pokemon Pearl or Diamond (as examples). Pokemon Pass recreates that experience, but for a modern generation.
The app is available to download for free on iOS and Android devices. Once players login with their Pokemon Trainer Club account (or create a new account from scratch), they'll be able to head to participating retails stores whenever a promotion is active to receive special goodies. They'll also receive a free Pokemon Detective Pikachu sticker just for logging in between now and August 1. (Fans can take pictures within the app and place these stickers on top to make them pop.)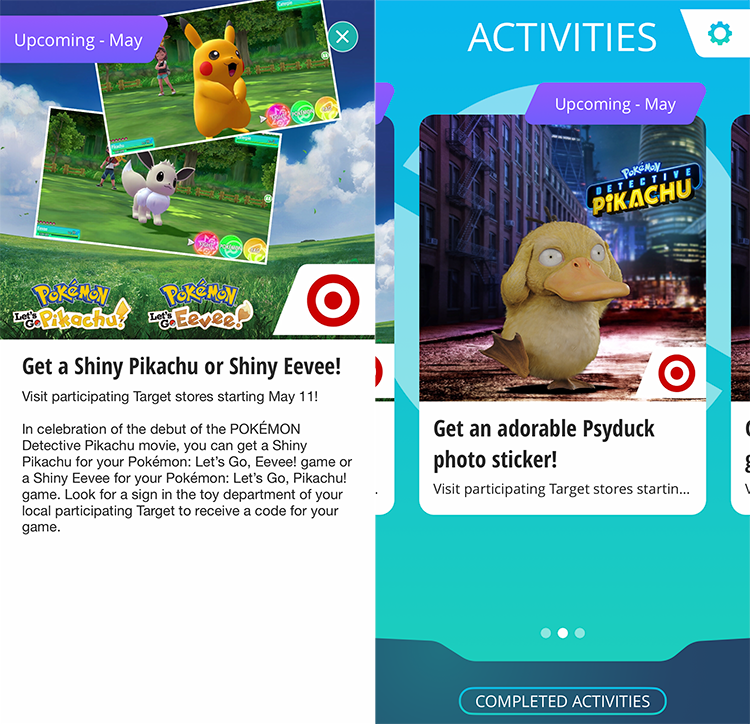 The first promotion will take place at participating Target stores from May 11 through June 23, 2019. During that time, trainers in the U.S. can receive a Shiny Eevee or a Shiny Pikachu for their Pokemon: Let's Go, Pikachu or Eevee Switch games, respectively.
Specifically, once players enter a store with an active promotion, the app will use the device's location to notify players that a reward is available. For the first promotion, the app will guide players through the process of scanning a special QR code in the Target store, which will allow them to claim their Shiny Pikachu or Shiny Eevee.
Both of the free Pokemon are level 10, and will know four different battle moves. Players will only be able to receive one of the two Pokemon, based on the version of Let's Go, Pikachu or Eevee that they own.
Players who own Let's Go, Eevee will receive a Shiny Pikachu that knows Thunderbolt, Double Kick, Double Team, and Thunder, while players who own Let's Go, Pikachu will receive a Shiny Eevee that knows the moves Double-Edge, Iron Tail, Helping Hand, and Facade.
As part of this first promotion, players will also be able to unlock Psyduck and Mr. Mine stickers in the Pokemon Pass app by visiting Target starting May 11.
Finally, players who visit Target on May 11 between 10 a.m. and 1 p.m. local time will have the opportunity to receive some free goodies celebrating the release of Pokemon Detective Pikachu in theaters: a Psyduck promotional card for the Pokemon Trading Card Game and a movie poster (both will be available while supplies last).
Pokemon Pass is available to download for free on iOS and Android devices.