Be on the lookout for certain Pokemon!
The 2021 Hoenn Celebration Event has officially begun in Pokemon Go!
From January 19 at 10 a.m. local time until January 24 at 8 p.m. local time, Pokemon from the Hoenn region of the Pokemon universe will appear more often in the normal, in Raids, and more! (To see everything happening during this event, check out our previous coverage.)
As part of the Hoenn Celebration Event, players can complete a Hoenn Collection Challenge to receive 5,000 experience points, three Silver Pinap Berries, an Incense, and a point toward their Elite Collector Medal. This Collection Challenge will ask you to collect nine Pokemon before the Hoenn event ends:
Treecko
Torchic
Mudkip
Aron
Nosepass
Nincada
Bagon
Plusle
Minun
Keep in mind, if you already own any of these Pokemon, they won't count toward this Collection Challenge. Traded Pokemon also won't count. This means you need to collect "new" Pokemon during this event in order to earn the rewards.
You can keep track of the Pokemon you still need to capture by checking the game's "Today" menu.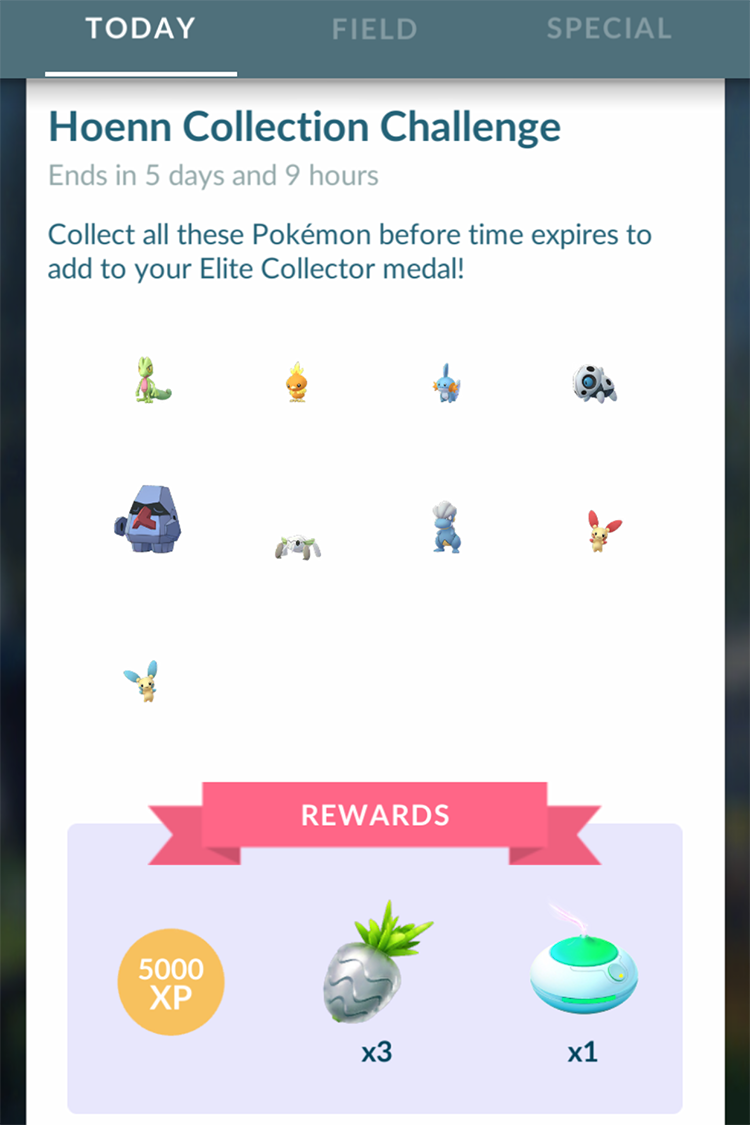 To learn more about Collection Challenges, check out our previous coverage.
Are you excited about the Hoenn Celebration Event in Pokemon Go? Let us know on Twitter at @superparenthq.

Brandy Berthelson has been writing about video games and technology since 2006, with her work appearing on sites including AOL Games, Digital Spy, and Adweek. When she's not gaming, Brandy enjoys crafting, baking, and traveling with her husband.