Don't get distracted by Celebi; there are new shinies to hunt!
Pokemon Go's second mythical Pokemon, Celebi, is now up for grabs via a Special Research storyline called "A Ripple in Time." This is an exciting update, but it comes with a roadblock that stops players from making progress in the questline for a few days. Specifically, the second part of the story asks players to capture a Pokemon three days in a row.
Pokemon Go has recently been updated with some other cool features that give you something to do while waiting to pass this quest.
As part of the Celebi launch celebration, Pokemon Go is throwing a Johto Festival, causing Pokemon from the Johto region of the Pokemon universe (seen in the Pokemon Gold and Silver video games) to appear more frequently. When players visit PokeStops during this event, they'll have the chance to receive "Johto Festival" Field Research tasks, which ask them to do things like "Evolve 3 Sunkern or Natu."
Speaking of Sunkern and Natu, Shiny versions of these Pokemon — as well as Pineco — are now appearing in the wild. As The Silph Road pointed out, Sunkern's Shiny form is only slightly darker than the original, so pay special attention to any Sunkern you capture to make sure you don't accidentally transfer away a rare Shiny creature!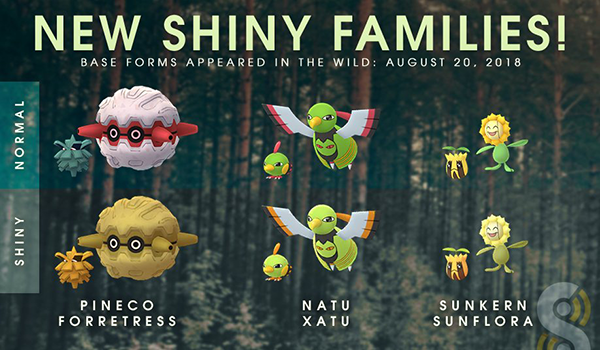 Pokemon Go players can also give their in-game avatar a new look with a free Celebi T-shirt. Clothing items based on the Pokemon HeartGold and SoulSilver video games (released on Nintendo DS in North America in 2010) have also been added, but some can only be purchased once players have earned Pokemon Go's Bronze Johto Medal. The Johto Medal tracks how many Pokemon from the Johto region players have registered in their Pokedex. Players need to register five Pokemon from the region to earn the Bronze Johto Medal.
Has your family encountered any of these new Shiny Pokemon yet? Tell us about in the comments, or tweet us at @superparenthq.