Want a super pretty Shiny Milotic? Your chance is coming soon!
Ah, Feebas, one of the — shall we say it? — ugliest Pokemon of them all, is about to have its day in the sun in Pokemon Go.
On January 19 from 2 p.m. ET to 5 p.m. ET, players will be able to spin Photo Discs at PokeStops to receive Limited Research tasks that will reward them with a Feebas encounter when they're completed.
Players are guaranteed to encounter Feebas each time they turn in one of these special Field Research tasks, and there's also the chance they'll encounter a special Shiny Feebas in the process!
Even though Feebas isn't much to look at, it has one of the prettiest evolutions in the entire Pokemon universe — Milotic. Feebas also evolves in a special way. Like other Pokemon, Feebas requires Pokemon Candy to evolve (in this case, 100 Feebas Candy), but you'll also need to walk with Feebas as your Buddy Pokemon for 20km before unlocking the ability to evolve it.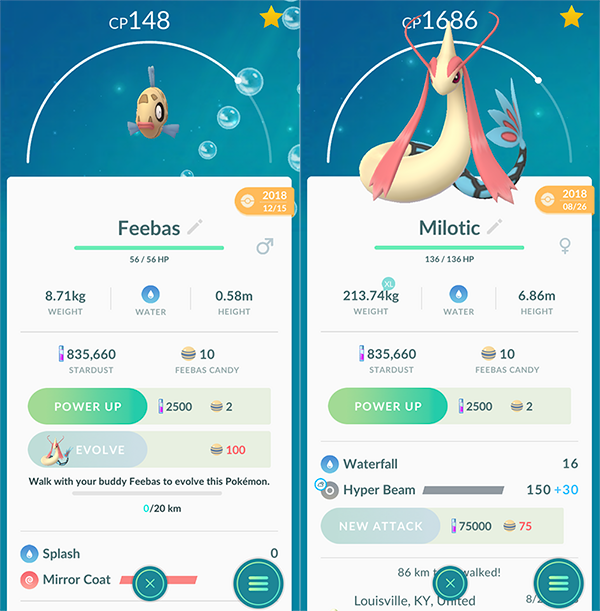 To be clear, you'll need to walk with each Feebas you want to evolve — it's not a one-and-done deal for the entire species. That means if you capture a Shiny Feebas during this Limited Research event (or even after), you'll need to walk with the Shiny Feebas as your Buddy Pokemon for 20km before being able to evolve it into Shiny Milotic. But it would definitely be worth it!
Also keep in mind that you only have to collect the Limited Research tasks during the three hour window on January 19 to encounter Feebas. If you complete the tasks after the event is over, you'll still encounter Feebas whenever you turn them in.
Happy Shiny hunting!

Brandy Berthelson has been writing about video games and technology since 2006, with her work appearing on sites including AOL Games, Digital Spy, and Adweek. When she's not gaming, Brandy enjoys crafting, baking, and traveling with her husband.