Defeat Team Go Rocket and collect new Strange Eggs!
Trainers, Strange Eggs have been added to Pokemon Go as part of a new Autumn Event. These Strange Eggs have a 12km walking requirement, and — at least for now — will contain Pokemon like Larvitar, Scraggy, Trubbish, and Vullaby. (To learn more about this in-game event, check out our previous coverage).
As part of this Autumn or Strange Eggs event, you can now complete a six-part series of Special Research tasks called "An Inter-egg-sting Development."
Here's what these tasks ask you to do, and the rewards you'll receive for completing them.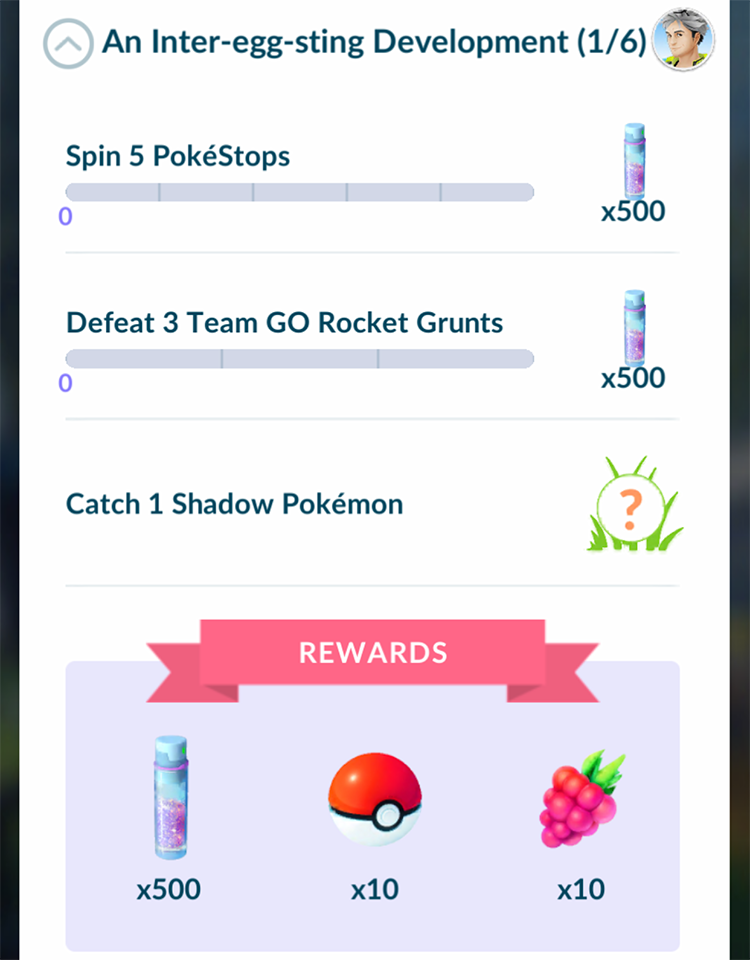 An Inter-egg-sting Development Part 1
Spin 5 PokeStops – 500 Stardust
Defeat 3 Team Go Rocket Grunts – 500 Stardust
Catch 1 Shadow Pokemon – An encounter with Meowth
Final Rewards: 500 Stardust, 10 Poke Balls, and 10 Razz Berries when all three tasks are completed
According to The Silph Road subreddit, here are the tasks and rewards for Parts 2-6 of this series.
An Inter-egg-sting Development Part 2
Catch 5 Shadow Pokemon – 750 experience points
Make 3 Nice Curveball Throws in a Row – 750 experience points
Purify 5 Shadow Pokemon – 750 experience points
Final Rewards: 1,500 Stardust, 10 Great Balls, and an encounter with Larvitar when all three tasks are completed
An Inter-egg-sting Development Part 3
Defeat a Team Go Rocket Leader 3 Times – 1,000 experience points
Hatch 3 Eggs – 1,000 experience points
Earn 5 Candies Walking With Your Buddy – 1,000 experience points
Final Rewards: 1,500 Stardust, 3 Golden Razz Berries, and a Pokemon encounter when all three tasks are completed
An Inter-egg-sting Development Part 4
Defeat Team Go Rocket Leader Arlo – 1,250 experience points
Defeat Team Go Rocket Leader Cliff – 1,250 experience points
Defeat Team Go Rocket Leader Sierra – 1,250 experience points
Final Rewards: 5 Hyper Potions, 3 Revives, and a Super Rocket Radar when all three tasks are completed
An Inter-egg-sting Development Part 5
Find the Team Go Rocket Boss – 2,500 Stardust
Battle the Team Go Rocket Boss – 1,500 experience points
Defeat the Team Go Rocket Boss – 3 Silver Pinap Berries
Final Rewards: 3,000 Stardust, 1 Charged TM, and 1 Fast TM when all three tasks are completed
An Inter-egg-sting Development Part 6
Automatically Completed Task – 2,000 experience points
Automatically Completed Task – 2,000 experience points
Automatically Completed Task – 2,000 experience points
Final Rewards: 3 Revives, 20 Great Balls, and an Elite Charged TM when all three tasks are completed