This game for preschoolers allows littles to travel around the world with Peppa Pig and her family.
Peppa Pig: World Adventures is now available on consoles and PC. We had the chance to try the game on Nintendo Switch.
What is Peppa Pig: World Adventures? What's this game about?
Peppa Pig: World Adventures is a casual game for preschoolers inspired by the Peppa Pig children's series. The game is a follow-up to the My Friend Peppa Pig video game that was released in 2021.
In Peppa Pig: World Adventures, players will become a new animal character in Peppa Pig's world, and they can embark on a variety of worldwide adventures with Peppa and her family.
How do you play this game?
Unlike My Friend Peppa Pig, which was a sandbox-style game that lacked a linear storyline, Peppa Pig: World Adventures has a story to complete, which will see players move into Peppa's town and travel to eight destinations around the world with Peppa Pig.
When players first begin the game, they can customize the look of their in-game character by choosing their gender (determined by whether or not their character is wearing a dress), animal species, and fur color. Players can also decide whether they want their character to wear a hat and/or glasses.
From there, they can create their character's family. Players are only required to create a single parent for their character, but they also have the option to create a second parent and up to two siblings. Players have the ability to customize the appearance of each of their family members, and different family members can be different animal species. The game also supports same-sex parents.
Finally, players can customize the appearance of their family's house by choosing the wall color, roof design, and more.
Once players move into their home, they'll meet Peppa's family and will be told to visit the Playgroup with Peppa. At the Playgroup, players will learn about traveling to worldwide locations via the cruise ship in town. Once this introduction is over, players will have the option to begin traveling to different destinations around the world with Peppa and her family.
While the game's introduction is linear (that is, players are told exactly what to do), once players unlock the cruise ship, they can visit the game's different locations in any order they'd like.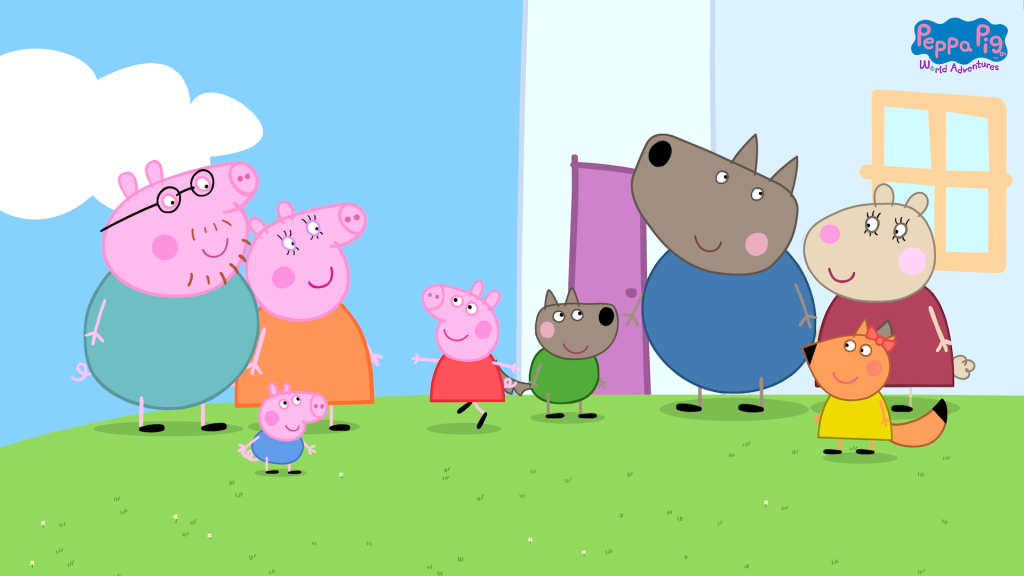 To start, players can visit seven worldwide locations with Peppa and her family: New York City, Germany, Barcelona, Australia, London, Italy, and Paris. An eighth location, Hollywood, unlocks as players progress. Players can visit Hollywood with Peppa and their character's own family. Once players visit Hollywood and complete the short story there, it doesn't appear they can return to this area, but all of the other destinations can be visited multiple times.
At each destination, players can complete a few simple activities, such as decorating a Christmas tree at a Christmas market in Germany, playing cricket in the outback in Australia, and looking at New York City landmarks through a telescope from the top floor of the "New York Skyscraper."
Unfortunately, there aren't that many activities to complete in each location, and no new activities are added if players visit a destination more than once. Instead, players will see the same cutscenes and will need to complete at least a portion of the activities they previously completed in the area before being able to return to Peppa's town. Kids can speed up this repetition by holding a button to skip cutscenes they've already viewed.
As players visit worldwide destinations, they can collect souvenirs, such as a Statue of Liberty figure from New York City and a candy cane from the Christmas market in Germany. Some souvenirs will be collected automatically as players complete activities, while others can be collected manually. These souvenirs will automatically be placed around the player's home as decorations. In addition, as players visit different destinations, they'll unlock new customization options for their family's home inspired by the architectural styles in those areas.
When players aren't visiting one of the game's worldwide destinations, they can complete short activities in a few areas in Peppa's hometown, such as their character's home and Peppa's home. For instance, they can dress their character in different costumes or play with toys in their bedroom.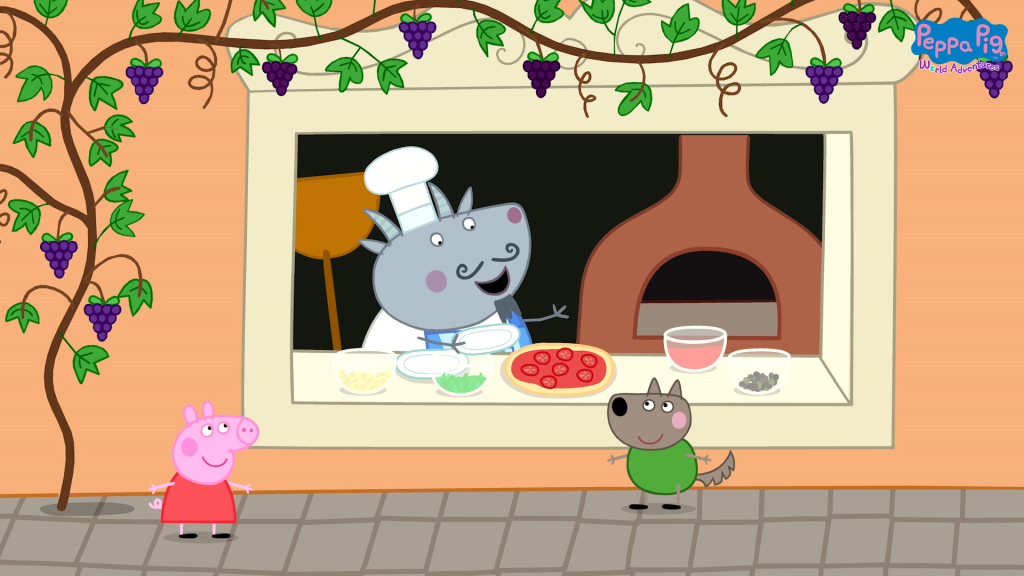 Is this game fun to play?
Peppa Pig: World Adventures is a charming game for preschoolers that's fun while it lasts, but we wish there were more activities to complete at the game's worldwide destinations and back in Peppa's hometown. As it is, once players complete the short story and set of activities in each worldwide destination (we cleared each one in 10-15 minutes), they'll be forced to start repeating activities if they want to continue playing.
Is there anything else parents need to know about this game?
Peppa Pig: World Adventures has an optional parental control feature that allows parents to set a play time limit for their child. They can choose 5, 10, 15, 20, or 30 minutes. When the time limit is reached, the game will automatically take players back to Peppa's house where they'll have a sleepover and a "Continue playing?" window will appear on the screen. Parents should be aware that kids can select "Yes" to bypass this window and continue playing.
In addition, we recommend players download any updates that are available for the game before they begin playing. For this review, we were able to play the game before it was released, and we encountered many bugs in the pre-release version of the game that were fixed by the game's launch update (that is, the update that was released for the game to coincide with its launch).
In the interest of transparency, after the game's launch update was released, we didn't recheck every bug we initially encountered, but the launch update fixed or at least improved all of the issues we did recheck. Overall, the game's launch update greatly improves the experience players can have with the game, so we highly recommend downloading it.
What's the final verdict?
Peppa Pig: World Adventures is a cute game for preschoolers that lacks replayability but is fun to play the first time around.
If you have kids that are fans of Peppa Pig and would enjoy this simple gameplay experience, we recommend checking this game out.
---
Peppa Pig: World Adventures is now available for $39.99 on Switch, PlayStation consoles, Xbox consoles, and PC. The game is rated E for Everyone by the ESRB.
Disclosure: SuperParent received a code for Peppa Pig: World Adventures for coverage purposes.