Go on adventures with Peppa Pig and her family in this sandbox game for littles.
My Friend Peppa Pig is now available on consoles, PC, and Stadia.
We checked out the Switch and PlayStation 4 versions of the game.
What's My Friend Peppa Pig about?
My Friend Peppa Pig is a sandbox game that's inspired by the Peppa Pig animated series for preschoolers. The game allows players to become a new animal character in Peppa's world. Rather than having a linear storyline to complete, the game allows players to explore environments alongside Peppa and her family however they'd like.
How do you play this game?
My Friend Peppa Pig allows players to create their own character before they begin. Rather than choosing to be a boy or a girl, players choose from two outfit types: one that resembles a dress and one that doesn't. From there, they can choose the color of their outfit, the species for their character (like a mouse or sheep), their character's "fur" color, and whether they want their character to wear glasses and/or a hat.
Once players create their character, the narrator leads them through a short tutorial that teaches them the controls before they can begin exploring.
My Friend Peppa Pig uses simple one-button controls. That is, players can press a single button to interact with people and objects as they move throughout Peppa's world. Peppa will accompany players on their journey, and she may encourage them to follow her or visit specific places. However, kids don't have to follow these suggestions — they can explore the in-game world however they'd like (with a few exceptions, which we'll get to in a second).
Players start in Peppa's House, but from there, they can visit the Museum, Windy Castle, Potato City, the Playgroup, Peppa's grandparents' house, and more. Each of these locations features a variety of short activities to complete. As just a few examples, kids can draw pictures or participate in a foot race at the Playgroup, build a sandcastle or splash in the water at the beach, ride a chairlift on Snowy Mountain, view exhibits at the Museum, play dress-up in Peppa's room, splash in mud puddles, fly kites, and more.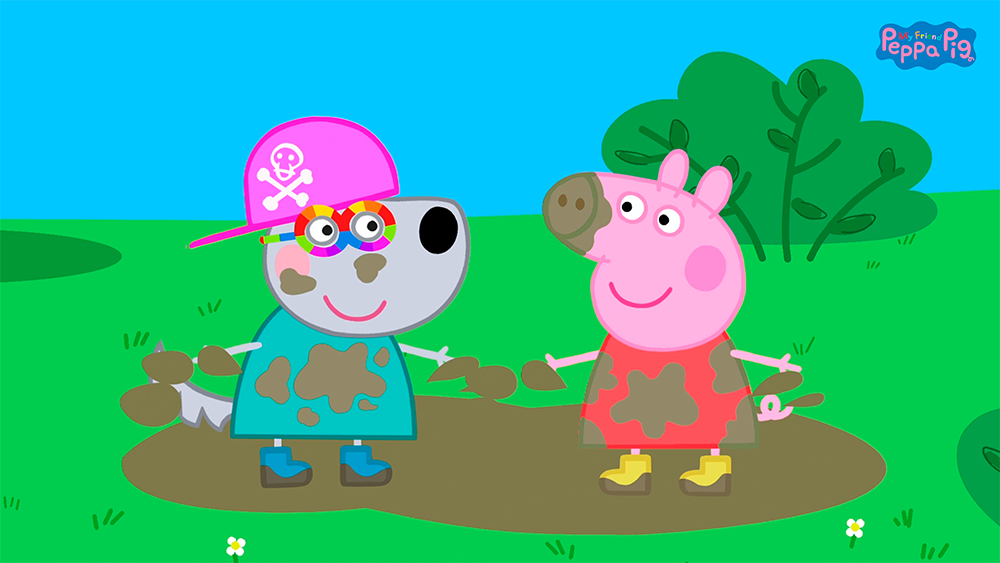 As players explore different areas, the game may ask them to complete specific tasks, like finding Daddy Pig's lost glasses or returning all of Granny's chickens to their yard. Peppa's parents may also take players to Windy Castle, where they can view different in-game locations from a telescope at the top of the castle tower.
While there's lots to do in My Friend Peppa Pig, the activities aren't limitless and kids can repeat any activities they want. The game may also repeat certain pieces of narration and spoken dialog, as well as certain activities automatically over time. For instance, during our time with the Switch version of the game, Peppa's parents took us to Windy Castle three times, and there's no way to skip this trip once it begins.
My Friend Peppa Pig features full voice acting as well as on-screen subtitles for both the narrator and the in-game characters, so kids aren't required to know how to read to play the game. We did notice a few slight issues with the subtitles, like a missing period at the end of a sentence and a case where a word was missing from the subtitles when compared to the spoken dialog, but these issues weren't major.
Is this game fun to play?
My Friend Peppa Pig is more of a digital toy than a traditional video game, so the experience may be boring for adults, teens, and older kids. However, the game wasn't made for these age groups. My Friend Peppa Pig was designed for very young players and preschoolers, and it offers lots of cute activities for these youngsters to complete.
We also appreciate the game's attention to detail. For instance, a picture players draw at the Playgroup may appear on Peppa's wall in her room later on. This makes the experience feel more immersive and "real," so kiddos can really feel like they're a new friend in Peppa's world.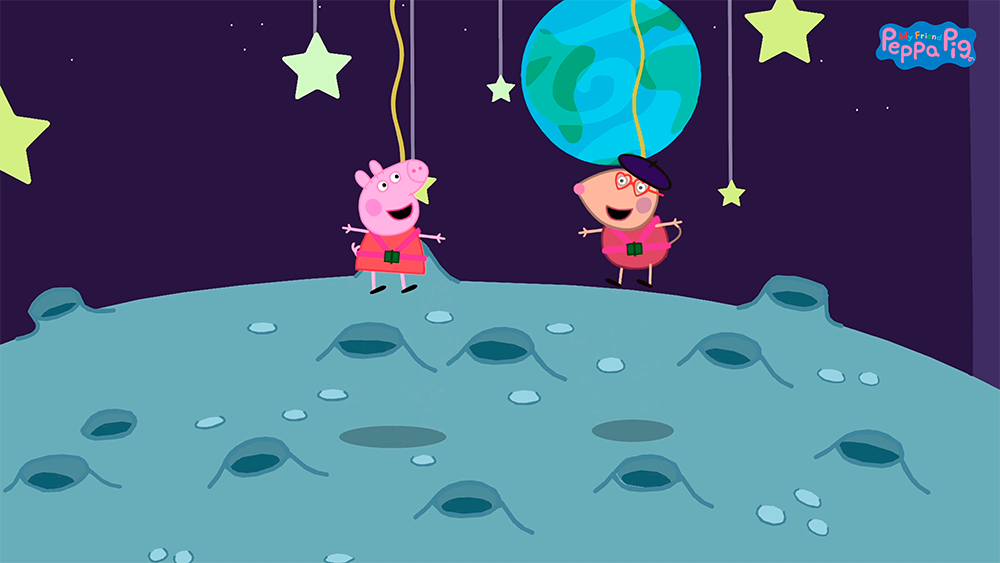 Is there anything else parents need to know about this game?
My Friend Peppa Pig features an automatic parental control feature that allows parents to limit how long their kiddo can play the game during each session. By default, this feature is set to 20 minutes, but you can choose 5 minutes, 10 minutes, and 15 minutes instead. There's also a "0" minute setting, which seems to be the "off" setting for the parental controls, since our gameplay session didn't instantly end when we chose this option.
When the set time limit is up (if you set a limit), Peppa's parents will bring players back to Peppa's house where they can have a sleepover with Peppa in her room. After Peppa and the player's character go to sleep, the game zooms into Peppa's window, looking out at the night sky. This is supposed to indicate that it's "time up" for players, but this isn't clearly indicated.
That is, parents would need to know this sequence of events is going to happen ahead of time and tell kids that they need to stop playing once Peppa and their character go to sleep.
If you'd like to limit the amount of time your littles can play My Friend Peppa Pig, we recommend using each platform's parental control features outside of the game, rather than relying on this in-game feature.
It's also worth noting that My Friend Peppa Pig features pretty frequent loading screens, and loading times are longer on Nintendo Switch when compared to PlayStation 4 (we played the PlayStation 4 version on PlayStation 5). However, the loading times weren't so long on Switch that they became a deal breaker.
Parents should also know that My Friend Peppa Pig supports up to three save files, so up to three kiddos can create their own characters and save their progress individually.
Finally (and this may be a nitpick on our part), while players are searching for items in the rock pools at the beach, players are allowed to pull things out of the pools, but Peppa takes the credit in the dialog, saying that she found them instead. This could just be an awkward way to avoid saying the player character's name (they aren't given one and are instead addressed in vague terms like "you"), but it came across as rude in our experience.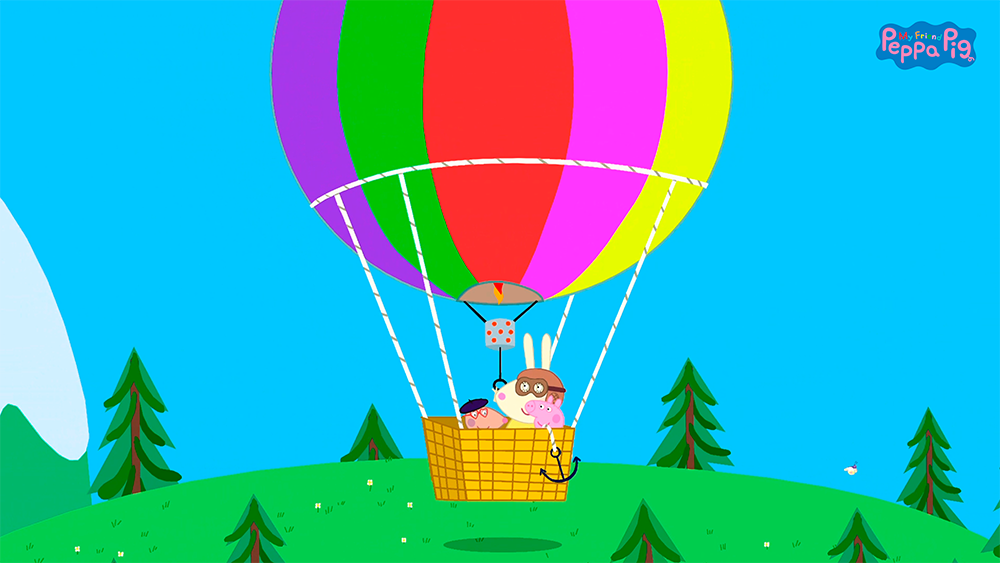 What's the final verdict?
My Friend Peppa Pig is a cute sandbox game designed for a particular audience (very young kids), which means it may not appeal to anyone else in the family. In addition, since there's no traditional storyline to complete (kids are instead encouraged to explore and try everything on their own in order to see everything in Peppa's world), the game may not appeal to players who like a more guided experience.
Even so, if you have littles that are just jumping into the world of video games or would enjoy such a simple experience, we recommend checking this game out.
---
My Friend Peppa Pig is now available for $39.99 on Switch, PlayStation 4, Xbox One, PC, and Stadia. The game is rated E for Everyone by the ESRB.
Disclosure: SuperParent received My Friend Peppa Pig for Switch, PlayStation 4, Xbox One, and PC for coverage purposes.
Editor's note (10/27/2021): This article has been updated with details about Peppa's dialog during the rock pools activity.