Here's everything you need to know about this training facility.
In Paper Mario: The Origami King, you're challenged to explore a colorful paper world on a quest to defeat the evil King Olly, who wants to refold the world into origami!
On your quest, you'll come across lots of different enemies (including bosses) that you'll need to defeat in unique ring-based battles.
In regular battles, enemies appear in different spots on "rings" that you can move in order to line them up into specific formations (for instance, a line of four in a row). If you line enemies up correctly, you can attack them all in a single move.
Enemies won't appear in "random" locations around the rings. Instead, each battle is like a mini puzzle. Once you find the solution, you can simply move the rings to make sure enemies are in the right spots. However, some puzzles are easier to solve than others (especially since you have a limited amount of time to line up enemies on your turn).
If you ever want to practice these battles without worrying about taking damage, you can do so by heading to the Battle Lab in Toad Town.
The Battle Lab is next door to the Musee Champignon, but you'll need to rescue a particular Toad before you can actually use the facility. Thankfully, this Toad is impossible to miss.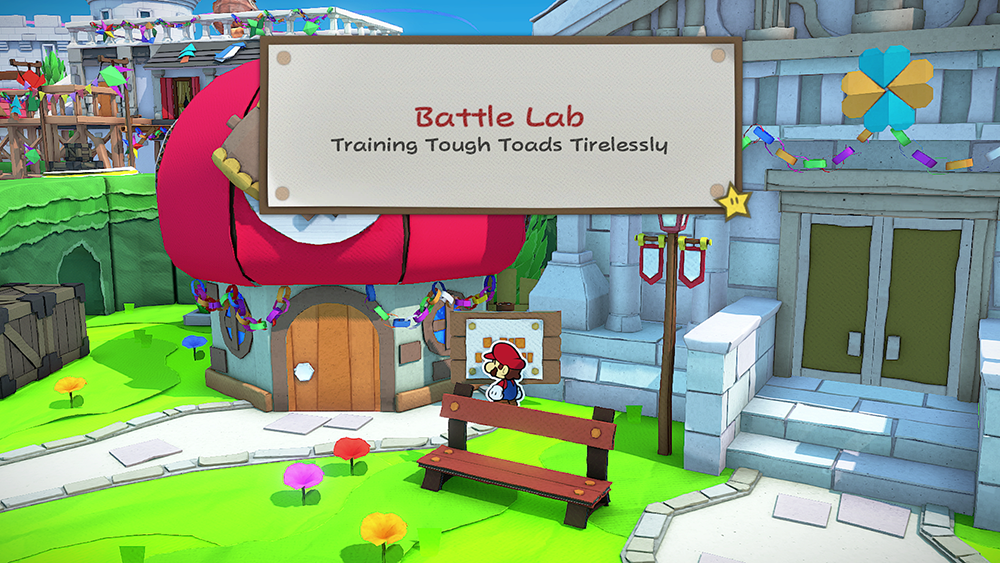 At the end of the Picnic Road area (heading into Overlook Mountain), you'll see a paper dog blocking the way. This is actually the Toad you need to rescue in disguise. Once you rescue this Toad, he'll head to the Battle Lab in Toad Town and you can visit him whenever you want. (You can get there quickly by fast traveling.)
The first time you enter the Battle Lab, you'll receive a free 1-Up Mushroom, which will automatically revive Mario in a battle if he runs out of health.
From there, you can practice normal ring-based battles by interacting with the brown machine on the right side of the lab. The machine has two modes to choose from.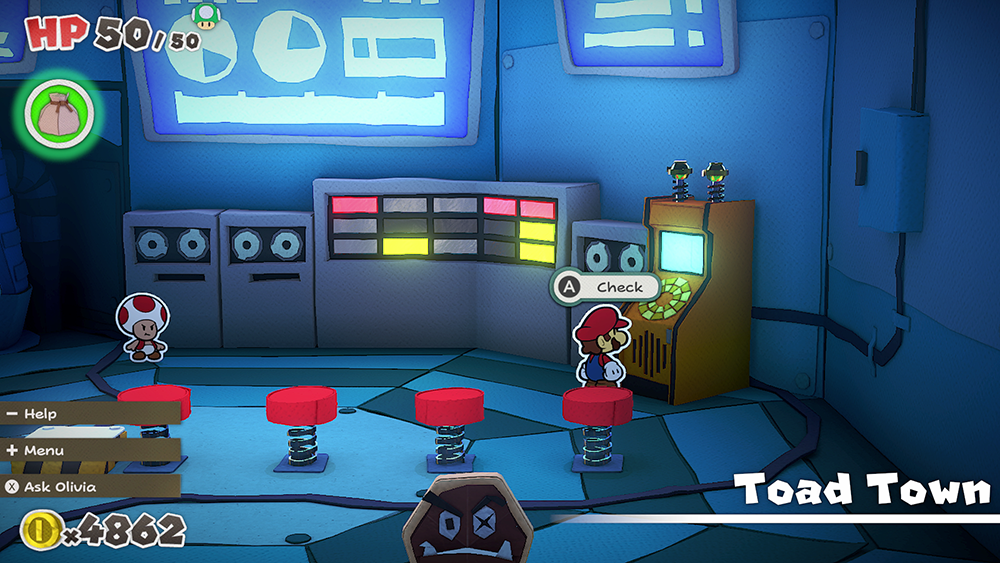 The first is called "The Ringer," and it challenges you to solve 10 puzzles as quickly as you can (there are three levels to complete in The Ringer, and each has 10 different puzzles). In each puzzle, you're presented with different colors of Toads, and you're asked to line them up just like you'd line them up enemies in a regular battle. You can take as much time as you need to solve each puzzle. If you don't solve a puzzle correctly, it's game over and you can try again from the beginning of the level.
The other mode is called Speed Rings, and it gives you 100 seconds to complete as many puzzles as possible.
The Battle Lab also has stations that allow you to practice the timing of your boots and hammer attacks, as well as a station that lets you practice guarding. Finally, the Battle Lab has a VR boss battle machine that you can use after you've defeated at least one boss in the game's main story.
Finally, according to GameWith, you'll eventually be able to return to the Battle Lab to receive two helpful items: the Puzzle Solver and the Time Extender. We'll bring you guides about these items soon!
To learn more about Paper Mario: The Origami King, or to view the rest of our guides for the game, check out our previous coverage.
Disclosure: Nintendo gave SuperParent a code for Paper Mario: The Origami King for coverage purposes.