Nickelodeon Kart Racers 2: Grand Prix is a kart-racing video game from Bamtang Games and GameMill Entertainment. It's the sequel to the original Nickelodeon Kart Racers, which was released in 2018.
Grand Prix is now available on Switch, PlayStation 4, and Xbox One. We had the chance to check out the Switch version of the game.
How is this game played?
If your family is familiar with Mario Kart 8 Deluxe (one of the best family-friendly games on Switch), you'll feel right at home when you start Nickelodeon Kart Racers 2: Grand Prix.
The game lets you compete as 30 different Nickelodeon characters (stars from Rugrats, SpongeBob SquarePants, and more) in single-player and multiplayer races that take place in Nickelodeon-themed courses and arenas (the game supports both four-player local and online multiplayer races).
There are also multiple race types to choose from. This includes Grand Prix events (each has four races to complete), Free Races, and Time Trials. Plus, special Challenge events and the Arena give you even more to do (more on these modes in a second).
During normal races, you can drive through item bubbles that contain a variety of offensive and defensive items, which you can use to mess with your opponents or defend yourself from oncoming attacks. You can also drift around corners and/or jump off of ramps to give yourself a speed boost, and you can even collect slime to trigger your driver's special ability.
Nickelodeon Kart Racers 2: Grand Prix allows you to customize your racing experience in a number of ways. In addition to choosing from three different racing speeds and difficulty levels, you can create a "pit crew" for your driver before each event by choosing from over 70 different Nickelodeon characters, with each giving you a specific ability or bonus.
While you start with a limited number of drivers and pit crew members to choose from, you can unlock more by simply playing the game.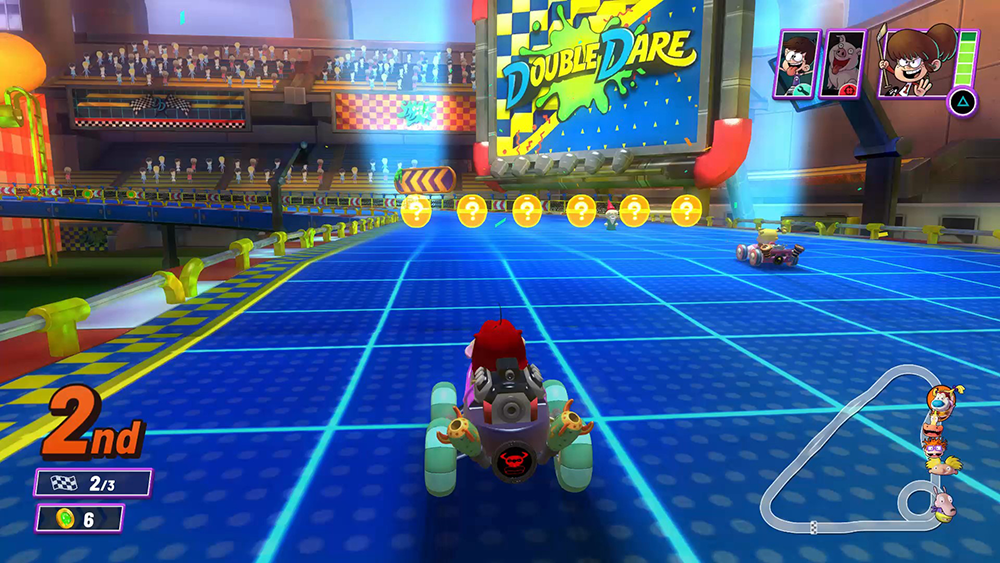 Each racer has different base stats for things like top speed and steering, and you can tweak these stats before a race by choosing from different engines, wheels, and exhaust pipes. When it comes to choosing pit crew members, there are options for both offensive and defensive strategies, and you can mix and match your favorites to create an experience that suits your tastes.
Finally, as you play, you'll be able to collect in-game currency that you can spend in the garage to purchase new engines, wheels, exhaust pipes, and paint jobs for your karts, giving you even more options to choose from.
If you want a break from normal races, the game's Challenge events will ask you to complete specific tasks while racing (such as hitting targets before time runs out), while the Arena allows you to compete in two battle modes: Free-for-Alls and "Control the Golden Spatula."
Free-for-Alls challenge drivers to hit their opponents with items a required number of times, while the Golden Spatula mode asks players to drive through a golden spatula and hold onto it for a combined total of 15 seconds. These events take place in arenas, rather than on traditional race tracks.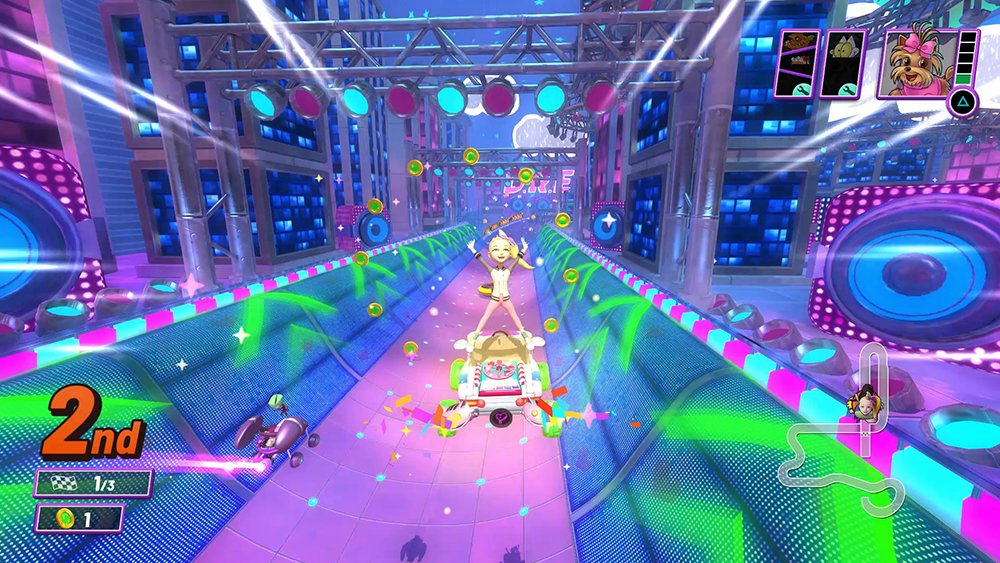 Is this game fun to play?
We were pleasantly surprised by just how fun this game is (the original Nickelodeon Kart Racers wasn't well received by critics).
The game's "slow" speed (and easy difficulty setting) may be a bit too tame for more experienced players, but the medium and fast settings provide more action.
Even experienced players may find it challenging to win events on the highest difficulty setting, as the computer-controlled drivers are more aggressive and weapons and obstacles are flying all over the track. Whether or not this extra challenge is actually a positive feature will be up to your family to decide. That is, do you enjoy races where you have a considerable lead the entire time, or do you prefer to experience more action and have to fight for victory?
While the slow and fast speeds provide the two gameplay "extremes," the medium speed strikes a decent balance, allowing experienced players to still comfortably win races, but perhaps without feeling like a blowout.
What's the final verdict?
Nickelodeon Kart Racers 2: Grand Prix doesn't reinvent the wheel in the world of kart racing video games. While the game feels very similar to Mario Kart 8 Deluxe, it's still a fun racing game in its own right, and since it's available on multiple platforms, even families without a Switch can get in on the fun.
Plus, with so many characters / items to unlock and race modes to try out, there's plenty here to keep kids (and adults) busy for quite some time, making it a pretty good value for families.
---
Nickelodeon Kart Racers 2: Grand Prix is available for $39.99 on Switch, PlayStation 4, and Xbox One. The game is rated E for Everyone by the ESRB.
Disclosure: GameMill Entertainment gave SuperParent a code for Nickelodeon Kart Racers 2: Grand Prix for coverage purposes.