Hit the track as your favorite Nickelodeon stars.
Nickelodeon Kart Racers 2: Grand Prix is a kart-racing video game from Bamtang Games and GameMill Entertainment. It's the sequel to the original Nickelodeon Kart Racers, which was released in 2018.
In Nickelodeon Kart Racers 2: Grand Prix, you can choose from 30 different racers from popular Nickelodeon series, such as SpongeBob SquarePants, Rugrats, and Teenage Mutant Ninja Turtles. When you first start the game, some of these racers are locked, but you can unlock them (and other items) by playing the game.
There are multiple gameplay modes to choose from. You can compete in a variety of Grand Prix events (which each have four races), Free Races, and Time Trials, as well as test your skills in Challenge events and the battle Arena. You can play on your own and against others in local (in the same room) and online multiplayer.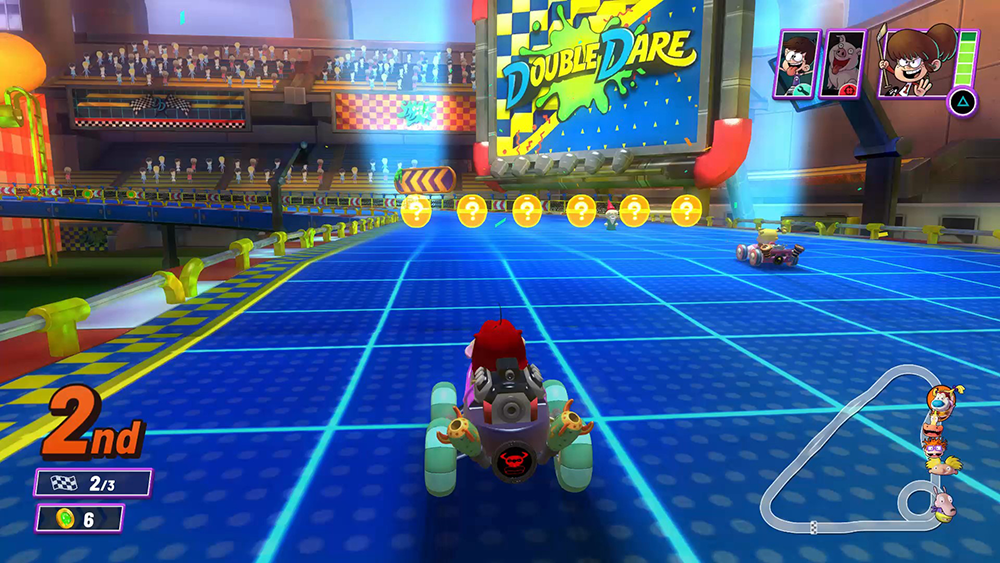 During regular races, you can drive through item bubbles that contain a variety of offensive and defensive items, which you can use to mess with your opponents or defend yourself from oncoming attacks. You can also drive through slime to fill your character's slime meter. When the meter is completely full, you can activate your special ability.
Challenge events, meanwhile, ask you to complete a specific task. For instance, one may challenge you to hit five targets while driving before time runs out, while another may challenge you to simply reach the first place position in a limited amount of time.
Finally, the Arena lets you compete in two separate battle types: Free-for-Alls and "Control the Golden Spatula." These events take place in arenas, rather than on race tracks, and challenge drivers to either hit their opponents with items a required number of times (Free-for-All) or pick up a Golden Spatula and hold onto it for a combined total of 15 seconds.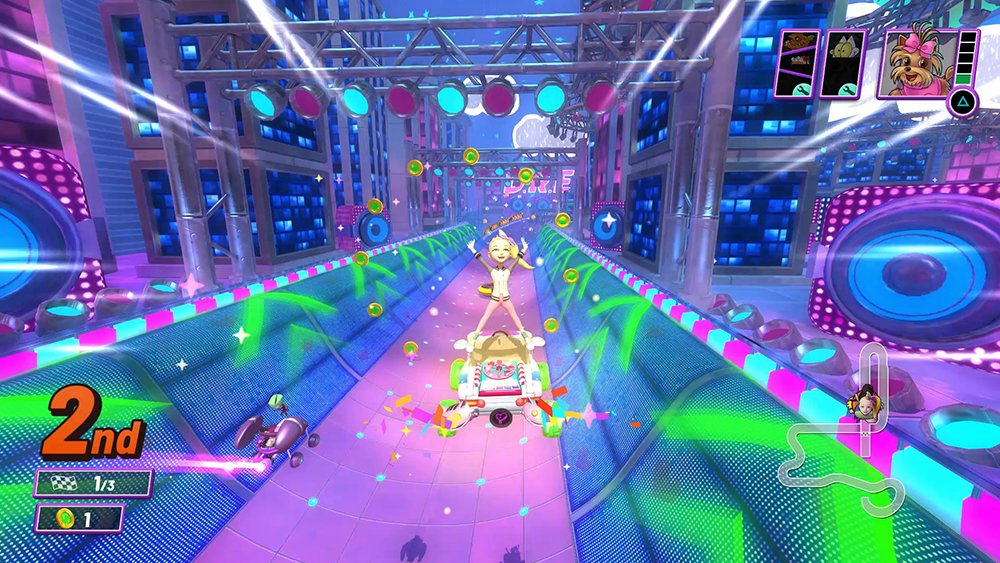 Each racer has different base stats for things like top speed and steering, and you can tweak these stats before a race by choosing from different engines, wheels, and exhaust pipes. You can also choose from over 70 other Nickelodeon characters to form a pit crew, with each character giving you a certain boost or ability. You can mix and match different characters (and kart customization options) to find the right combination that suits your play style.
Lastly, the game offers three difficulty levels, which change the overall race speed and opponent difficulty.
Nickelodeon Kart Racers 2: Grand Prix is available physically and digitally for $39.99 on Switch, PlayStation 4, and Xbox One. The game is rated E for Everyone by the ESRB.
Check out some Nickelodeon Kart Racers 2: Grand Prix gameplay (on Switch) in our video below.
Disclosure: GameMill Entertainment gave SuperParent a code for Nickelodeon Kart Racers 2: Grand Prix for coverage purposes.