Become a teacher and help your school and students grow in this game for kids.
My Universe – School Teacher is one of the latest games in the "My Universe" series from Microids. The first game in the series, My Baby, was released earlier this year. Even though the My Universe games are in the same franchise, they aren't directly connected in terms of storyline or characters, so players don't need to play every game to enjoy a single one.
In My Universe – School Teacher, kids can become a school teacher and teach lessons with the goal of helping their school grow. To start, players need to create a teacher by choosing their gender, and then selecting from a variety of hair styles, hair colors, eye colors, clothing items, and more. They can also name their teacher and their school.
From there, they'll be presented with a daily schedule of events and lessons that make up the current school year (there are three activities to complete on each in-game day).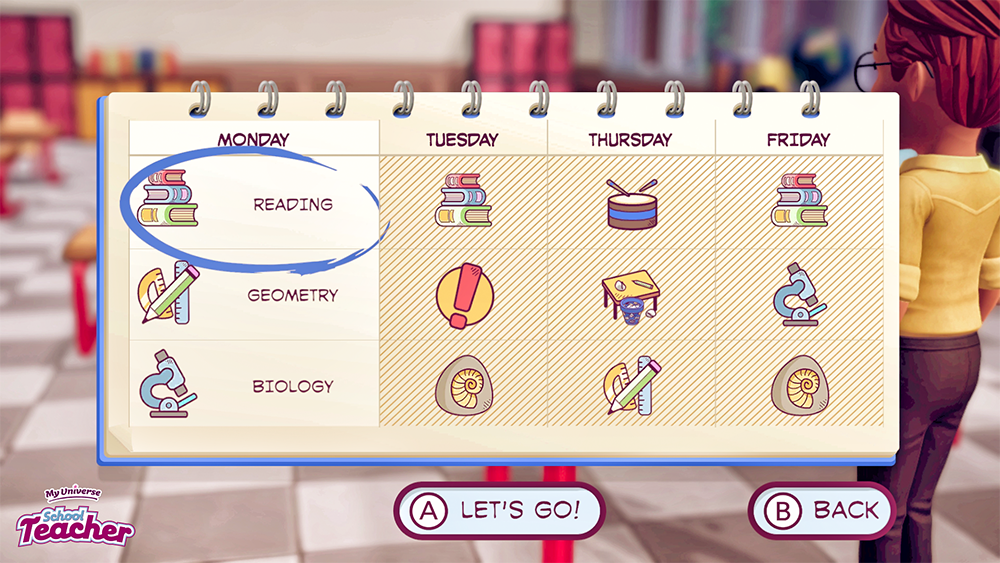 Lessons are broken into two parts: teaching the lesson and observing the class as they study what they've learned. The teaching portion is a mini-game that asks players to complete various tasks, such as memorizing button combinations and then entering them in the correct order, or rearranging symbols to match an on-screen pattern (as just a couple of examples).
Once the teaching portion is over, a timer will start in the corner of the screen, and players will need to monitor their students as they study. When students have a question, players will need to press the right buttons (displayed on the screen) to answer their question. Kids can also become distracted and even fall asleep, so players will need to interact with them and either move the left joystick or press the correct button to snap them out of it.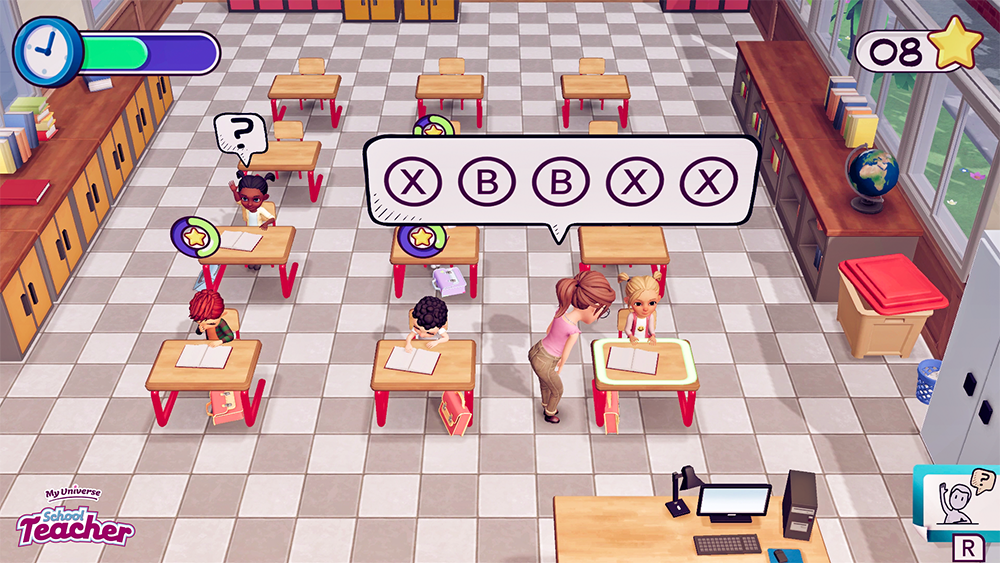 As students learn, they'll generate stars that contribute to the school's overall level. Each time the school levels up, players receive a new customization item for their classroom or teacher.
In addition to these lessons, school days may involve other activities, such as picking up garbage around the classroom. Plus, you can freely explore the school and talk to students and other members of the faculty.
My Universe – School Teacher is available now on Switch, PlayStation 4, and Xbox One, and it's coming soon to PC and Mac. The game is rated E for Everyone by the ESRB.
While My Universe – School Teacher is a children's game, it doesn't include voice acting, so kids will need to know how to read or play alongside someone who can help them follow along with the story.
Check out 21 minutes of My Universe – School Teacher on Switch in our video below.
Disclosure: Microids Life gave SuperParent a code for My Universe – School Teacher for coverage purposes.