The fight for the future of Hyrule continues!
Nintendo and Koei Tecmo have finally released the full details for Hyrule Warriors: Age of Calamity's upcoming Expansion Pass.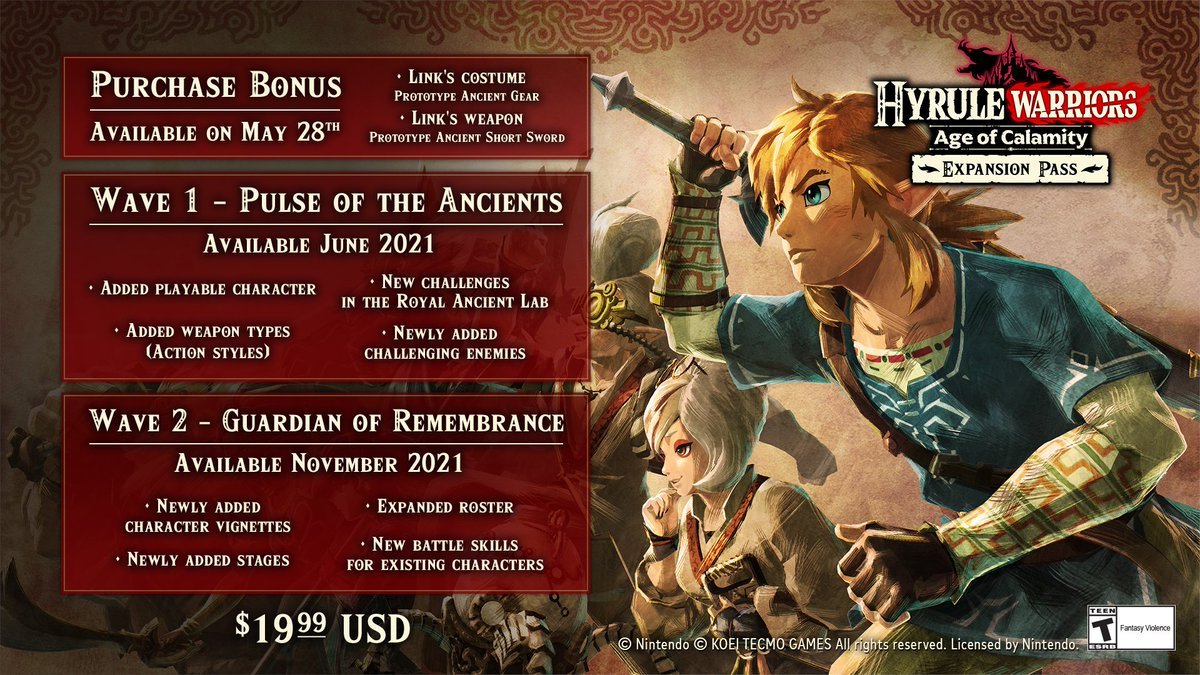 The Expansion Pass will be available for pre-purchase on May 28th, with all pre-orders receiving two new items for Link in the Prototype Ancient Gear and Prototype Ancient Short Sword from The Legend of Zelda: Breath of the Wild.
Wave 1 of the pass is called "Pulse of the Ancients" and will add one playable character who has yet to be identified, new challenges in the Royal Ancient Lab, new weapon types, and new enemies to face off with. "Pulse of the Ancients" is set to arrive in June 2021.
Wave 2 of the pass is called "Guardian of Remembrance", which will add new character vignettes for more story information, an "expanded roster", new stages, and a set of new skills for each of the existing playable characters. The pass details do not include any specific names of new characters or stages added in Wave 2. "Guardian of Remembrance" is scheduled for launch in November 2021.
Hyrule Warriors: Age of Calamity is available now on Switch for $59.99. The game is rated T for Teen by the ESRB. Learn more about the game, and see it in action, in our SuperParent First Look.

Brandy Berthelson has been writing about video games and technology since 2006, with her work appearing on sites including AOL Games, Digital Spy, and Adweek's Social Pro Daily. When she's not gaming, Brandy enjoys crafting, baking, and traveling with her husband.