Spooky and cool.
Funkoween is Funko's yearly celebration of the halfway point to Halloween. This year, Funko's spooky festivities are being held from May 24 to May 28, 2021. Each day during the event, Funko will reveal a variety of creepy (but still cool) products that will be available later this year.
Here are the highlight reveals from Day 2 of Funkoween 2021. Keep in mind, we're only showing you products related to kid-friendly brands and characters. To see everything that was revealed during Day 2, check out Funko's Twitter account.
Or, if you missed any of the kid-friendly reveals from Day 1, check out our overview to see the products that were announced!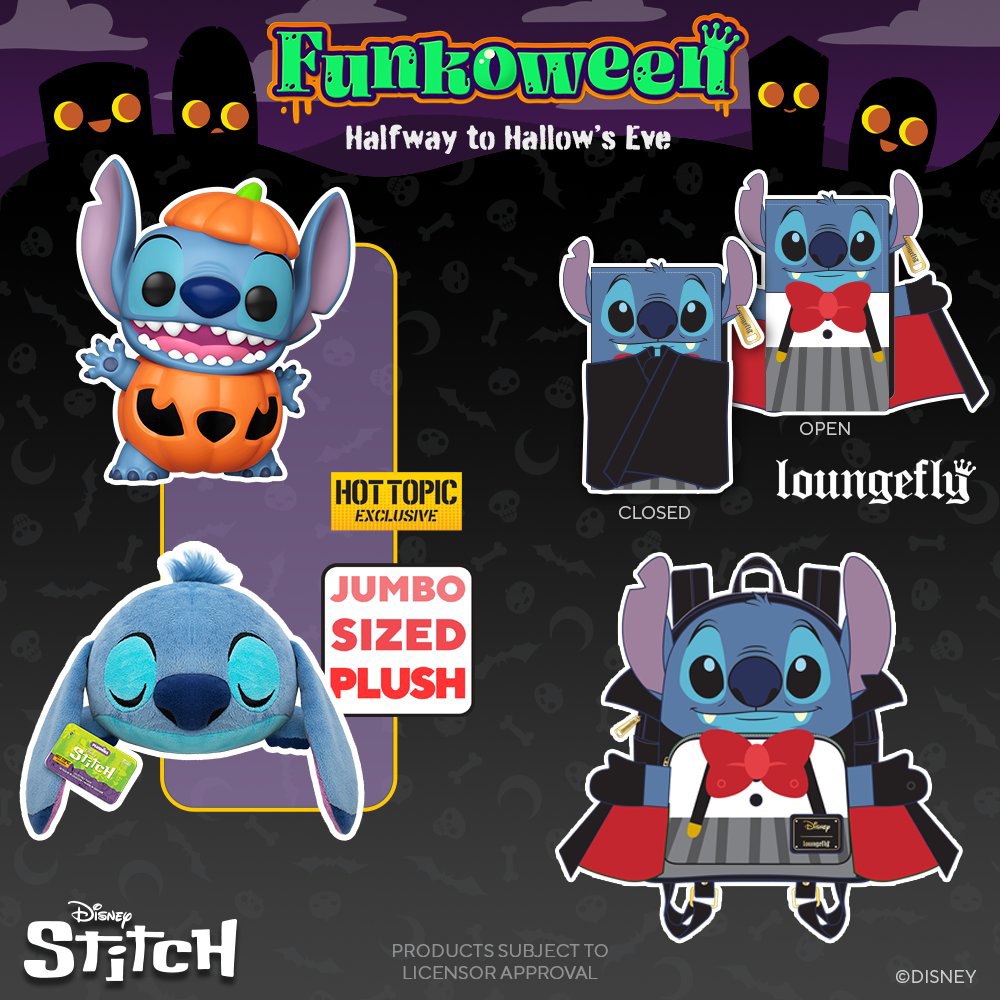 Disney's Stitch Pop, Plush, and Accessories
Funko revealed new items featuring Stitch, the lovable blue alien from Disney's Lilo & Stitch franchise. There's a Pop figure of Stitch dressed as a Jack-o-Lantern and a jumbo Stitch plush (both of which will be sold exclusively at Hot Topic), as well as some accessories (like a backpack) that feature Stitch dressed as a vampire. The accessories will be sold exclusively at Loungefly.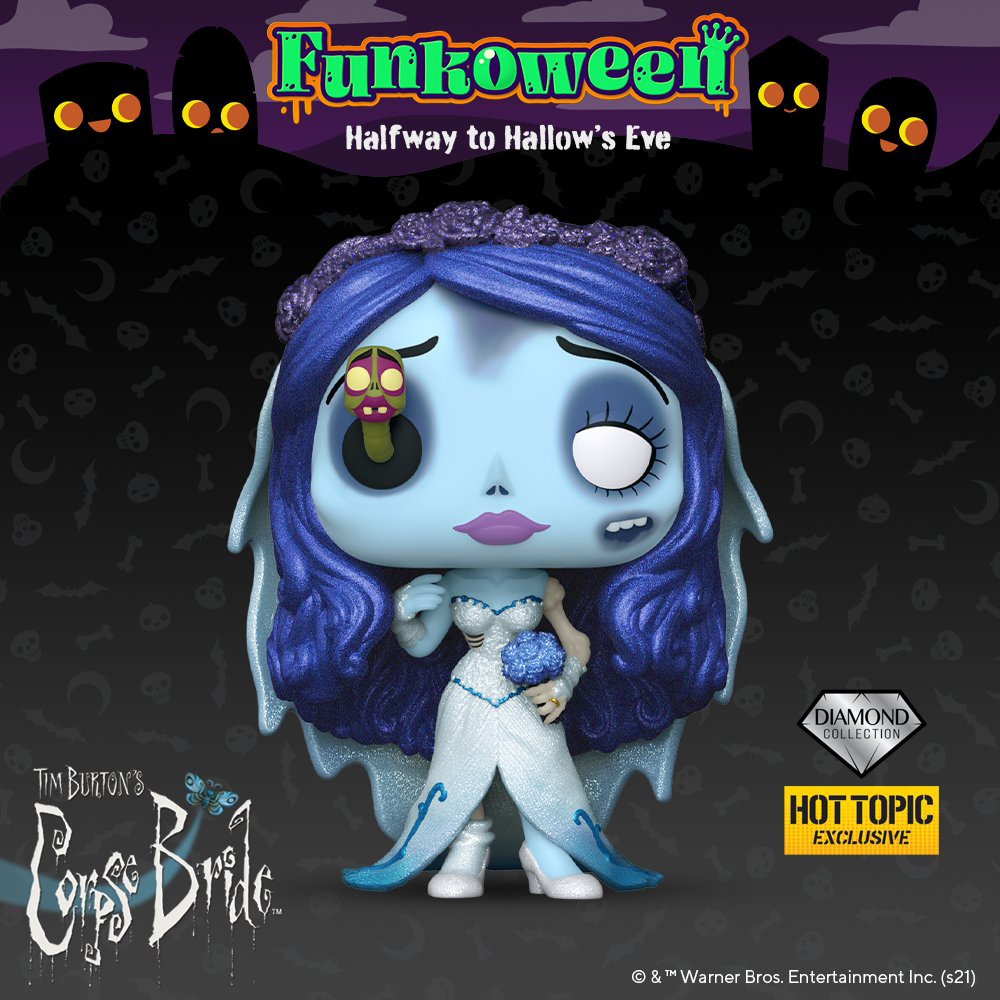 Corpse Bride Diamond Collection Pop
Fans of Tim Burton's Corpse Bride will be able to pick up a Diamond Collection Pop figure of Emily. Diamond Collection figures are partially covered in glitter. In this case, you can see the glitter on Emily's hair, dress, and more. This Pop will be sold exclusively at Hot Topic.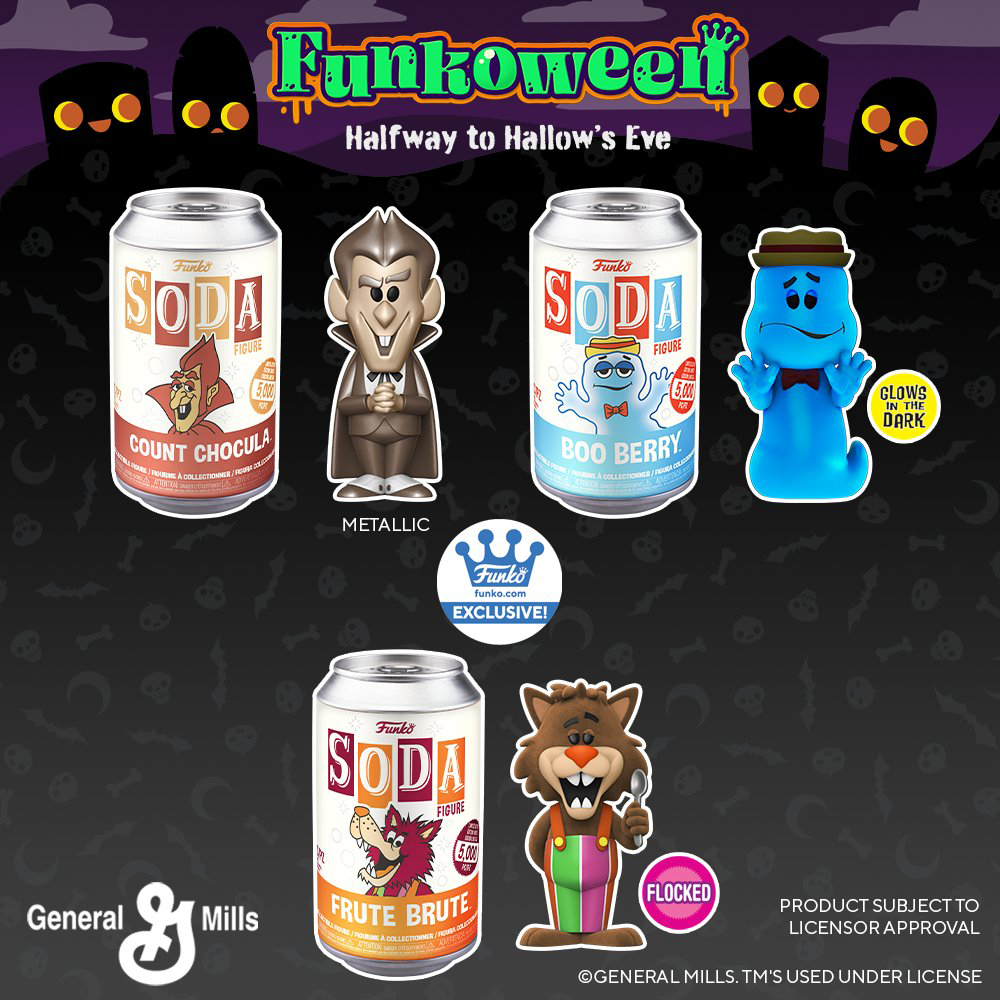 General Mills Cereal Mascot Soda Figures
Funko revealed three new vinyl Soda figures inspired by General Mills' spooky cereal mascots, Count Chocula, Boo Berry, and Frute Brute. The Count Chocula figure will have a metallic appearance, while the Boo Berry figure will glow in the dark. Finally, the Frute Brute figure will be flocked (meaning it will have a subtle "furry" texture). All three of these Soda figures will be sold exclusively on Funko's website.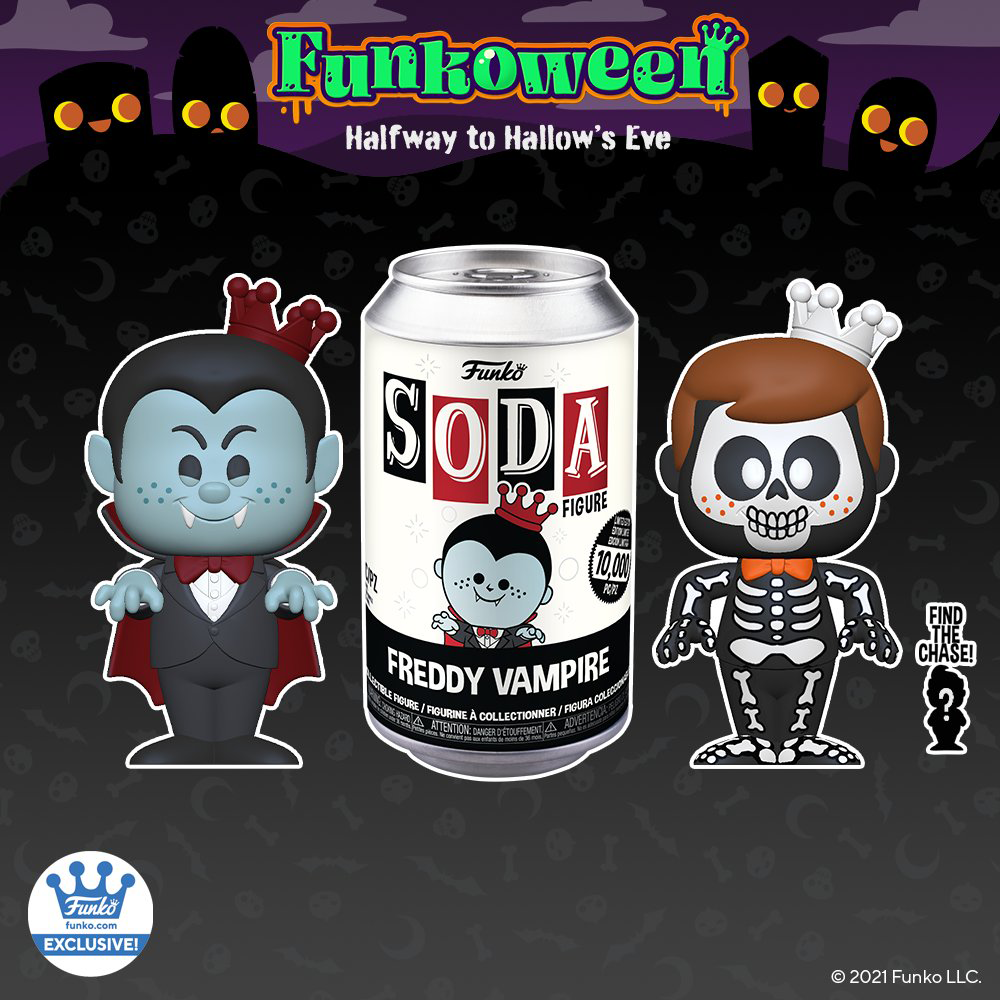 Freddy Vampire Soda
Freddy Funko is Funko's mascot. For this year's Funkoween, Funko will release a Soda figure of Freddy dressed as a vampire. This figure will only be available on Funko's website.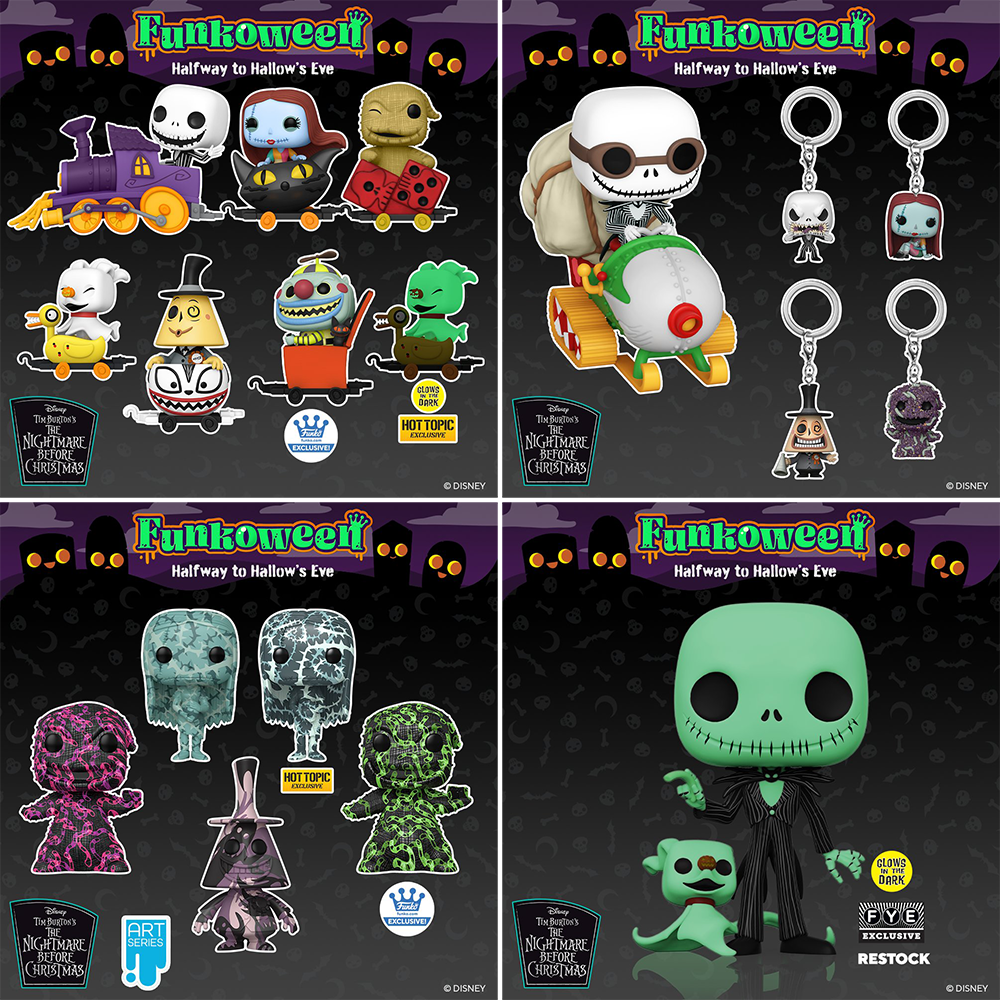 The Nightmare Before Christmas Pops, Keychains, Card Game, and T-Shirts
Funko announced plenty of items based on Tim Burton's The Nightmare Before Christmas. To start, there are seven train car and character Pop figures that can be connected to form one large train, as well as some keychains, five Art Series Pops, and a Pop figure of Jack Skellington riding on the snowmobile from the film. Some of these items will be exclusive to Hot Topic or Funko's website. In addition, Funko announced it will restock its glow-in-the-dark figure of Jack and Zero, which will be sold exclusively at FYE.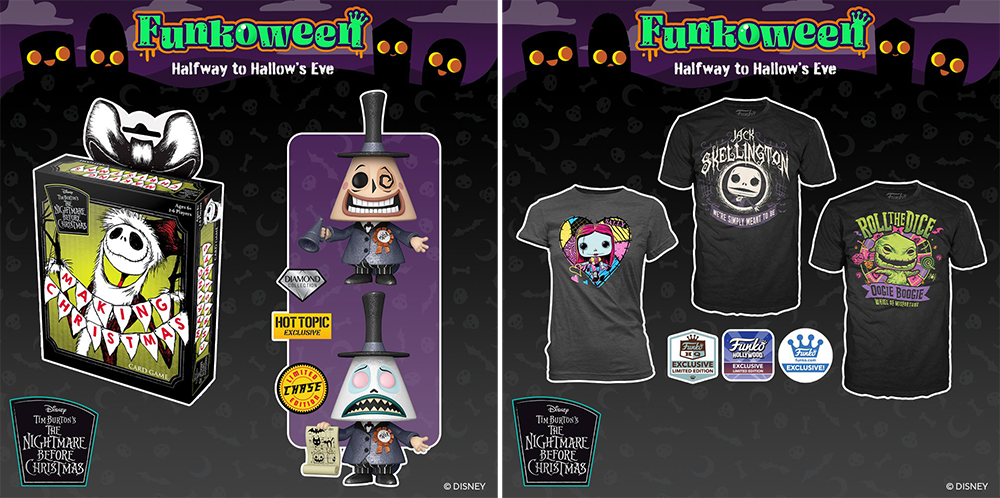 Next, Funko showed off a new Diamond Collection figure of the Mayor from The Nightmare Before Christmas, as well as a "Making Christmas" card game inspired by the movie. Finally, there are three new T-shirts inspired by the film that will be exclusively sold at Funko's real-world stores or on Funko's website.
Some of these items are available to pre-order now ahead of their releases later this year. Remember, some stores sell the same items for different prices. Make sure to shop around to get the best deal!