Nintendo highlighted lots of family-friendly content coming to Switch.
Before E3 officially began Tuesday, Nintendo streamed its annual E3 Direct video presentation, showing off some of the games in development for Switch.
Nintendo's E3 Direct featured lots of family-friendly games (along with some games that have or will likely receive an M rating). Here are just some of the kid- and teen-friendly highlights.
Animal Crossing: New Horizons
Originally announced for a 2019 release, the next game in the popular Animal Crossing series will now be released on Switch on March 20, 2020. The life simulation game will allow players to travel to a deserted island and create a new life for themselves by collecting resources that they can use to craft tools and other items for their new home.
Super Smash Bros. Ultimate
Two new downloadable content (DLC) fighters will be released for Super Smash Bros. Ultimate before the end of 2019. First, the Hero from the Dragon Quest franchise will be released this summer. He can take the appearance of the main character from four different Dragon Quest games: Dragon Quest XI: Echoes of an Elusive Age, Dragon Quest III: The Seeds of Salvation, Dragon Quest IV: Chapters of the Chosen, and Dragon Quest VIII: Journey of the Cursed King.
Next, Banjo and Kazooie, the bear and bird duo from the Banjo-Kazooie series, will be released as a single fighter this fall.
Finally, in a press release, Nintendo said Snake, Ivysaur, and Squirtle amiibo will be released on September 20. Incineroar, Simon, and Chrom amiibo will be released in November 2019, and Dark Samus and Richter amiibo will be released in 2020.
Luigi's Mansion 3
In this family-friendly adventure game, players will need to help Luigi explore a haunted hotel and use his Poltergust G-00 vacuum to defeat and suck up ghosts. Players can also summon Gooigi, a gooey version of Luigi that can help him overcome obstacles that he wouldn't be able to get past on his own. Finally, a separate ScareScraper mode will allow up to eight players to play together online or locally (local play for all eight players will require four Switch systems and four copies of the game). Luigi's Mansion 3 will be released in 2019.
The Dark Crystal: Age of Resistance Tactics
Based on the Netflix series, The Dark Crystal: Age of Resistance (which is a prequel to the 1982 film The Dark Crystal), this strategy game will allow players to explore the world of Thra and compete against enemies on a grid-based battlefield.
The Legend of Zelda: Link's Awakening
This upcoming Switch game is a remake of the original Link's Awakening, which was released in 1993 on Game Boy in North America. In this adventure, Link will need to "collect magical instruments and awaken the Wind Fish" in order to escape Koholint Island. Players can collect Chambers (or Dungeon Rooms) and then "arrange them to complete objectives in the new Chamber Dungeon." The Legend of Zelda: Link's Awakening will be released on September 20, 2019.
In addition, a new Link amiibo figure will also be released that matches the game's graphics. Finally, a Dreamer Edition of the game will also be available, which will include the Dreamer Art Book.
Fire Emblem: Three Houses
This newest installment in the Fire Emblem franchise allows players to become a professor of one of three in-game houses: The Black Eagles, The Blue Lions, and The Golden Deer. The game features tactical battles that take place on a grid-based battlefield. For the first time in the Fire Emblem series, players will be able to "assign battalions of troops to support individual units in battle." Fire Emblem: Three Houses will launch on July 26.
Pokemon Sword and Shield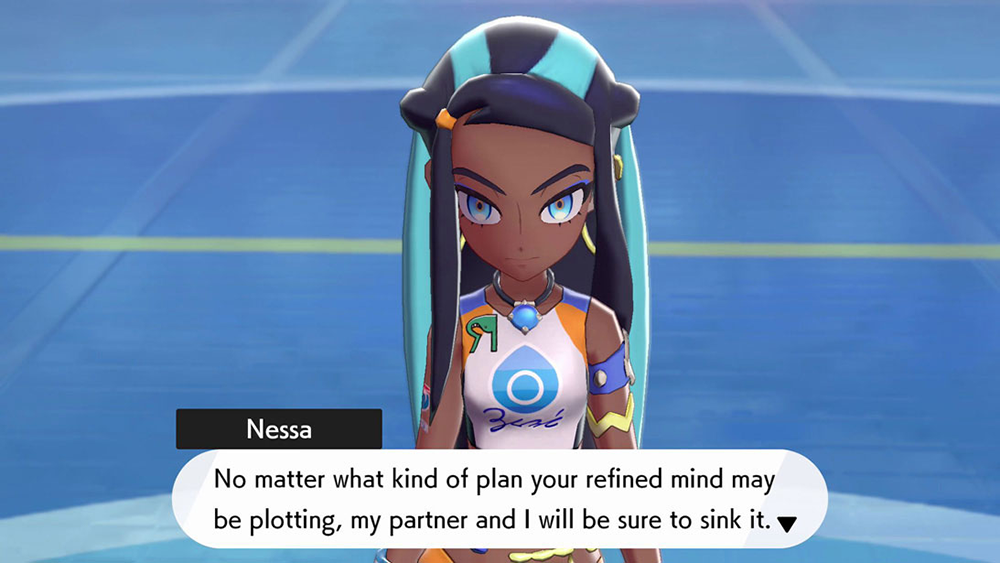 While Nintendo shared tons of new details about Pokemon Sword and Shield in a recent Pokemon Direct video presentation, this year's Nintendo E3 Direct did offer some new details for fans. First, we met the game's Water-type Gym Leader, Nessa. We also learned that players will be able to use "certain functions" of the Poke Ball Plus accessory, which was released alongside Pokemon: Let's Go, Pikachu and Eevee last fall, with Pokemon Sword and Shield. Players will be able to place a Pokemon from Sword and Shield into the Poke Ball Plus and take it with them on the go. However, the Poke Ball Plus can't be used as a standalone controller for the game.
Finally, during the Nintendo Treehouse Live presentation that followed the E3 Direct, we learned an important new detail about Pokemon Home, the upcoming Pokemon cloud storage service for Switch: Players will only be able to transfer Pokemon from Pokemon Home into Pokemon Sword and Shield if they are found in the Galar region Pokedex.
Marvel Ultimate Alliance 3: The Black Order
In this action-RPG, players will be challenged to stop Thanos and The Black Order from finding and using the Infinity Stones. The game features a large roster of Marvel superheroes, including the Avengers, the Guardians of the Galaxy, and the X-Men, among others. Marvel Ultimate Alliance 3: The Black Order will support both single-player and multiplayer cooperative gameplay for up to four players on a single Switch. The game will launch on July 19, 2019.
Mario & Sonic at the Olympic Games Tokyo 2020
Ahead of the 2020 Olympic Games in Tokyo, this new game will allow players to compete in a variety of sports and events with Mario, Sonic, and other characters from the Mario and Sonic franchises. This includes new events for the Tokyo 2020 Olympics: Skateboarding, karate, surfing, and sport climbing. Mario & Sonic at the Olympic Games Tokyo 2020 will launch on Switch in November 2019.
Spyro Reginited Trilogy
Spyro Reginited Trilogy was released on PlayStation 4 and Xbox One in November 2018. It includes the first three games from the Spyro the Dragon franchise, which have been remastered with updated graphics and gameplay. Spyro Reignited Trilogy will launch on Switch on September 3, 2019. To learn more about the game, check out our review.
The Legend of Zelda: Breath of the Wild Sequel
While no release window was revealed, Nintendo did announce a sequel to The Legend of Zelda: Breath of the Wild is currently in development.