You'll never need to quest alone again.
The Minecraft formula seems simple on the surface. However, there have been many pretenders to the throne, all of which have failed to unseat the original.
Square Enix's Dragon Quest Builders, released in 2016, is one of the better entries in the digs-and-builds genre. The blend of the beloved Dragon Quest aesthetic with a satisfying building and crafting system were enough to make it worth a look. It was the narrative that completed the puzzle and kept me engaged, though.
The first entry is a "what if?" tale that twists the ending of the original Dragon Quest role-playing game (RPG). The world has been wiped of the ability to build, and it's your hero that has the rare skills to restore the world to its former glory.
In the sequel, you'll play a new builder on a quest to save the world from a cult called the Children of Hargon. The cult has outlawed any type of building, baking, or crafting. And it's your job to be an adorable scofflaw and reshape the world in your image.
This time out, you don't have to go it alone. You can take up to three friends with you for cooperative play.
You'll also have access to new companions that are eager to help you gather items, craft, and take on some menial tasks. In a new E3 2019 demo, we were introduced to Rosie, a skilled farmer. Unfortunately for her, the formerly flourishing Furrowfield is plagued by spoilspores that explode and ruin the soil with sludge.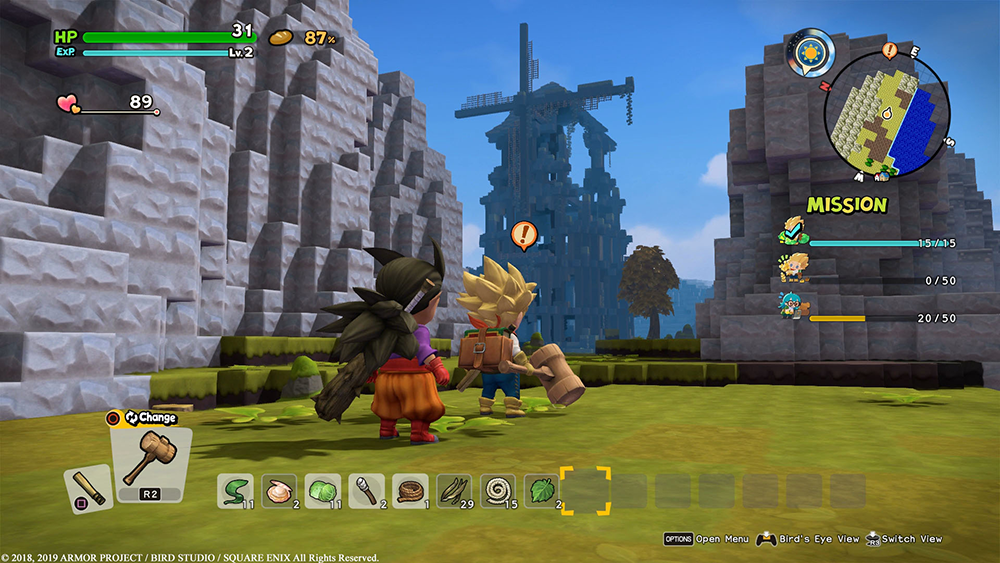 This takes place a bit into the game, beyond the tutorial segment. Furrowfield seems to be one of the first places the builder and Malroth visit on their journey.
After saving Rosie from a pack of badboons, she led my hero and his amnesiac ally, Malroth, back to the once pristine Furrowfield. Sadly, a spoilspore has ruined the last of the wheat.
In order to farm more, I was required to craft a scarecrow from grass, rope, and wood. Planting that in the ground designated a small patch of ground to farm, where Rosie went to work on her own. Companions like Rosie will continue to till and water seeds you plant to ensure that they grow into healthy crops. With the help of a new irrigation blueprint, the land starts to come back to life.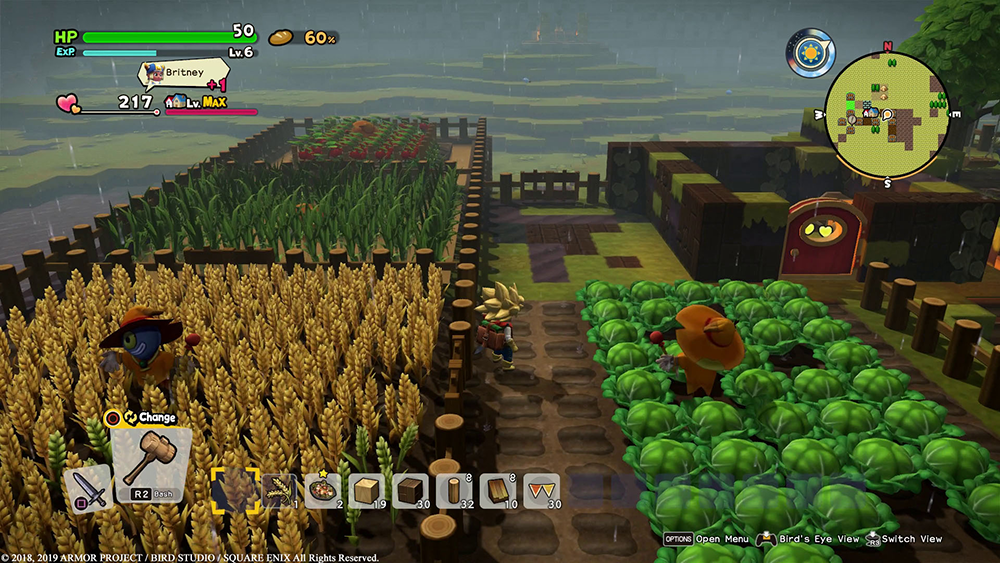 Dragon Quest Builders 2 appears to be more of what made the original so charming. With some new quality-of-life improvements (like the ability to dash), more useful companions, cooperative play, and a new story, it looks like this one will be even better for family play. It'll be out on July 12 for PlayStation 4 and Nintendo Switch.