Earn tons of Bells by using this handy website.
In Animal Crossing: New Horizons, a character named Daisy Mae visits players' islands each Sunday, where she'll sell fresh turnips. These turnips are an incredibly valuable commodity, but they don't have one set price. Instead, you can think of turnips as financial stocks, or in this case, stalks.
Daisy Mae will sell turnips for different prices each week, and each player may be presented with a different purchase price. For instance, one player may be able to purchase turnips for 92 Bells each, while another has a price of 95 Bells each. You're allowed to buy turnips when visiting another player's island if they have access to a better price than you do.
One you purchase turnips, you can sell them to Timmy and Tommy beginning on Monday (the day after you purchased them). Timmy and Tommy will buy turnips for different prices throughout the week, and it's possible that when you check the current turnip price, they may be buying turnips for less than what you paid (so, you'd lose money if you sold your turnips at that point).
Since turnips will spoil if they're not sold before the end of the week (that is, the Saturday after they were first purchased), players need to keep an eye on the game's current turnip price so they can (hopefully) make a profit on the game's stalk market.
There are lots of ways to (potentially) make a profit on the stalk market. For example, Turnip price calculators are designed to help players determine when they should sell their turnips on their own island, and players are also free to visit friends and strangers who post their prices online (on sites like Twitter, Reddit, etc.).
While there are lots of different options available for finding turnip prices and other players to visit, we're particularly fond of a site called Turnip.Exchange. This site allows players to open their gates to strangers around the world. They can list the price their turnips are currently selling or being purchased for (depending on the day), as well as any "fees" they would like other players to pay for the right to visit their island, and more.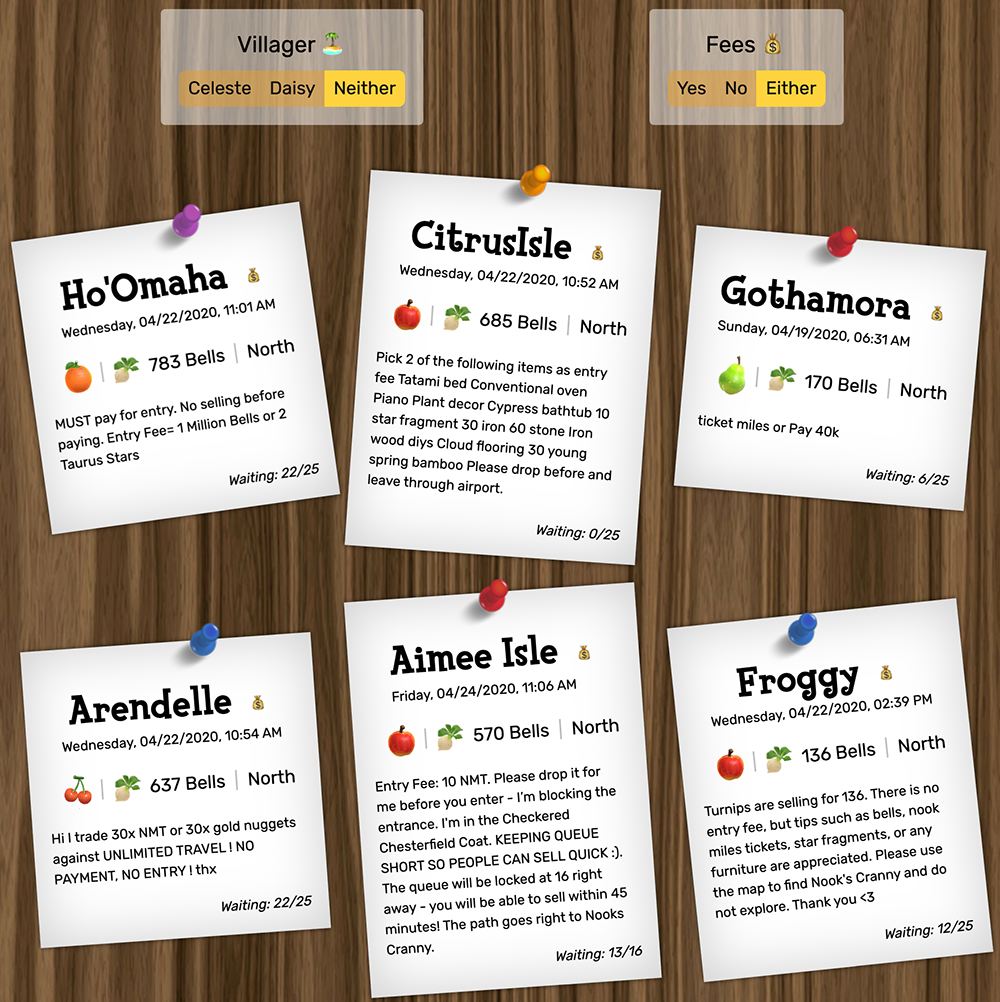 The process for selling turnips on the Turnip Exchange is pretty orderly. Each island has a queue, and the island's owner can decide how many people they want to be able to line up in the queue and visit their island at a single time.
When you join a queue, you type your in-game name, and the website then keeps track of your position in line. When it's your turn to visit, you can view the Dodo Code you need to enter in your own game to travel to the other player's island. You never have to directly communicate with the island's owner, or do anything other than simply wait for your turn to enter.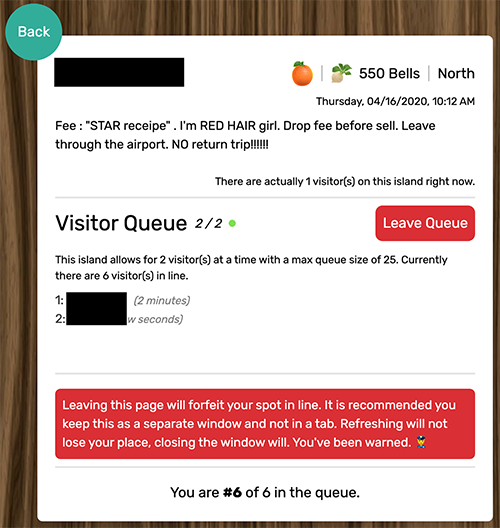 If you're interested in using the Turnip.Exchange website, be sure to carefully read the text associated with each island. Some players want lots of materials or Bells from each player that visits, and you'll need to decide whether or not the fee is worth it. (You can also browse islands that don't have a fee by clicking the "No" button under "Fees" at the top of the screen.)
Also keep in mind that if you don't find an island you want to visit right away, you can refresh the page (or even check back later in the day) to browse different islands. So long as you're trying to sell turnips before Saturday, you should eventually be able to find an island that works for you!
What sites or services do you use to sell turnips in Animal Crossing: New Horizons? Let us know in the comments, or tweet us at @superparenthq.