The game's Halloween event is almost here!
Fall has officially arrived on islands in the Northern Hemisphere in Animal Crossing: New Horizons, and that means the game's fall and Halloween update is almost here!
The Fall Update for New Horizons will be released on September 30. It will bring a variety of new features to the game, including an appearance from Jack, the "czar of Halloween." Here's what you need to know.
Pumpkins
Once this update launches, players will be able to grow pumpkins on their islands, which can be harvested and used in pumpkin-themed DIY crafting recipes. You'll be able to purchase "pumpkin starts" from Leif all year round, as well as purchase them from Nook's Cranny during the month of October.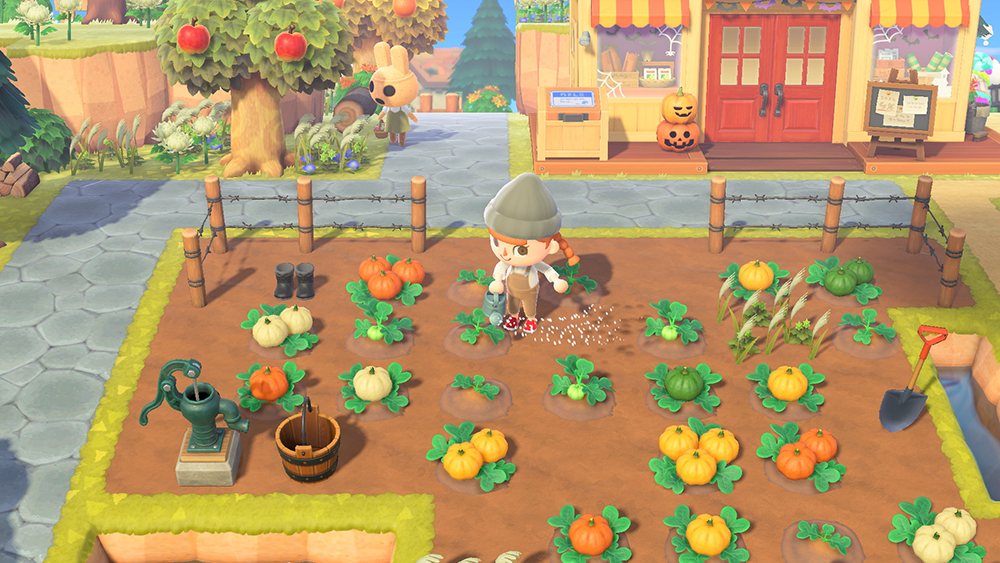 Halloween Preparations
You'll be able to prepare for Halloween by purchasing new costumes (like the Mage's Dress) at the Able Sisters shop during October. You can also purchase Candy from Nook's Cranny throughout the month in preparation for the big night.
In addition, you'll be able to spend Nook Miles on new eye contacts and body paint, which will allow you to change your character's eye and skin colors, respectively, to match your preferred costume(s).
Finally, your animal residents will be able to teach you new Halloween-themed DIY crafting recipes during October.
Halloween Event
On October 31 from 5 p.m. to midnight, your island's residents will put on their costumes and hang out in the plaza, and you'll be able to give them some of the Candy that you've collected throughout the month of October.
Jack will also appear in the plaza on Halloween night. You can give Jack some of the Candy and Lollipops you've gathered to receive "spooky in-game rewards."
Lastly, this event will allow you to earn new themed Reactions for your character to perform, such as "Haunt."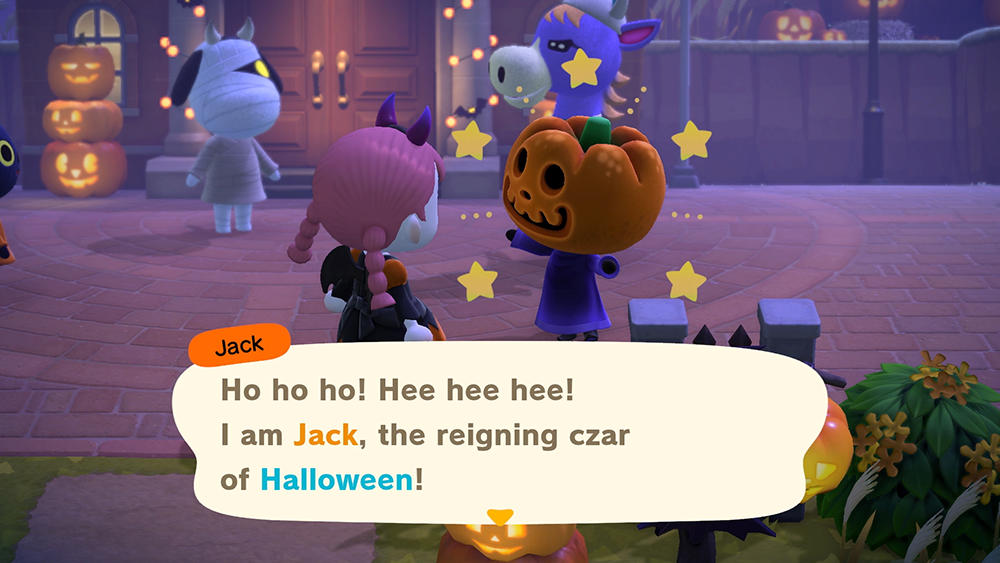 Dreaming Update
Dreaming was added to the game in Wave 2 of the Summer Update, which launched at the end of July. With the Fall Update, the dreaming feature will be updated with a list that keeps track of the islands you've visited in dreams. That way, you'll be able to revisit your favorite islands in dreams without typing in a player's Dream Address multiple times.
NookLink App Update
In early October, the NookLink app within the Nintendo Switch Online mobile application will be updated with a Reactions menu. You'll be able to use this menu to quickly trigger Reactions in New Horizons, so that you don't have to find the reaction you want in the game's own Reactions menu.
Following the release of this Fall Update, the next major update for Animal Crossing: New Horizons is expected to launch in "late November." According to the game's latest update trailer (embedded above), it will bring both Franklin and Jingle to the game. Franklin is the turkey who appears in Animal Crossing games around Thanksgiving (during the Harvest Festival), while Jingle is the reindeer mascot of the Toy Day (Christmas) event.
We'll make sure to bring you more information about the game's future updates as we learn more.
Are you excited about the Fall Update for Animal Crossing: New Horizons? Let us know on Twitter at @superparenthq.