Check out these supplemental learning materials and tech gadgets that can help your family thrive.
Life sure looked pretty different a few months ago. If your family has had to adapt to homeschooling and working from home as a result of the COVID-19 pandemic, we're here with a few recommended products that can help you out.
Before we begin though, check out our SuperParent Stay-At-Home Guide for even more recommended activities, from board games and video games to online learning classes, educational livestreams, and more.
Tech Gadgets
If everyone in the house (both kids and adults) are trying to get work done at the same time, it's possible your family doesn't have enough desks or workspaces to be comfortable. If that's the case, there are a few affordable items you can purchase to help ease the chaos if you're working together in a small space.
For one, you can pick up a headset, so that multiple people can listen to conferences, lectures, and more in the same room. As examples, check out the three headsets in HyperX's Cloud Stinger line.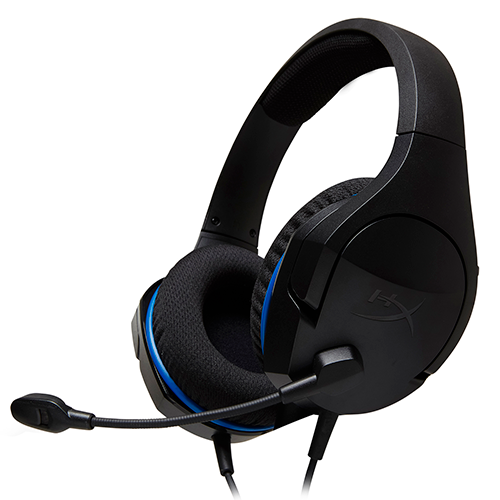 The Cloud Stinger Core (pictured) is the cheapest, at $39.99. It's compatible with PC, Mac, mobile devices, and gaming consoles. It has a microphone for talking to classmates and/or coworkers, and you can change the volume and mute the microphone using controls on the headset's cable.
The Cloud Stinger is a bit more expensive, but it's also more advanced. For instance, it has a mic that you can automatically mute by moving it upward so it's next to your head.
Finally, the Cloud Stinger Wireless headset is the most advanced of the three, priced at $79.99. Since it's wireless, it runs on battery power, and you can expect to get up to 17 hours of use out of a single charge. It also includes the "swivel-to-mute" feature of the regular Cloud Stinger.
As a bonus, all three of these options can be used as gaming headsets when homework and conferences are done for the day.
In addition to a good headset, we recommend looking into lap desks. They're available at many different stores, and in a wide range of prices. If you or your kids work on a laptop, need to write things down in a notebook, or anything else that would benefit from a flat surface, lap desks turn your legs into that flat surface.
If you need a lap desk to be a long-term solution for your family, look for one with cushions on the bottom to make it more comfortable to use.
Duolingo
If your child is practicing another language at school, Duolingo is a great application that can help them practice their speaking, writing, and listening skills in short lessons of five minutes or more per day.
Duolingo offers classes in a wide variety of languages (Spanish, French, German, Japanese, Italian, and more.). You can use Duolingo through a free mobile app on iOS and Android devices, or practice via a web browser.
While the platform is free, you have the option to subscribe to Duolingo Plus, which removes ads from the platform and gives you the ability to download lessons to practice offline.
Epic!
Epic is a digital reading app designed for kids 12 and under. It features 40,000 books, audio books, videos, quizzes, and more. An unlimited subscription to Epic is available for $7.99 per month, but parents can unlock a 30-day free trial to the platform. Epic is also giving teachers "free remote student access" to its platform until June 30, 2020.
Epic is available on iOS and Android devices, as well as PC.
NatGeo@Home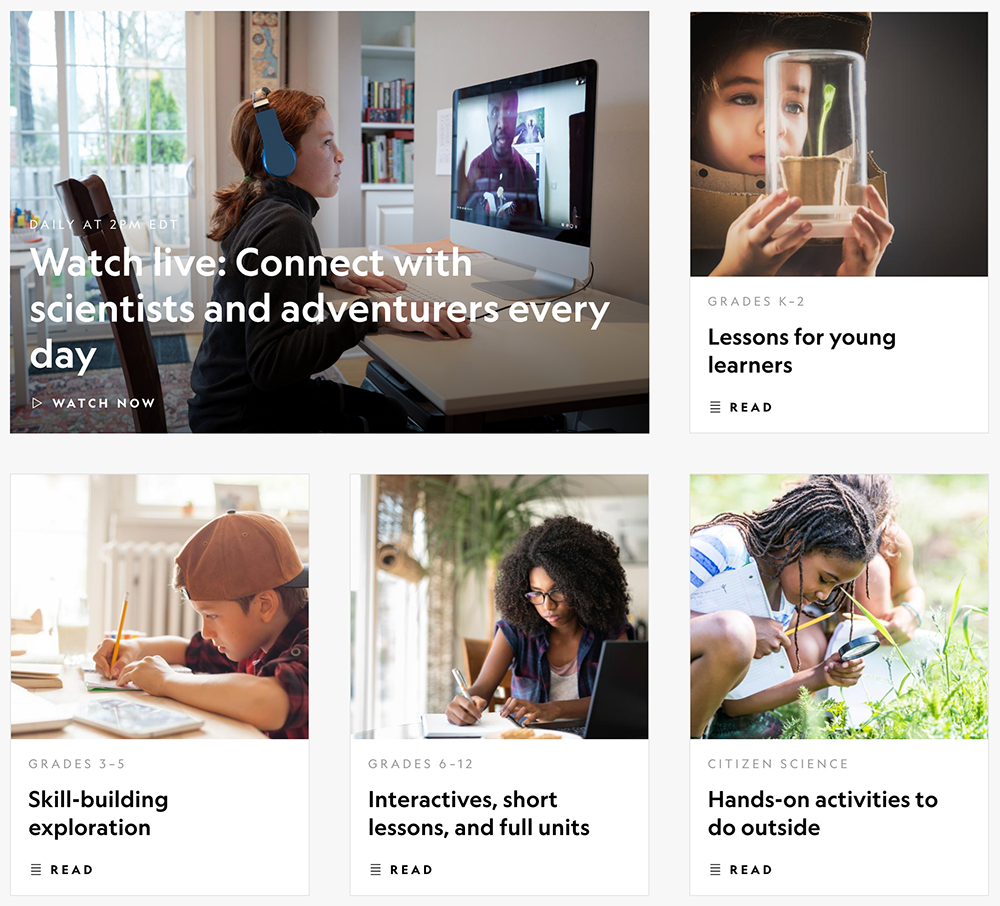 National Geographic recently launched a homeschool resources website called NatGeo@Home, which features a variety of activities, lessons, crafts, and more for kids and parents to enjoy.
While there's lots of content that can be accessed at any time, National Geographic also presents an "Explorer Classroom" broadcast daily at 2 p.m. ET, which allows viewers to learn about topics such as animals, climate change, and more. You can view the upcoming schedule of Explorer Classroom broadcasts right here.
ThinkFun Tabletop Games
While there are tons of educational tabletop games to choose from, for this guide, we've chosen to recommend those offered by ThinkFun. ThinkFun's games focus on topics like deductive reasoning and problem solving, and since they're aimed at kids and families, there are lots of options to choose from for even very young students.
Check out a couple of our favorites: Dog Crimes (figure out which dog committed a variety of crimes, such as tearing up a pillow) and Invasion of the Cow Snatchers (a logic game that asks you to abduct cows by navigating puzzles using a UFO playing piece).
ThinkFun's website also offers a variety of downloadable games that you can print and play right now.
What kinds of resources are you using to improve your homeschooling and work-from-home setup? Share them with us in the comments, or let us know on Twitter at @superparenthq.
Disclosure: HyperX is a sponsor of SuperParent.
Top photo by Element5 Digital on Unsplash.