Microsoft held its annual Xbox celebration in London, and there were quite a few great announcements about new games, Black Friday deals, and more goodness for Xbox Game Pass.
Once a year, Xbox holds a very special celebration event for its fans called X. X018, which was last year's event, was held in Mexico City. This year's event, X019, was held in London. There were a number of different announcements, including some deals that you'll want to take advantage of before they're gone.
Deals, deals, deals!
As we approach Black Friday and Cyber Monday, Xbox will be rolling out a number of different deals for families who have yet to get their hands on an Xbox or may want to augment their Xbox with Game Pass.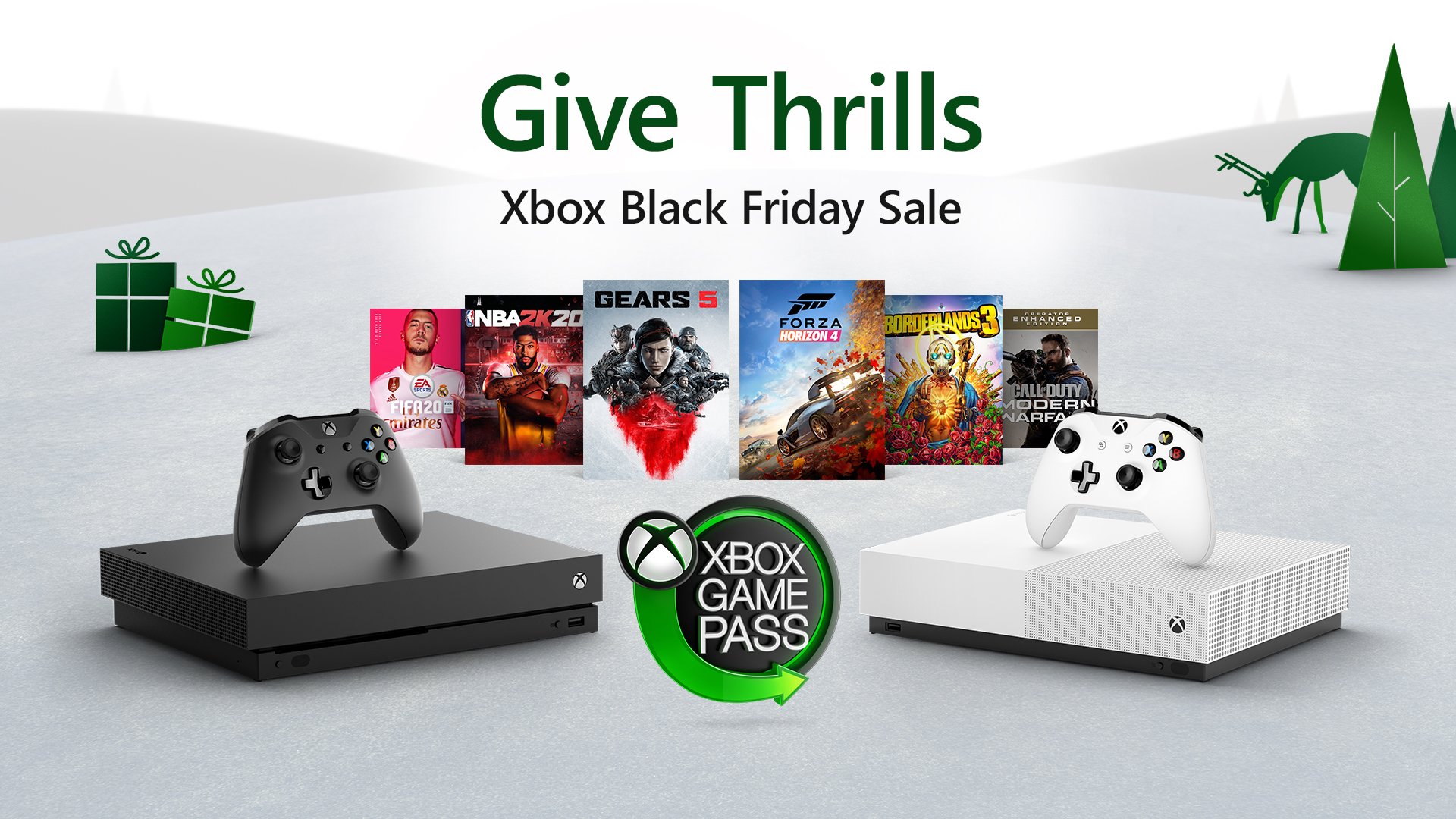 Xbox Bundles and Accessories On Sale From 11/24 until 12/2
There are a number of different big box stores that will be offering big sales on Xbox consoles during Black Friday, but Xbox will be extending these sales until December 2. You'll be able to pick up an Xbox One X console for $349.99 or an Xbox One S for $100 off. The Xbox One S All-Digital Edition (it doesn't have a Blu-ray drive for discs) will be available for $149.99 and comes bundles with Minecraft, Sea of Thieves, and Fortnite: Battle Royale (with the Legendary Rogue Spider Knight skin).
If you've got an Xbox in the house (or know someone who does), you can snag an Xbox Wireless controller for $20 off, including the Night Ops Camo Special Edition, Sport Blue Special Edition, and the Kait Diaz Gears 5 Special Edition. Or, if you fancy yourself a designer, you can design your own Xbox controller in Xbox Design Lab for $10 off. If you wait until December 3, you can get free engraving, instead.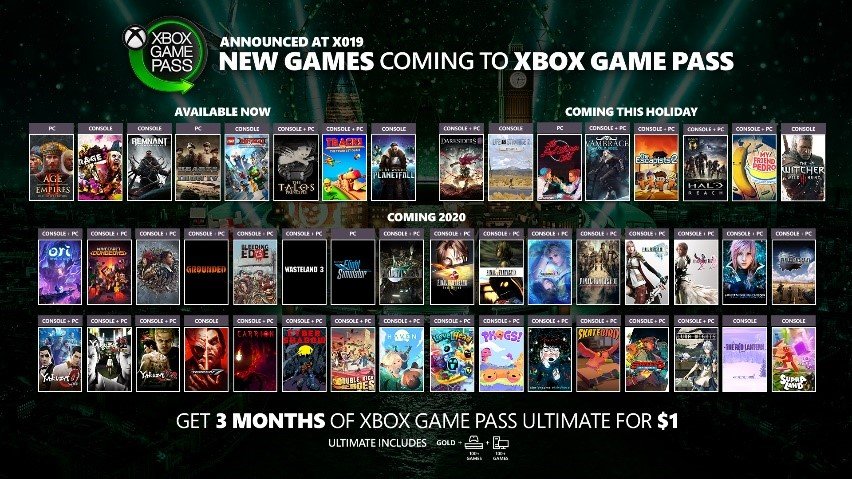 Xbox Game Pass' New Games And Better Deals
It was hard for us to resist picking up Xbox Game Pass when it was first announced, so we're all set for a few years in our house. But if you've been waiting on getting into XGP, now is the time to get in while the getting is good, as they say. As of yesterday, the first 3 months of XGP Ultimate (which includes a subscription that enables XGP on Windows 10) is available for $1. In "select markets" (including the United States), XGP Ultimate subscribers will also get access to 1 month of EA Access, 3 months of Discord Nitro (if your teen uses Discord to talk to their friends while playing games, this is a great deal), and 6 months of Spotify Premium.
Discounts on Xbox Games from 11/24 until 12/2
If you prefer to outright own your games (we do, too), you can get up to 50% off Xbox Game Studios titles, including:
Gears 5 for 33% off
Forza Horizon 4 for 50% off
Sea of Thieves: Anniversary Edition for 50% off
State of Decay 2 for 50% off
Hellblade: Senua's Sacrifice for 50% off
Note that Gears 5, State of Decay 2, and Hellblade: Senua's Sacrifice are all rated M. Check out our "Play This, Not That" for Gears 5 to see some teen-friendly alternatives for that game.
Xbox will also be offering discounts on other games published on Xbox, including FIFA 20, NBA 2K20 Legends Edition, and more.
Xbox All Access Offers Even More Value For Upgrading In 2020
One of the best deals that Xbox offers to families that may not be able to afford the entirety of an Xbox One S, Xbox One S All-Digital Edition, or Xbox One X right out of the gate is Xbox All Access. The program starts at $19.99 per month for 24 months and includes the option to upgrade to Project Scarlett (the new console) in 2020.
Black Friday discounts don't apply to Xbox All Access, so you'll be paying full price for these consoles. However, this is a great option for families who may have a tighter budget and still want to bring home a console for a relatively reasonable monthly price tag.
New Game Announcements From Obsidian, Rare, and DONTNOD
There were a number of notable games shown off at X019, including a number of M-looking games from indie game publishers Raw Fury and Annapurna Interactive. But the most notable games from the show were somewhat family-friendly.
The latest game to come from Pillars of Eternity and The Outer Worlds studio, Obsidian Entertainment, is Grounded, which will be out in Spring 2020. Grounded looks a lot like Disney's Honey, I Shrunk The Kids… The Game. PC Games N checked it out during X019 to get more information on this teen-centric survival game, so go and check out their coverage.
Rare, which you might remember from your childhood (Banjo Kazooie anyone?) and the studio behind Sea of Thieves, also announced a beautiful game that appears to be kid-friendly: Everwild. We don't know much about the game, other than its aesthetic, but who doesn't love a beautiful game with a bunch of animals in it?
Finally, we don't know much about the ESRB rating for the new game from Life is Strange developer, DONTNOD, but much like the LiS games, it appears to be an important game to play. Tell Me Why is the first game from a "major studio and publisher" to feature a playable transgender character. DONTNOD is working closely with GLAAD, as well, to ensure that the LGBTQ+ themes are handled with sensitivity.