Test your skills in over-the-top wrestling matches.
WWE 2K Battlegrounds is an arcade wrestling game that allows players to duke it out against WWE Superstars. Rather than being a "realistic" simulation wrestling game, Battlegrounds is purposefully over-the-top, and is designed to be more of a social party game than a realistic simulation of WWE matches.
Battlegrounds features more than 70 WWE Superstars and Legends from past and present, and you can use these Superstars to test your skills in a variety of gameplay modes that feature both single-player and multiplayer action. Here's the breakdown:
Campaign – This single-player, story-driven mode allows you to become one seven original characters (there are males and females in this mode) and complete a storyline that follows Paul Heyman and Stone Cold Steve Austin as they work to find the next great WWE Superstars. As you progress through the campaign, you'll unlock new power-ups, Superstars, and more that can be used throughout the game.
Exhibition – This mode allows you to complete individual matches as both male and female Superstars (women can't compete against men). You can choose from multiple match types: one-on-one, tag team, triple threat, fatal four way, steel cage match, and royal rumble. You can compete in exhibition matches on your own against the computer, or battle against other players in the same room or online (this mode supports up to four player multiplayer matches).
King of the Battleground – Compete online with up to seven other players in a "last man standing" match that challenges you to throw your opponents out of the arena until you're the last one inside.
Tournaments – Compete against other real players in online, time-limited events.
Battleground Challenge – In this single-player mode, you'll complete matches with a Superstar that you've created in order to unlock rewards that can make that character stronger.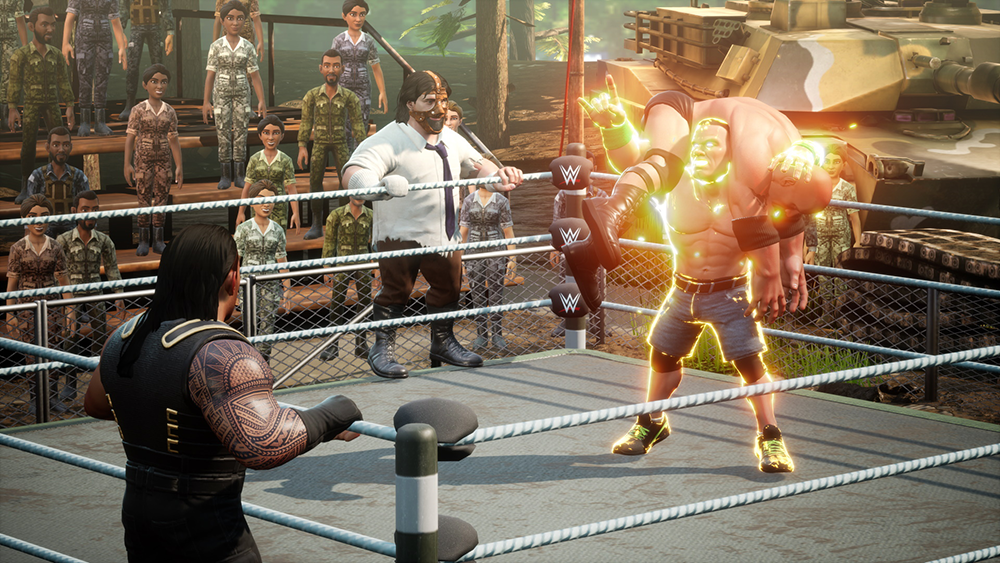 The game's character creator allows you to customize a Superstar in a wide variety of ways. You can choose their gender, customize their appearance (height, weight, clothing, and more), and choose their character class.
In WWE 2K Battlegrounds, each Superstar falls into one of five character classes (Powerhouse, Technician, High-Flyer, Brawler, and All-Rounder). While every single character has a base set of moves to use during matches (like running hits and submissions), these classes give Superstars different moves to use.
During a match, you can press buttons to throw punches, kick your opponents, block incoming attacks, and more, and if you press buttons in the right combination, you can perform special moves. As a match progresses, you'll earn energy that can be used to activate your Superstar's power-ups.
You can choose up to three power-ups to bring into each match, and they'll allow you to do things like recharge your character's health, temporarily deal extra damage to your opponent, and more.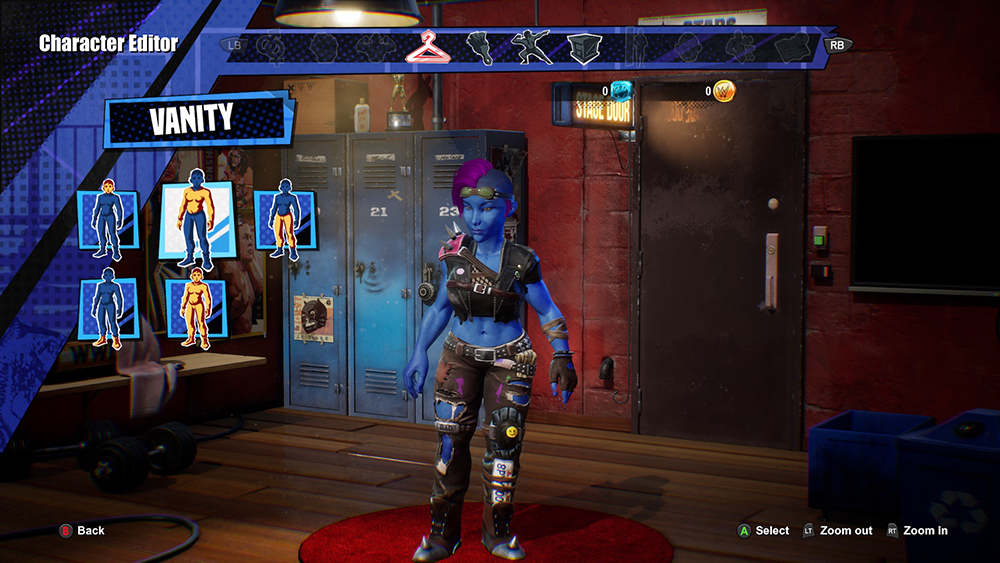 Finally, even though WWE 2K Battlegrounds is a premium game, it does contain optional in-game purchases. You can spend real money on in-game currency, which can then be spent to instantly unlock in-game content, rather than waiting to unlock it over time. To be clear, all of the game's content can be unlocked over time for free, but you have the option to spend real money if you'd rather not wait.
WWE 2K Battlegrounds is available for $39.99 on Switch, PlayStation 4, Xbox One, PC, and Google Stadia. A Deluxe Edition of the game is also available on all of these platforms for $49.99. It features a variety of extra in-game content and unlockable characters, including three versions (each) of Stone Cold Steve Austin, The Rock, and Ronda Rousey.
WWE 2K Battlegrounds is rated T for Teen by the ESRB. See the game in action in our gameplay video below. (Please note the game does contain music, but we have turned it off.)
Disclosure: 2K gave SuperParent a code for WWE 2K Battlegrounds for coverage purposes.