Complete word puzzles in this twist on Scrabble.
Wurdweb is a puzzle word game on Apple Arcade, Apple's game subscription service that gives subscribers unlimited access to a curated selection of games for a single monthly price.
Wurdweb is similar to a single-player game of Scrabble, but instead of giving you letter tiles to create words, the game gives you full words to place on the board one word at a time.
The game features multiple gameplay modes, but they all give you a starting word on the board and a selection of words to fill in around it. To place a word on the board, your new word must have one or more letters that match the letters in an existing word (or words) on the board. For instance, if your start a game with the word "Practice" already on the board, you could play the word "Study" on the board by making sure the Ts in both words overlap — one word will be positioned horizontally, while the other will be positioned vertically, just like in a game of Scrabble.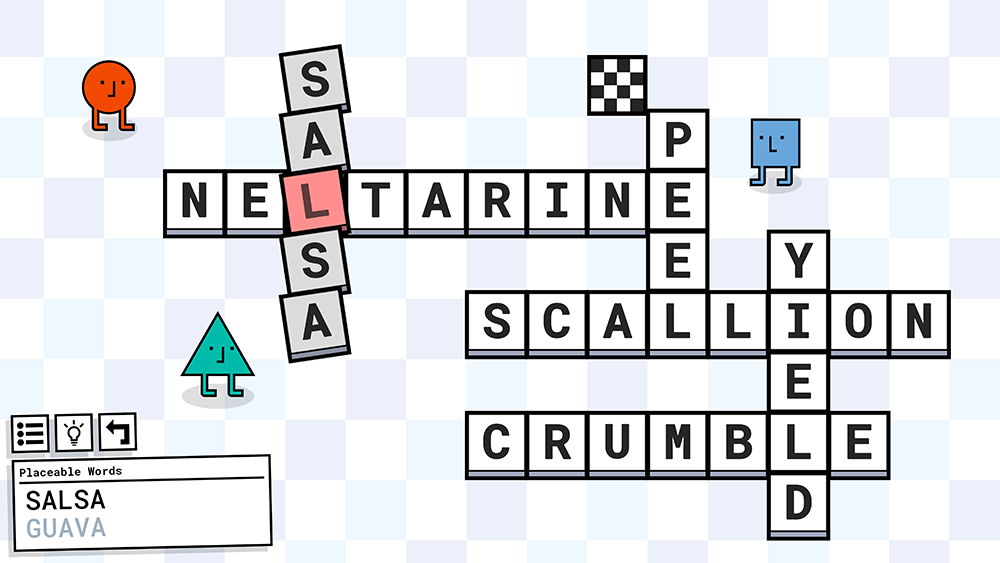 Each mode offers a different tweak on this basic gameplay. For instance, Tangle mode challenges you to place 15 words on the board without running out of moves, while Precise mode challenges you to place words on the grid in order to reach a goal tile on the screen (there's only one correct solution to each Precise puzzle). There's also a Daily mode, which challenges you to place as many words as possible onto the grid without running out of moves in order to earn a spot on the in-game leaderboard for the day. (Weekly, Monthly, and Random gameplay modes are also available.)
While players start each game with a limited number of words available to place on the grid, they can receive more words by placing words onto special tiles on the grid. For instance, one tile may give you three new words to choose from. If you run out of words, or if you ever feel like you can't figure out which word to place next, you can tap the "undo" button multiple times until you're ready to keep playing (the game will also tell you if you have any words that are impossible to place). Plus, the game's Precise mode offers a hint system that will help you figure out the solution to each puzzle.
Finally, the game offers challenges for players to complete, which may ask them to perform certain tasks in certain gameplay modes. To start the game, only the Tangle mode is available, but players can unlock the other modes by completing these challenges.
Wurdweb is now available to download on Apple Arcade. The game has an age rating of 4+. Apple Arcade games don't include advertisements or in-app purchases, so you don't have to worry about kids accidentally spending money while playing the game.
Check out some gameplay from Wurdweb in our video below.
Top image via Apple.