Spell words to complete crossword puzzles in this mobile game inspired by Wheel of Fortune.
Words of Fortune is a free-to-play word game inspired by the television show Wheel of Fortune. While the Wheel of Fortune television show challenges contestants to solve word puzzles by guessing the letters that may be in each puzzle, Words of Fortune gives players an assortment of letter tiles and asks them to use those letters to make words to fill in a crossword puzzle.
Words of Fortune is similar to mobile games like Word Cookies. In each puzzle, players are given an assortment of letter tiles and a crossword puzzle at the top of the screen. This tells players how many words they need to find, as well as the length of each word.
For instance, if players receive the letters "O, U, L, W, and D," they would need to spell the word "Would" to fill in the matching spot on the crossword puzzle. Other words in this puzzle may be "Low" or "Owl," and so on.
Some puzzles feature bonus words that aren't found in the crossword puzzle but can be spelled with the given letters. As players find these bonus words, they'll receive in-game cash that can be used, in part, to unlock hints in stages. Players will also receive cash as they complete levels.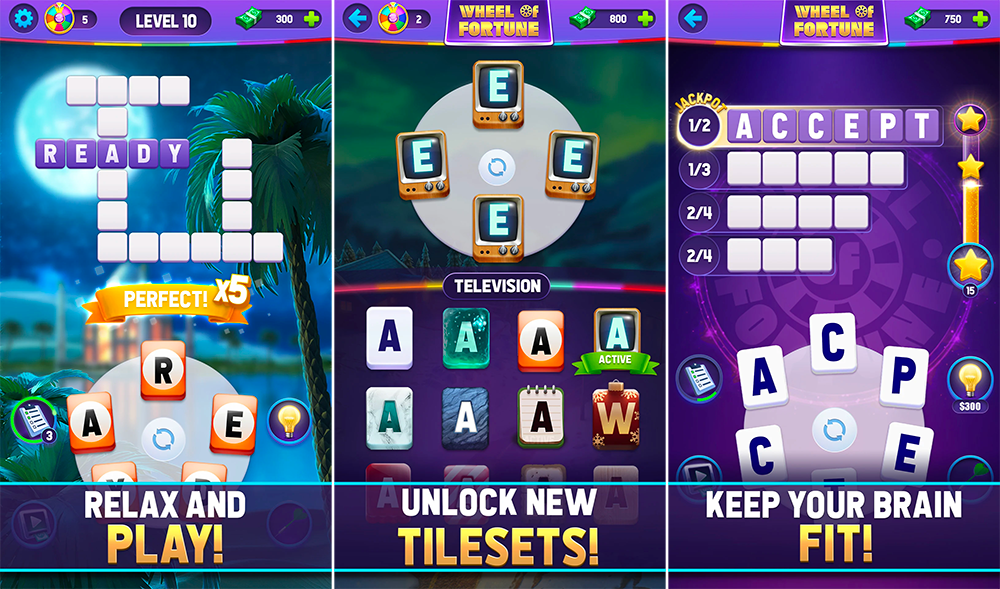 Certain levels feature twists on this standard gameplay. For instance, some levels may challenge players to spell a particular word in the crossword puzzle first in order to earn bonus cash. In addition, as players complete levels in bulk, they'll be able to spin the Wheel of Fortune wheel for a chance to earn even more in-game prizes.
Outside of the game's normal levels, players can try the Daily Challenge mode, which gives them a set of letters and asks them to create a large number of words using those letters. These words aren't placed in a crossword puzzle. Instead, players are shown how many words are available for each length (three-letter words, four-letter words, and so on), and players need to spell as many words as they can before the Daily Challenge ends to earn in-game rewards.
Finally, players can spend the cash they earn on new designs for their letter tiles.
Words of Fortune is available to play for free on iOS and Android devices. The game is rated 4+ on iOS and E for Everyone on Android.
While the game is free-to-play, it offers optional ways to spend real money. For instance, players can purchase extra cash so they can use more hints during levels. They can also purchase item bundles containing power-ups that can help them complete levels. The game is also supported by advertisements, but players can remove ads from the experience via a one-time purchase of $5.99.
Check out some gameplay from Words of Fortune in our video below.