Some of these items will be shared retailer exclusives.
WonderCon Anaheim was originally scheduled to take place from April 10-12, but it's been postponed due to the COVID-19 pandemic.
However, Funko is still going to celebrate the event on its original dates with the second installment of Funko Virtual Con.
The first Funko Virtual Con took place from March 11-13, and it gave fans the chance to purchase the exclusive items that would have originally been released at Emerald City Comic Con, which was also postponed.
Funko's Virtual Con event for WonderCon Anaheim will be held online from April 10-12. While Funko hasn't released specific details about its livestream schedule or how fans will be able to purchase the exclusive items from the event, we do know what the exclusives are.
For instance, you'll be able to pick up flocked versions of the Pichu and Eevee Pokemon Pop figures, some Good Luck Trolls Pops, and a Pop of the Cheshire Cat at the Mad Tea Party, among others. New Soda vinyl figures will also be available, based on things like General Mills mascots and Speed Racer, as examples.
If you want to see all of the WonderCon Anaheim exclusives, check out Funko's website.
Some of these items will be shared retailer exclusives, meaning you'll also be able to pick them up at specific stores. For instance, the flocked Pichu Pop will be available at FYE, while the flocked Eevee Pop will be sold at Hot Topic. Check out the image below, or head to Funko's blog, to see all of the shared retailer exclusives for WonderCon Anaheim 2020.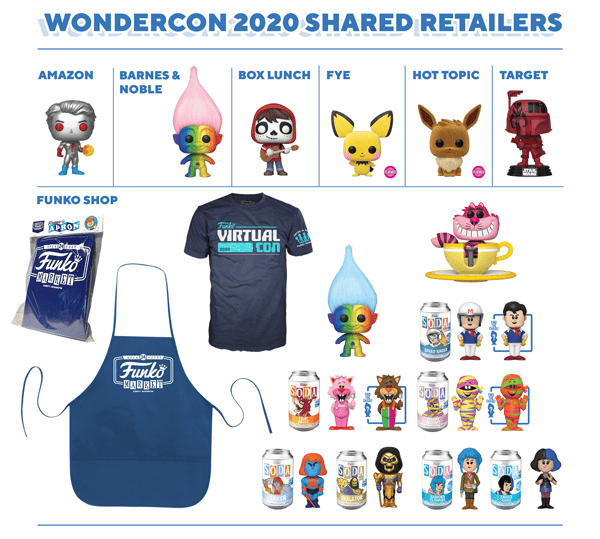 Are you excited about Funko's second Virtual Con event? Let us know in the comments, or tweet us at @superparenthq.