Complete three adventures by following numbered cards.
If your family is looking for something different for your next family game night, you may want to consider What's Next? from Big Potato Games.
What's Next? is a cooperative role-playing game for 1-4 players with a recommended age of 10+. The game challenges players to complete a series of stories that feature a "Choose Your Own Adventure" element.
There are three stories to complete in What's Next?, and each has a different difficulty level. Here's a quick preview of each one, listed in order of difficulty:
Drums of Koala Cave – You'll play as a member of The Creature Crusader Lab, who travels to a mysterious island off the coast of Australia in an attempt to find their missing mentor.
The Skyscraper Caper – Players will become Victoria Valkyrie, a billionaire crime-fighter who's challenged to survive as their housekeeper tries to kill them.
Blinky's Great Escape – You'll play as Blinky, a robot who has become bored working on the production line at the MetalWays factory. Blinky wants to explore the world outside, and players will need to help him escape.
Each adventure has its own decks of Location Cards, Event Cards, and Item Cards. Each of these cards is numbered, with Location Cards containing parts of the story for players to read out loud to the group, as well as two choices at the bottom for how to progress.
For instance, when playing through the Drums of Koala Cave adventure, Location Card No. 1 gives the group two options for how to move forward: They can reach for Location Card No. 2 or Location Card No. 3. (Each option is associated with a piece of the story, but we don't want to spoil the different choices.)
Some Location Cards also feature an event icon in the middle that must be acted on immediately. In these cases, players are told which Event Card to pick up, and they must follow the instructions on the Event Card to move on. We'll talk more about Event Cards in a bit.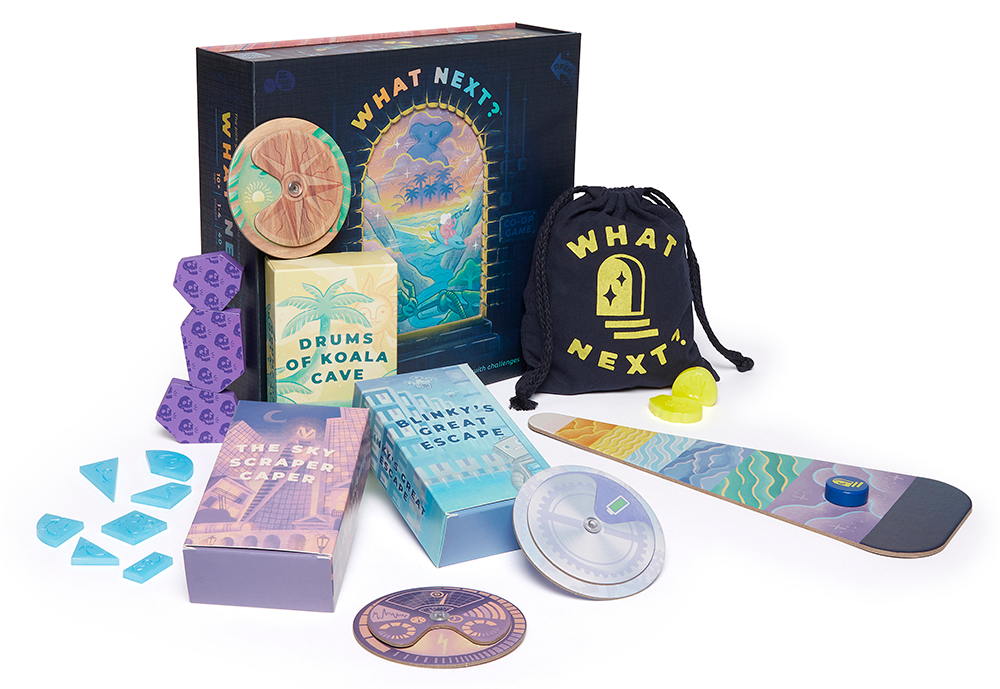 In addition to decks of cards, each adventure comes with its own Time Dial that's themed to the story. For instance, the Time Dial for the Blinky's Great Escape adventure represents Blinky's battery level. Each time a new Location Card is drawn, the Time Dial moves one space clockwise. Three of the spaces on the Time Dial are harmless, while the fourth is a danger space.
When the Time Dial is on the danger space, players flip the Location Card deck over and use the Dark Side of the deck for this turn. As you might have guessed, the dark side of each Location Card deck tends to be more dangerous. Once this turn is over, the Location Card deck is flipped back over and players can go back to using the light side of each card.
While Location Cards move players to different locations in the in-game world, Event Cards are related to specific actions. Event Cards offer challenges for players to complete, and these challenges come in four varieties: Puck Push, Shape Build, Item Search, and Mini Games.
As a couple of examples, Puck Push challenges are similar to a game of Shuffleboard and ask players to flick a disk into a highlighted area on a triangular game board, while Shape Build challenges are like Tangrams, asking players to use small blue puzzle pieces to create the shape seen on the Event Card.
Some Event Cards give players a few chances to practice before trying the activity "for real," while others give players a limited amount of time to complete a particular action. It's worth noting the game doesn't include a timer. Instead, players will need to use something like a smartphone or tablet to keep time themselves.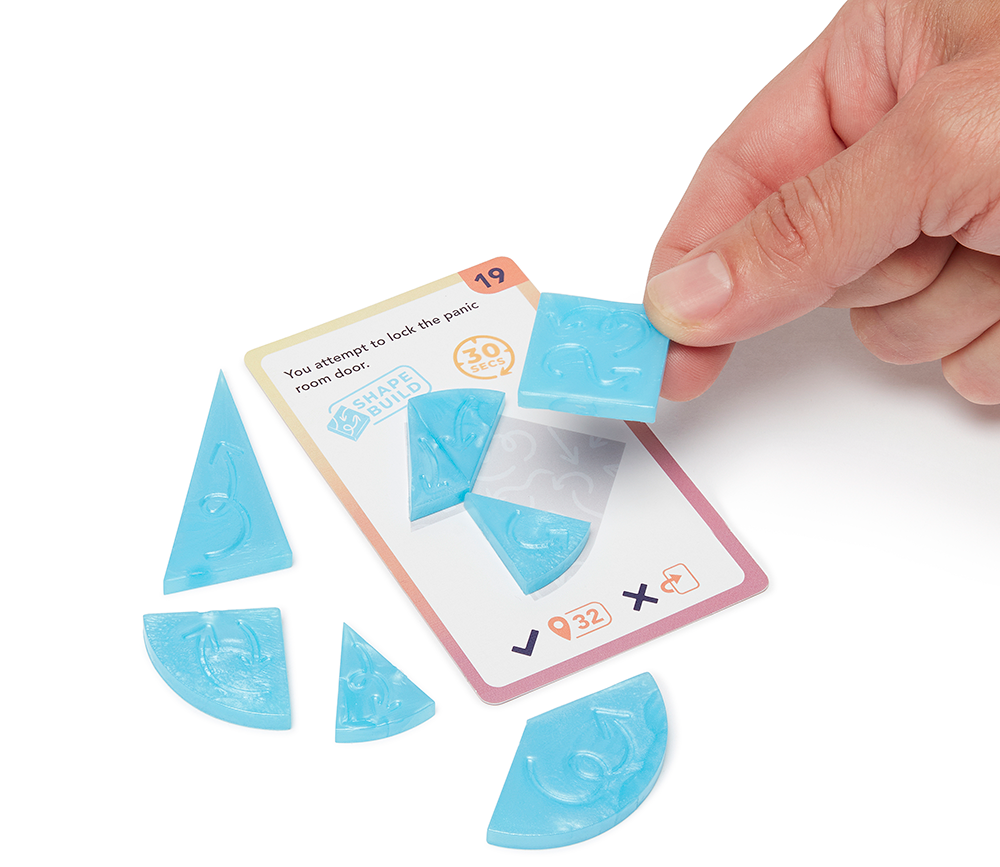 Finally, the game's Item Cards feature items related to each adventure. Some can be used at any time, while others can only be used at specific times.
As players reveal different cards and/or fail to complete Event Card challenges, they'll come across cards with a small skull symbol. Each time this happens, the group will need to place one Peril Piece on their Tower of Peril. The first two pieces to the Tower of Peril must be placed right next to each other on the playing surface. All other pieces must be stacked on top of these two pieces. If the tower ever falls over, the group immediately loses and it's game over. If players can reach the end of the adventure without knocking over the tower, they win the game.
Each game of What's Next? has an expected play time of 40 minutes. While the game features a limited number of adventures, players will need to try each adventure more than once to see all of the possible story combinations due to the choice-based gameplay.
What's Next? will be released on Amazon on September 6 for $50. You can learn more about the game on the Big Potato Games website.
Disclosure: SuperParent received a copy of What's Next? for coverage purposes.