Captain Toad: Treasure Tracker on Switch lets you solve puzzles with a friend.
Get your calendar ready, because lots of family-friendly video games will be released in July. From Captain Toad to Hotel Transylvania 3, you've got plenty to choose from when you need to beat the heat the summer and have some family fun indoors.
Captain Toad: Treasure Tracker
Rated E
Appropriate For: Kids who love solving puzzles
Captain Toad: Treasure Tracker for Switch and 3DS is an updated version of the game's original Wii U release from 2014. The game challenges players to complete level-based puzzles by rotating the game world to find hidden paths and items to collect. In this new Switch release, two players can team up to complete puzzles together, making this a great game for kids and parents, or siblings, to play together. Want to try the game before buying it? You can download a free demo of the game on both the Switch and 3DS eShops.
Great If Your Kids Love: Fez, New Super Mario Bros. U
---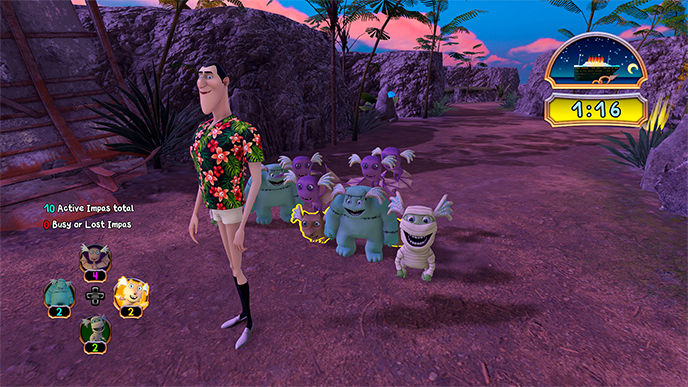 Hotel Transylvania 3: Monsters Overboard
Rated E 10+
Appropriate For: Older kids who are comfortable with console controllers
Hitting store shelves three days before Hotel Transylvania 3: Summer Vacation debuts in theaters, this strategy adventure game will ask kids to help Dracula, Mavis, and their friends after they've been stranded on the Lost Islands. Players can befriend helpful creatures called Impa, and use their special abilities to battle enemies, solve puzzles, and complete missions.
Great If Your Kids Love: Pikmin 3, Yooka-Laylee, Super Lucky's Tale
---
Go Vacation
Rated E
Appropriate For: Kids who like plenty of variety
Originally released on Nintendo Wii in 2011, Go Vacation includes over 50 cooperative and competitive mini-games and activities spread across four themed areas, or resorts: Marine, Snow, Mountain, and City. Up to four players can test their skills in activities based on skiing, scuba diving, roller skating, tennis, and so much more, so there should be something for everyone to enjoy in this one.
Great If Your Kids Love: Wii Sports, the Mario Party series
---
Octopath Traveler
Rated T
Appropriate For: Teens who enjoy strategic combat systems
This role-playing game lets teens become eight different characters, each with their own story. Players will explore the fantasy-themed world of Orsterra, and use each character's special abilities in strategic, turn-based battles. The game features suggestive themes, alcohol use, and mild language, so it earns its Teen rating.
Great If Your Kids Love: Final Fantasy XV, I Am Setsuna, Ni No Kuni 2: Revenant Kingdom
---
Full List
Notable kid- and teen-friendly titles are in bold.
Monday July 2, 2018
SpiritSphere DX, Switch
Tuesday July 3, 2018
Runbow, Switch, PlayStation 4
Red Faction: Guerrilla Re-Mars-tered, PlayStation 4, Xbox One, PC
Wednesday July 4, 2018
NEKOPARA Vol. 1, Switch
What the Box?, Xbox One
Thursday July 5, 2018
Awkward, Switch
Warhammer 40,000: Inquisitor – Martyr, PlayStation 4, Xbox One
Ultra Space Battle Brawl, Switch
The Journey Down: Chapter Three, Switch
Mushroom Wars 2, Switch
Miles & Kilo, Switch
Yuso, Switch
Squids Odyssey, Switch
Disease -Hidden Object-, Switch
Pocket Rumble, Switch
Friday July 6, 2018
The Wardrobe, Switch
Monday July 9, 2018
Pato Box, Switch
Another World, Switch
Tuesday July 10, 2018
Hotel Transylvania 3: Monsters Overboard, Switch, PlayStation 4, Xbox One, PC
Bomber Crew, Switch, PlayStation 4, Xbox One
Muddledash, Switch, PC
Shining Resonance Refrain, Switch, PlayStation 4, Xbox One, PC
Hunting Simulator, Switch
20XX, Switch, PlayStation 4, Xbox One
Neverout, Switch
The Lion's Song, Switch
Defiance 2050, PlayStation 4, Xbox One, PC
The Spectrum Retreat, PlayStation 4
Insane Robots, PlayStation 4
Blacksea Odyssey, PlayStation 4
Wednesday July 11, 2018
Warhammer: Vermintide 2, Xbox One
Ghost 1.0, Xbox One
Thursday July 12, 2018
Bomb Chicken, Switch
Ghost 1.0, Switch
Super Volley Blast, Switch
Insane Robots, PC
Warhammer 40,000: Gladius – Relics of War, PC
Friday July 13, 2018
Octopath Traveler, Switch
Captain Toad: Treasure Tracker, Switch, 3DS
Earthfall, PlayStation 4, Xbox One, PC
The Spectrum Retreat, Xbox One, PC
Insane Robots, Xbox One
Tuesday July 17, 2018
Touhou Genso Wanderer Reloaded, Switch, PlayStation 4
Sonic Mania Plus, Switch, PlayStation 4, Xbox One, PC
Sonic Mania: Encore Pack [DLC], Switch PlayStation 4, Xbox One, PC
Chicken Assassin: Reloaded, Switch, PlayStation 4, PC
Tempest 4000, PlayStation 4, Xbox One
Adventure Time: Pirates of the Enchiridion, Switch, PlayStation 4, Xbox One, PC
The Path of Motus, PlayStation 4, Xbox One, PC
Thursday July 19, 2018
Tanzia, Switch Pool Panic, Switch, PC
Friday July 20, 2018
Heroki, Switch
VSR: Void Space Racing, Switch
Saturday July 21, 2018
Star Trek: Bridge Crew The Next Generation [DLC], PC
Tuesday July 24, 2018
Mega Man X Legacy Collection 1 + 2, Switch, PlayStation 4, Xbox One, PC
The Persistence, PlayStation 4
Train Sim World, PlayStation 4, Xbox One, PC
No Man's Sky, Xbox One
Semblance, Switch, PC
Wednesday, July 25, 2018
Candle: The Power of the Flame, Xbox One
Thursday July 26, 2018
Sleep Tight, Switch
The Banner Saga 3, Switch, PlayStation 4, Xbox One, PC
Friday July 27, 2018
Hello Neighbor, Switch, PlayStation 4
Go Vacation, Switch
Final Light, The Prison, Switch
The Banner Saga Trilogy: Bonus Edition, PlayStation 4, Xbox One
Tuesday July 31, 2018
Code of Princess EX, Switch
Titan Quest, Switch
Castaway Paradise, PlayStation 4, Xbox One