Explore a musical world to help a young girl return home.
Viola: The Heroine's Melody is a side-scrolling platformer based around the theme of music. The game was previously launched in Early Access (meaning players could try the game while it was still being developed), but it's now officially available on PC.
In Viola: The Heroine's Melody, players follow a young girl named Viola, who is suddenly transported to the magical, musical world of Vylna while she's practicing her violin skills. Early on in her adventure, Viola meets a talking wolf named Fenrys, as well as a helpful boy named Niko, who join Viola on her quest to get back home. The storyline features themes of learning to love oneself, overcoming self-doubt, and never giving up (players will need to know how to read, as there is no voice acting).
Viola: The Heroine's Melody is a mix between a side-scrolling platformer and a turn-based role-playing game (RPG). That is, players can explore the in-game world by jumping on and over platforms, wall-jumping, bouncing off of springs, and more. Some platforms are close together, while others are farther apart. This means you'll frequently need to use Viola's triple-jump ability if you want to visit every area in an environment (this ability is tricky to master at first).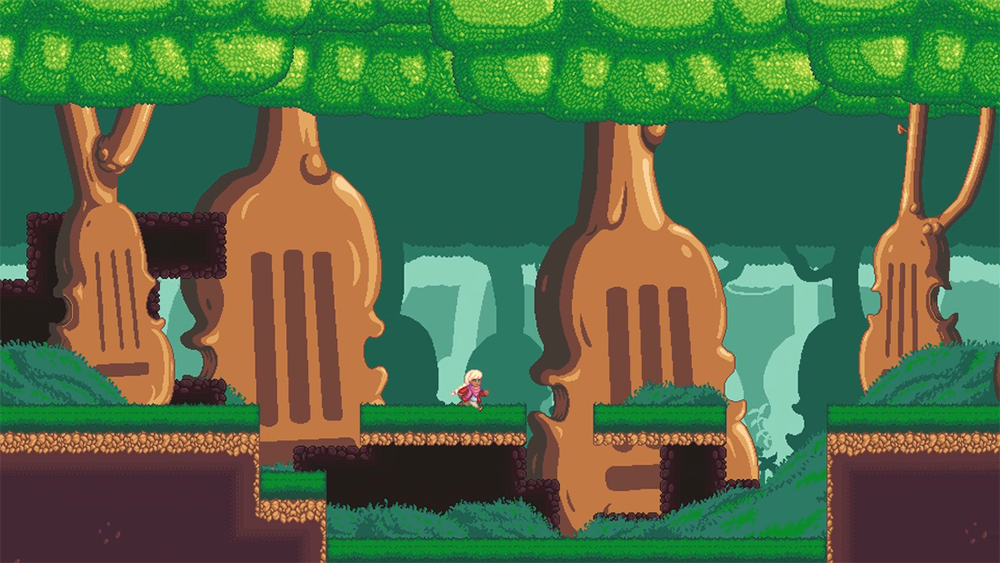 Enemies are also scattered throughout the in-game world, and players can engage in battle against these creatures by simply walking into them.
During a battle, players and enemies take turns, and players can control each of their character's actions individually. On each turn, players can attack a specific enemy, cast a magical spell, use a healing item, and so on. When players decide to attack, they'll need to react to on-screen prompts and press the correct buttons / keys at the right time to successfully damage the enemy.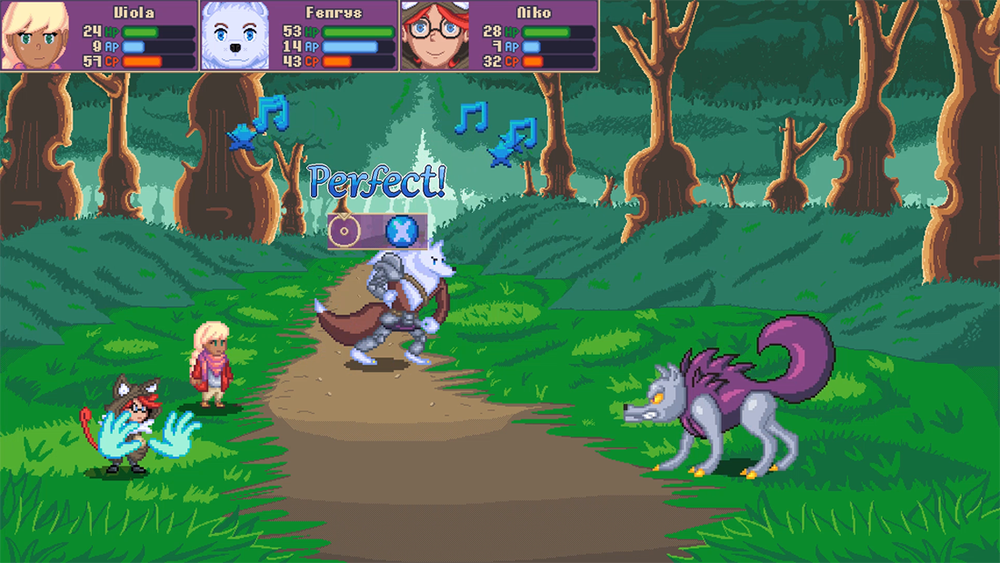 As players defeat enemies, they'll earn experience points that will cause their characters to level up and become stronger over time. Enemies will also become more difficult as players progress, but since you can always see the enemies in the world before you encounter them, you may be able to avoid combat (if you wish), by taking a different route through the world to avoid an enemy character.
Finally, while players start with access to three characters for their team, they can unlock even more by progressing through the story.
While Viola: The Heroine's Melody hasn't been rated by the ESRB, the game is family-friendly (though there is a quote briefly seen at the beginning of the game that includes a reference to sex). It also offers two difficulty settings: a Normal setting and a "Story" setting that makes the game significantly easier (for instance, it removes the need to press buttons at the right time while attacking). You can change this difficulty setting at any time from the game's main menu.
Viola: The Heroine's Melody is available to download for $14.99 on PC. A console version of the game will be released later this year.
Check out 23 minutes of gameplay from Viola: The Heroine's Melody in our video below. (Please note that we played the game using an Xbox controller, but PlayStation 4 controllers and keyboard controls are also supported.)
Disclosure: SuperParent received a code for this game for coverage purposes.