Join Woody, Buzz, and the gang for some screen-free fun.
Toy Story 4 hits theaters in just a few days (June 20 in the U.S.), and ahead of its release, The OP (USAopoly) revealed two new tabletop games set in the Toy Story universe.
First, Disney and Pixar's Toy Story: Obstacles and Adventures will allow two-five players ages 8 and up to work together to help Woody, Buzz Lightyear, Bo Peep, and Rex on their journey to "overcome hazards and bring about a happily-ever-after ending."
The cooperative deck-building game will include six boxes of cards, which are themed after different movies in the Toy Story franchise. As players move from one box of cards to the next, additional content and characters from the films, like Hamm, Mr. Pricklepants, Sid, and Prospector Pete, are added to the game. Each game is expected to last 30-90 minutes.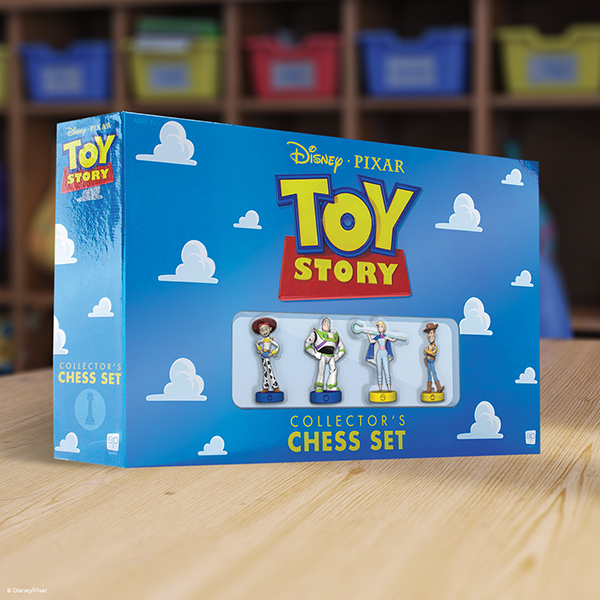 The other new game, a Toy Story-themed Collector's Chess Set, will include colorful figures of characters from the four Toy Story films.
Both Toy Story games will be released in stores this fall. Disney and Pixar's Toy Story: Obstacles and Adventures will be priced at $49.95, while the Collector's Chess Set will cost $59.95.
If you're looking for more family-friendly tabletop games, check out our recent reviews of games like Invasion of the Cow Snatchers and Vast: The Crystal Caverns.
Are you excited about these Toy Story tabletop games? Let us know in the comments, or tweet us @superparenthq.

Brandy Berthelson has been writing about video games and technology since 2006, with her work appearing on sites including AOL Games, Digital Spy, and Adweek's Social Pro Daily. When she's not gaming, Brandy enjoys crafting, baking, and traveling with her husband.