Help a turtle find his friends in this memory-testing tabletop game.
Lucky Duck Games, the company behind tabletop games like Kids Chronicles: Quest for the Moon Stones and Yummy Yummy Monster Tummy, recently released Turtle Splash, a kid-friendly tabletop game in the company's Lucky Duck Kids line.
We had the chance to check out Turtle Splash.
What is Turtle Splash? What's this game about?
Turtle Splash is a family-friendly tabletop game for 2-4 players with a recommended age of 5+.
In Turtle Splash, a variety of jungle animals have agreed to meet at a lake to play hide-and-seek, but the turtle is late to the gathering. The turtle decides to catch up to his friends by sliding down the river that leads into the lake. Players will need to help the turtle slide down the river and "splash" his animal friends to bring them out of their hiding places.
Each game of Turtle Splash has an estimated play time of 15-20 minutes.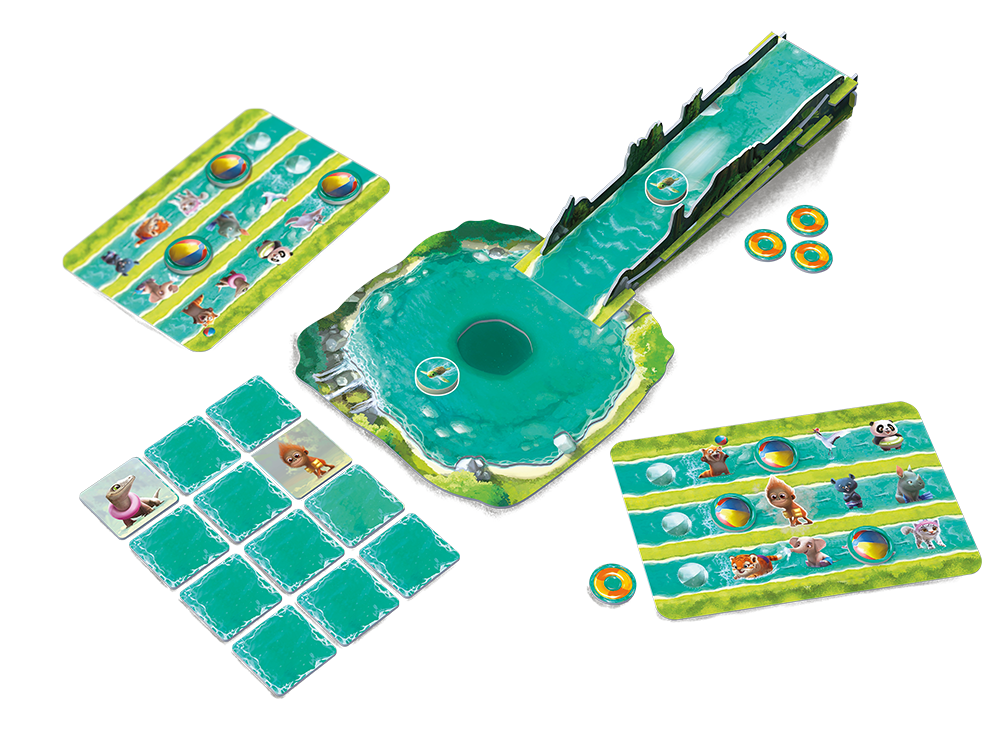 How do you play this game?
In each game of Turtle Splash, players will try to be the first to find all of the "hidden" animals on their personal game board. Each game board features three rows of four animals. While every game board features the same 12 animals (like a tiger, red panda, and elephant), these animals are positioned in different locations on each board. Each player will need to find the animals in their three rows in order from left to right, which means each player will look for animals in a unique order throughout the game.
On each turn, the active player will flick a Turtle Token down a sturdy "river" ramp that's connected to a lake game board. Depending on where the Turtle Token lands, players will flip over 1-3 Animal Tiles, which feature the animals players are trying to find. Every player is allowed to look at the tile(s) that are flipped over, and they're encouraged to memorize the locations of each critter that is revealed over time so they can easily flip over the tile(s) they need based on the animal(s) they're trying to find on their turn.
If players fail to find a match for one of their animals when they flip over these Animal Tiles, they can collect a Swim Ring Token, which will allow them to flip over one extra Animal Tile on their next turn.
Players will take turns flicking the Turtle Token down the river until the first player has found every animal on their personal game board. This player wins the game.
Is Turtle Splash fun to play?
Turtle Splash is an adorable and entertaining tabletop game that's very simple to learn and teach to new players. The game features adorable artwork, and flicking the Turtle Token down the ramp is a fun, and sometimes funny, experience, since it's possible to accidentally flick the token a bit too hard and send it flying.
While Turtle Splash is an incredibly simple game, families can increase the difficulty slightly by removing the side panels from the river ramp. These side panels are like bumpers at a bowling alley, and prevent the Turtle Token from dropping off the ramp's right or left side. If these panels are removed, players may find it more challenging to land the Turtle Token on the lake game board on their turn.
What's the final verdict?
Turtle Splash is a fun game for littles that features some of the cutest artwork we've seen in a tabletop game. Turtle Splash is priced at $24.99, which we feel is a bit high, given the game's simplicity, but this is still a fun experience we recommend checking out.
---
Turtle Splash is now available on the Lucky Duck Games website for $24.99.
Disclosure: SuperParent received a copy of Turtle Splash for coverage purposes.