Turning kids into treasure hunters, one alien at a time. (No, really.)
Every new child we introduce to the "Treasure X" series becomes a fan the moment they find their first Treasure Hunter. Moose Toys invites kids to make a mess by chipping away at sand-like bricks, which uncover pieces of skeletons, dragons, and other ferocious beasts. The series has rocketed to outer space with the newly released Treasure X Aliens toy line. Moose eliminated the bricks in exchange for plastic worm-like aliens. Instead of digging around like an archaeologist, kids dissect the aliens with plastic scalpels and sift through their insides.
We went hands-on with Treasure X Aliens, and two rescued Treasure Hunters. A handful of slime later, we feel this is a welcome addition to the franchise, despite some minor criticism.
What are Treasure X Aliens?
If you checked out the first batch of Treasure X toys, the difference with Aliens is immediately noticeable. Instead of holding a brick in the palm of your hand, there's a plastic container with a red (Volgunk), blue (Oozagol), or green (Gizmuck) alien inside. It's a serious departure from the initial Treasure X lineup, mind you. Instead of reducing the brick to hundreds of pieces intended to be thrown way, you now have one or more similar-looking aliens taking up residence in your home. To be fair, you can recycle unwanted aliens if you intend to buy several of them for the little ones.
Despite this, Treasure X Aliens is still dedicated to exploration, but how you reach the end of the adventure is unique. Moose advertises 12 levels of adventure, similar to previous Treasure X toys. There's a good chance that kids will skip several levels on their journey to treasure, but it's not a big deal, because it's a lot of fun, regardless.
After detaching the dissection tool from the outside of the package, kids use it to cut along the "danger line" at the bottom of the packaging to remove the alien from its case.
From there, it's all about slicing into the alien along the pre-cut oval-shaped line in its abdomen. This will definitely be a source of frustration for some kids, because you need a decent amount of pressure to make that first incision, and then a bit of strength to actually follow the cutting line. (Expect to be asked for help within minutes.)
We found that it was important to avoid completely detaching the skin from the alien. Instead, leave it partially attached so you can store items in the monster's belly and then close the flap.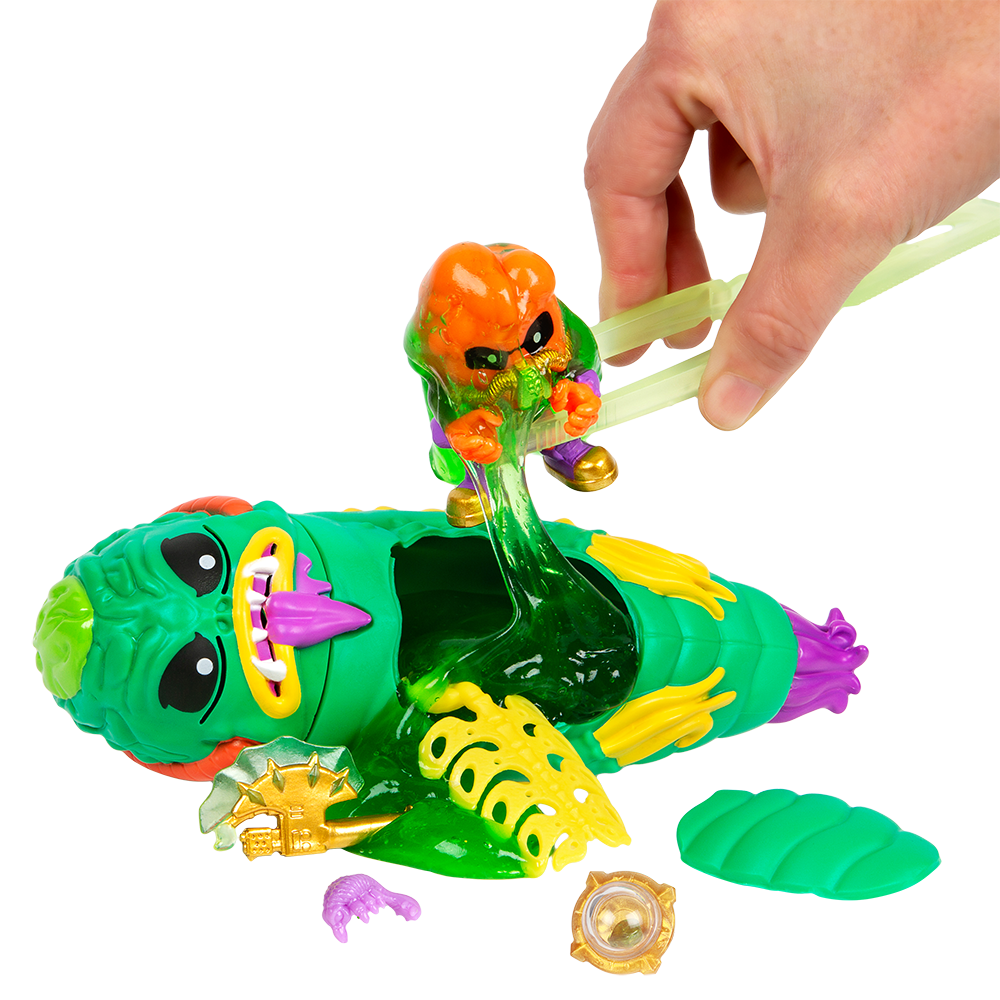 How Gross is the Treasure X Aliens Slime?
With the skin partially detached, you'll carefully open a plastic bag containing the "guts", which is, well, slime. (And as we know, kids do love their slime.)
The good news is that this slime is much thicker and of a higher quality than the runny substance used in Treasure X Season Two. In fact, each Treasure X Aliens pack comes with a slime container that'll prevent the goop from drying out, but we had different results with the two samples that Moose provided. One container did not twist shut, while the other one did. Not a dealbreaker, but it did mean that we had to pick up the former container from the bottom.
Inside each alien is one Treasure Hunter, a piece of treasure, and a critter. We don't know if this is true for every figure in the Treasure X Alien series, but our two Treasure Hunters came in two parts — the head and the body — in addition to a signature weapon. And, following the Treasure X tradition, these new characters have cool names that'll make kids laugh, like Stinkdome, Sir Head Butt, and Octaslop.
Why is this important? Well, the first two seasons of Treasure X toys feature characters with detachable body parts, and unless you're really on top of your kids' toys, it's only a matter of time before they misplace torsos and limbs. Moose did the right thing in designing these new Treasure Hunters with fewer detachable limbs. Not only does this reduce the amount of lost parts, but also the possibility of kids choking on them. (The box says these toys aren't appropriate for children under 3.)
As for the slime, you can remove an alien's head and stuff the slime inside. From there, turn the head right side up and give it a good squeeze to see the slime ooze from the monster's eyes, nose, and mouth! The great thing about this slime is that you can easily pull it apart and then mold it back together again.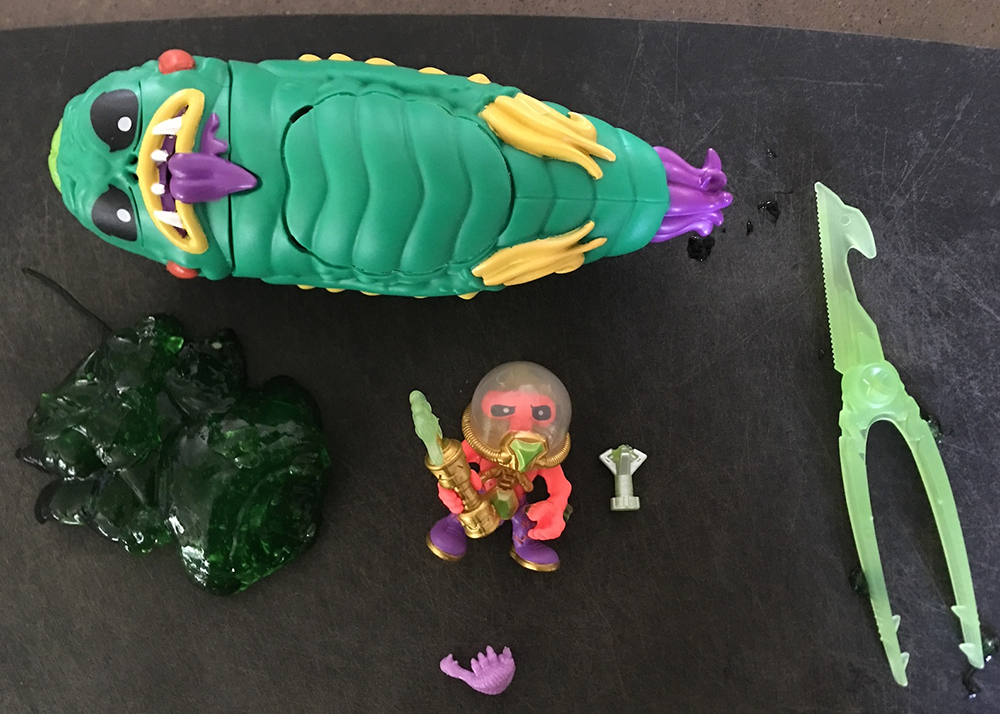 Should I buy Treasure X Aliens for my kids?
Ultimately, we give Treasure X Aliens the thumbs up, but it's important to know the pros and potential cons before buying one of these $14.99 kits. You receive three characters (the alien worm, Treasure Hunter, and critter), the slime is of great quality, and the Treasure Hunter only comes in two pieces instead of six. Unfortunately, your kids might have trouble using the plastic scalpel to cut into the alien and it appears that some slime containers will not close tightly. But overall, Treasure X Aliens is another quality product from Moose Toys that kids will love.
Disclosure: Moose Toys provided SuperParent with two Treasure X Aliens toys for coverage purposes.