Play cards and attempt silly tricks in this hilarious family game.
Toy Story Talent Show is one of the latest family-friendly tabletop games from Funko Games, the company behind titles like Disney Princess See the Story and The Goonies: Never Say Die, among others.
We had the chance to check it out before the game is released later this year.
What is Toy Story Talent Show?
Toy Story Talent Show is a card game inspired by Disney's Toy Story film franchise, but you don't need to be familiar with the films to enjoy the experience. The game challenges 2-6 players aged 6+ to complete challenges and "tricks" that are written on cards in order to collect Prize Tickets that can help them win the game.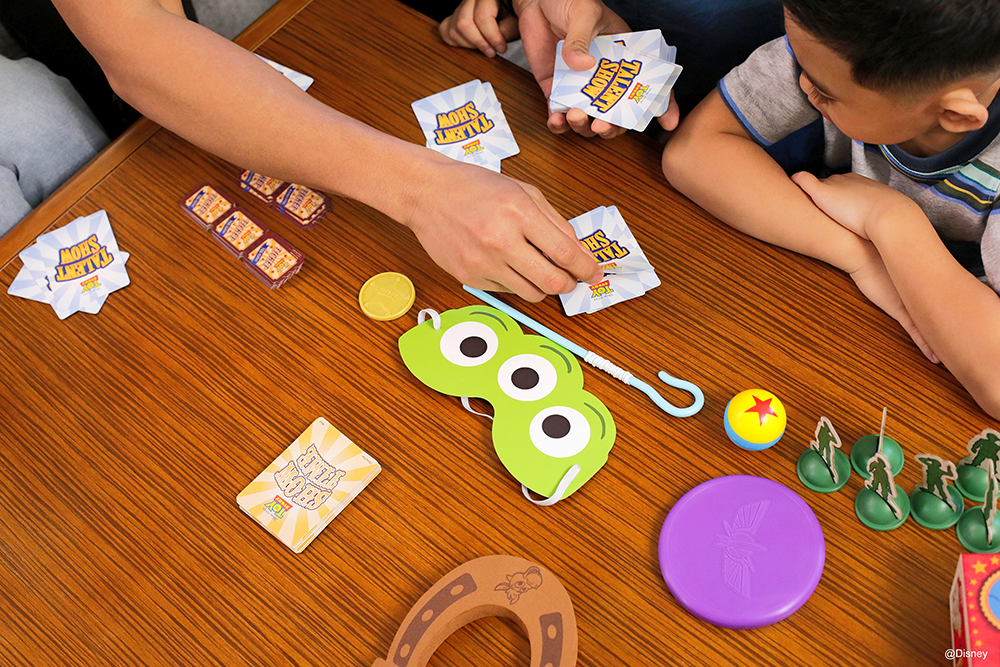 How do you play this game?
Toy Story Talent Show features two kinds of cards: Talent Cards and Show Time Cards. Each card has a number in the corner and at least one color for the background. The game also comes with a number of props that are used when attempting the game's challenges (called "Talents"). Specifically, there's a foam horseshoe, alien blindfold, rope lasso, flying disc, six large army men, a Pixar-themed ball, a coin, and a plastic shepherd's hook. There's also a sand timer for timed challenges.
The game is split into rounds (the number of rounds is determined by the number of players), and during each round, players will take turns playing Talent and Show Time Cards from their hand to a discard pile in the center of the table until they run out.
Similar to a game of Uno, each player can only play a Talent or Show Time Card from their hand if it has the same number or color as the card on the top of the discard pile. When someone plays a Show Time Card, the next player has a chance to block it by playing a card with the same number. If they don't block it, the person who played the Show Time card must attempt a "Talent" (a "challenge") by drawing the top card from the Talent Show deck and following its instructions.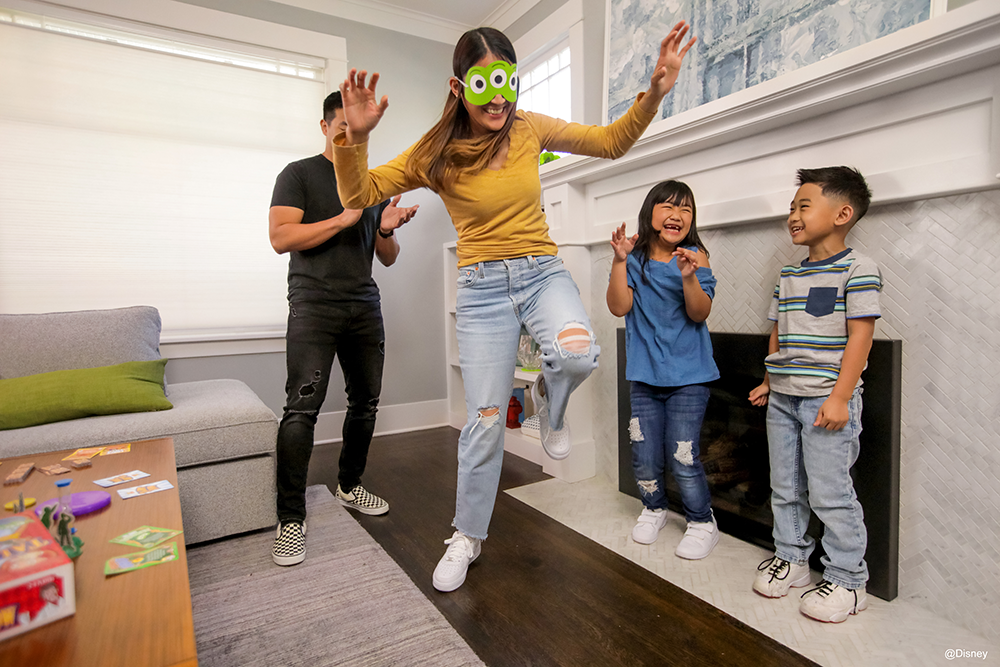 There are 100 Talent Cards in all, and they feature challenges of varying complexity. Some can be completed while sitting at the game table, while others will require you to get up and complete a specific action. In addition, while some Talents are skill-based, others are based on luck.
As a couple of examples, one of the Talent Cards asks one player to challenge another to a staring contest. This can be done without leaving the table. Another Talent Card asks a player to stand up, put on the alien blindfold, and hop on one foot 10 times in a row without letting their other foot touch the ground.
While each Talent Card has a specific requirement, many can be tweaked based on your family's needs or tastes. For instance, you could tweak the hopping challenge in our example above to only require five hops, or you could remove the blindfold requirement, and so on.
Finally, there are some Talents that require more than two players to attempt. If one of these Talents appears in a two-player game, the card is discarded and another Talent Card is drawn in its place.
If a player successfully completes a Talent, they'll take one of the Prize Ticket strips that contains three tickets. If they fail the Talent, they'll take a single Prize Ticket.
This turn-based gameplay continues until someone plays the last card from their hand, or until no one can play a card. When the former happens, the person who played the last card takes a Prize Ticket strip with two tickets and the round ends. Or, if no one can play a card to continue the round, the round ends and one of the Prize Ticket strips with two tickets is discarded so the game can continue.
When all of the Prize Ticket strips with two tickets are gone, the game ends and players add up the number of points on the Prize Tickets they collected during the game. The player with the most points wins. (For the record, the game contains five of these Prize Ticket strips with two tickets, so a game can be five rounds long at most.)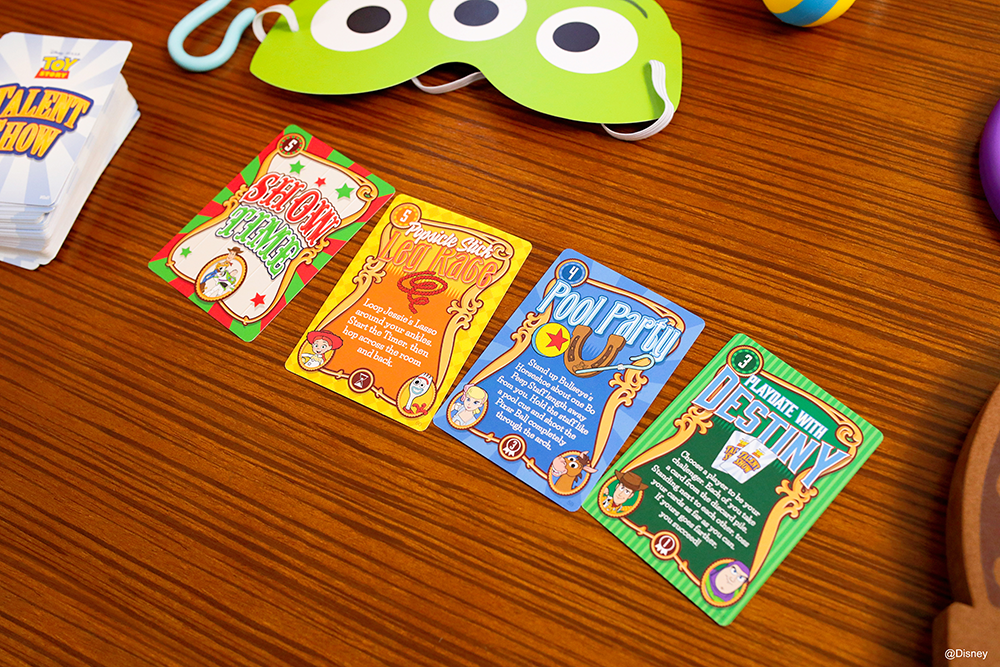 Is this game fun to play?
We had a great time playing Toy Story Talent Show. The game made us laugh (loudly) on multiple occasions, especially when a Talent attempt didn't work out the way we planned.
Some of the rules related to blocking Show Time Cards and ending a round are a bit complicated at first, but once your family gets the hang of the rules, we expect everyone (both kids and adults) will have as much fun as we did.
What's the final verdict?
The front of the Toy Story Talent Show box says the title is "The exciting game of balancing, tossing, roping, rolling fun," and that really fits the experience. Toy Story Talent Show is a light-hearted, family-friendly game that provides a hilarious good time for families who aren't afraid to look a bit silly as they try the game's Talents.
Plus, the game is a great value at $19.99, since you'll likely need to play the game multiple times before you'll encounter all of the Talents that are available to attempt (depending on your number of players).
Whether you're looking for a new activity to get your littles (and yourself) up off of the couch, or you're just looking for something new to try for your next family game night, we can't recommend this one enough.
---
Toy Story Talent Show will be released this summer for $19.99, and you can now pre-order it on sites like Amazon and Miniature Market, among others. Each game has an expected play time of 30 minutes.
Disclosure: Funko Games sent Toy Story Talent Show to SuperParent for coverage purposes.