Ravensburger will release five movie-themed puzzles this June.
Toy Story 4 hit theaters in the U.S. on June 21, 2019. At the same time, puzzle manufacturer Ravensburger will release five new jigsaw puzzles featuring toys from the film, such as Woody, Buzz Lightyear, Bo Peep, and Forky.
The puzzles range in piece count from 10 pieces to 100 pieces, so there's something here for kids of varying ages.
The 10-piece puzzle is part of a 4-pack of shaped puzzles, which ditch the traditional square or rectangular shape common to most puzzles in favor of curved borders. These shaped puzzles are designed for kids 3+ and range in piece count from 10-16 pieces.
For that same age group, the Toy Story 4 Giant Floor Puzzle features 24 large pieces that kids can put together on the floor (or on a table) to create a picture that's 20 x 27 inches.
The other three puzzles are more traditional. There's a 35 piece puzzle for ages 3+, a 3-pack of 49 piece puzzles recommended for kids five and older, and a 100 piece puzzle for kids 6 and up. The 100 piece puzzle (pictured in this post) features "XXL" pieces that are easier for kiddos to handle than smaller pieces.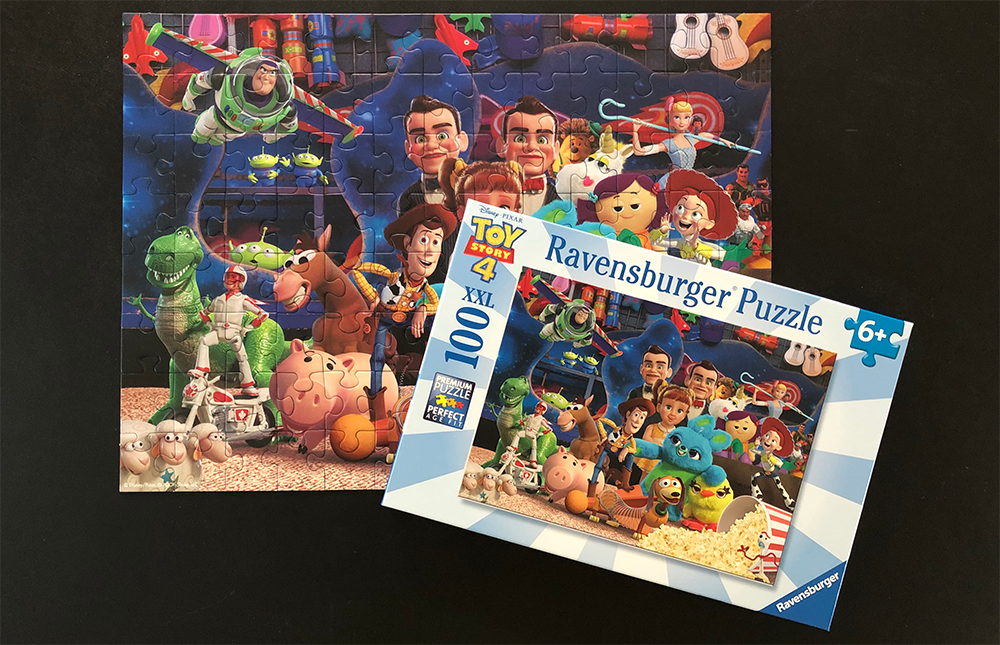 All four puzzles will be available on Amazon starting June 21 at prices ranging from $12.99 to $16.99 MSRP. They're available to pre-order now.
These aren't the first Toy Story jigsaw puzzles released by Ravensburger. For instance, this Toy Story History puzzle, which features art from the previous three Toy Story films, is available on the company's website.
If you're looking for a Toy Story puzzle for adults, puzzle company Ceaco offers this 700 piece panoramic puzzle.
Disclosure: Ravensburger sent the 100 piece Toy Story 4 puzzle and the "Toy Story History" puzzle to SuperParent for coverage purposes.