We had a chance to check out some of Funko's colorful new vinyl figures.
Trolls World Tour hits U.S. theaters on April 17. While that's still a few months away, lots of kid-friendly merchandise has already been released to go along with the film (check out these Lego sets, for instance), and we expect even more to debut in the weeks and months ahead.
Not to be left out, Funko has created a set of vinyl Pop figures based on characters from the new film. There are eight figures to collect in all, including some interesting store exclusives.
Here's the breakdown:
Queen Poppy
Queen Poppy with a Guitar – Party City Exclusive
Queen Barb
Branch
Branch (Chase variant)
King Trollex
King Trollex (Glow in the Dark) – Michaels Exclusive
Guy Diamond with Tiny Diamond
We had the chance to check out some of these Pops: Queen Poppy with the guitar, Branch (chase), Queen Barb, the glow in the dark King Trollex, and Guy Diamond.
Unlike Funko's Good Luck Trolls figures, these World Tour figures don't have "real" hair, which makes some a bit top heavy (especially Queen Poppy). This may make it difficult for some of them to stand up on their own. However, Funko has accounted for this, and has included a small plastic disc with each figure, which has a peg that you insert into each figure's foot to keep it steady.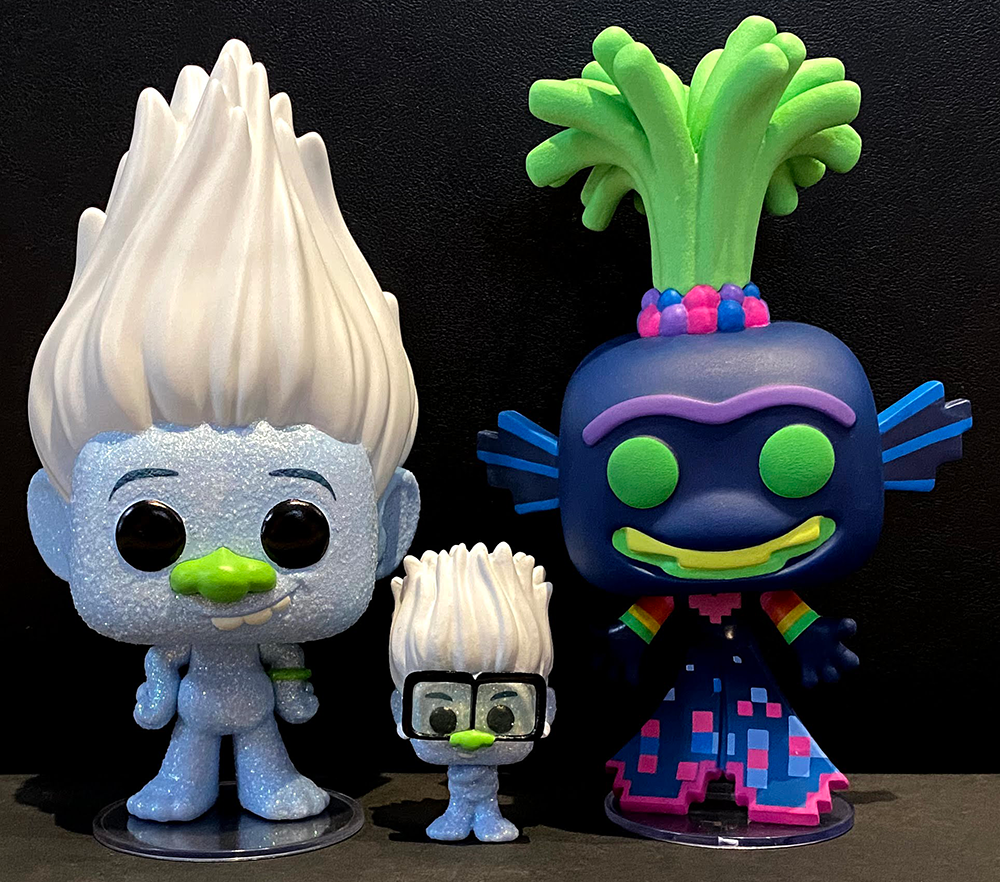 Here are a couple of things worth noting: The King Trollex figures come on a stand by default, so you don't have to attach it (the stand can't be removed), and the Tiny Diamond figure stands on its own just fine, so it doesn't have a disc. Finally, some of the discs themselves had slight blemishes (for instance, there's a white mark on the disc of our King Trollex figure), but you may not be able to see these marks from far away.
As for the Branch chase variant, this one is almost exactly like the original, except for the expression on Branch's face. In the standard figure, his expression is serious, while the chase variant is smiling. You'll know you've found a chase variant by watching out for the "chase" sticker on the outside of the box.
Finally, Guy Diamond with Tiny Diamond is part of Funko's "Diamond Collection," and the two figures have a really pretty glittery finish that makes them sparkle in the light.
What do you think of these Trolls World Tour Funko Pops? Let us know in the comments, or tweet us at @superparenthq.
Disclosure: Funko sent SuperParent the Trolls World Tour Pop figures for coverage purposes. Our coverage remains objective.