New VMAX cards will feature Dynamax and Gigantamax Pokemon, such as Gigantamax Snorlax.
The Pokemon Company revealed a new expansion for the Pokemon Trading Card Game based on Pokemon Sword and Pokemon Shield, which were released on Switch on November 15.
The expansion is called "Sword & Shield," and it's the first expansion in the overall Pokemon Trading Card Game: Sword & Shield series. The expansion will introduce players to a new type of card and gameplay mechanic called VMAX.
VMAX cards contain artwork of Gigantamax and Dynamax Pokemon, which are also seen in the Pokemon Sword and Shield video games. Pokemon VMAX evolve from Pokemon V, and there will be four Pokemon VMAX cards in this series, including Snorlax VMAX and Lapras VMAX.
VMAX Pokemon have powerful attacks and lots of hit points, but if they're knocked out, your opponent will receive three Prize cards.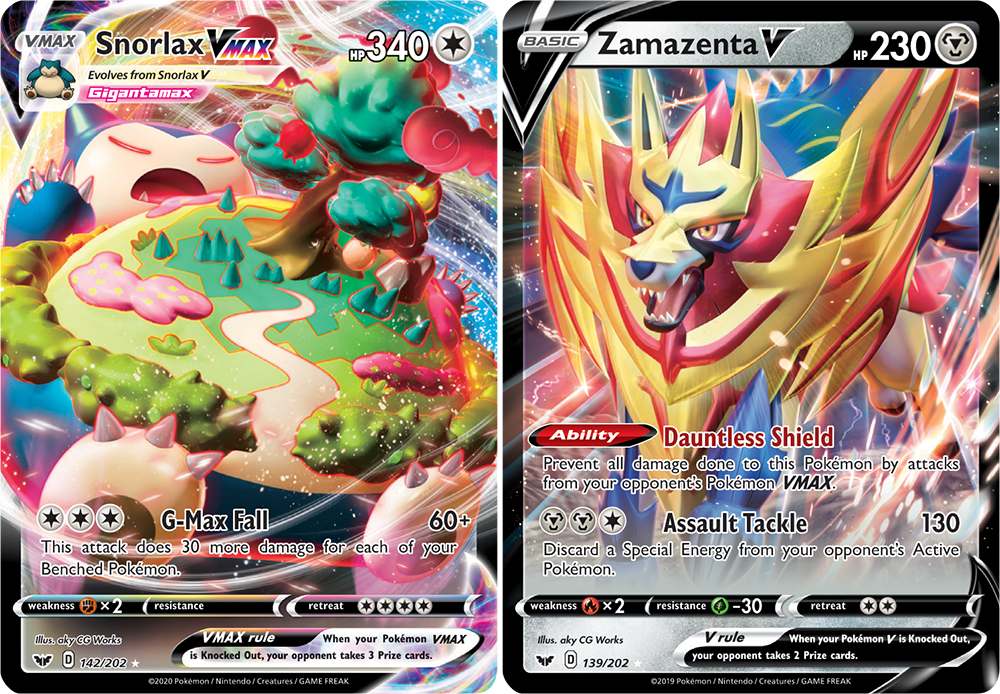 This expansion will have 17 Pokemon V and 12 full-art Pokemon V cards to collect (including Zacian V and Zamazenta V). The overall expansion will feature more than 50 Pokemon from the Galar region, such as Rillaboom, Cinderace, Inteleon, and Galarian Ponyta. The expansion will also contain 35 Trainer cards and one Special Energy Card.
The Sword & Shield expansion will launch worldwide on February 7, 2020, with these new cards being available in booster packs, theme decks, Elite Trainer Boxes, and collections.
While the full expansion will be released in February, you can get your hands on some of these new cards early by picking up the Meowth VMAX Special Collection when it comes out on January 3, 2020. This collection (pictured above) contains five booster packs, one Meowth V card, one Meowth VMAX card, and one oversize Meowth VMAX card.
Are you excited about this new expansion? Let us know in the comments, or tweet us @superparenthq.