Don't get dysentery!
Mobile game company Gameloft has released a new game in the Oregon Trail franchise called The Oregon Trail. The game is now available on Apple Arcade, Apple's game subscription service that gives subscribers unlimited access to a curated selection of games for a flat monthly price. Apple Arcade games do not contain advertisements or in-app purchases.
In this new version of The Oregon Trail, players are challenged to help their party make it from Independence, Missouri to Willamette Valley in Oregon. They'll need to manage their party's supplies, take care of their wagon and oxen, and monitor their party's health and emotions as they make decisions that will affect the rest of the game.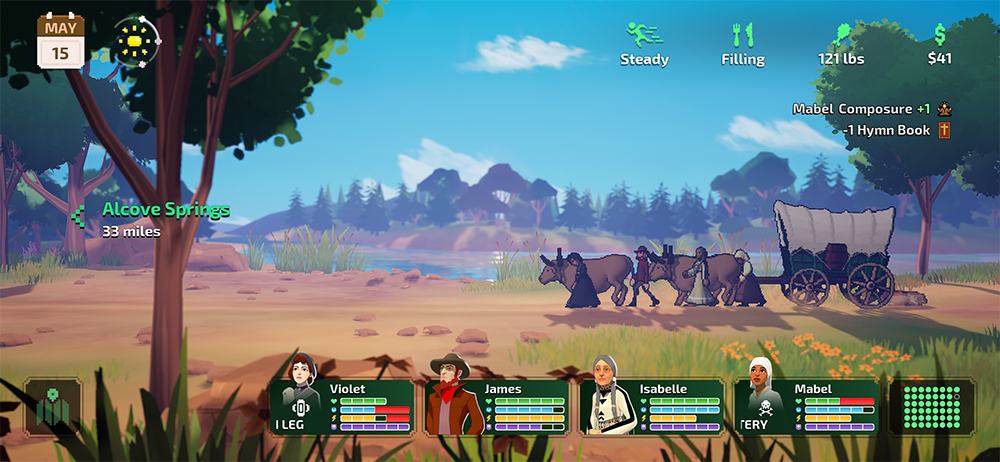 The Oregon Trail is meant to be played across multiple attempts, so players shouldn't go in expecting to reach Oregon on their first try. Each game will allow players to form a different party of travellers that have different skill sets and personalities (this version of the game also includes Native American playable characters and stories). From there, they can spend a limited amount of money to stock up on supplies before hitting the trail. Their wagon has a limited amount of space, so players can rearrange items to hold as many supplies as they think they'll need.
Once they hit the trail, players will need to deal with random events and encounters that make each game unique. For instance, characters can get sick, the wagon may break, and more. Players will need to use strategic thinking to properly manage their resources and ensure their party's health, morale, stamina, and hygiene remain as high as possible for as long as possible.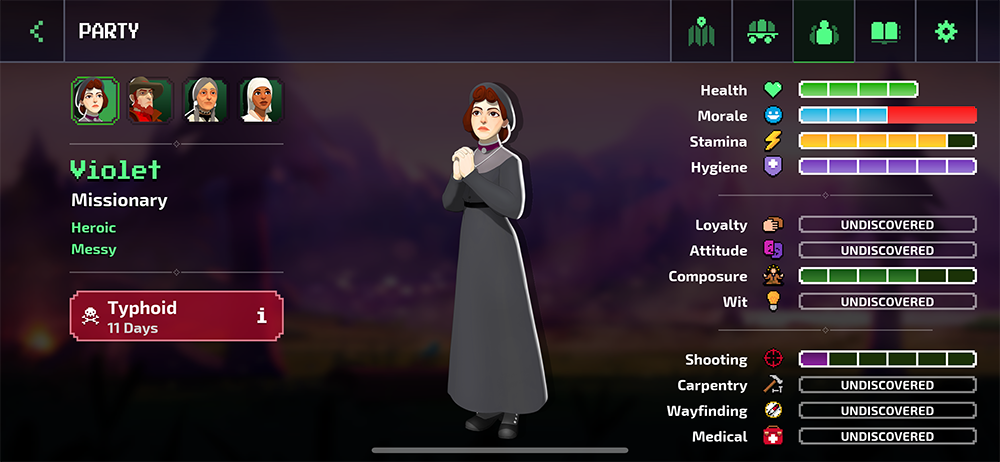 If players come across wild animals, they can go hunting for extra food (so long as they have enough bullets to do so). Plus, when they reach a river crossing, they can choose to hire a ferry or attempt to cross the river on their own. Depending on their choices, players can sometimes test their skills in the game's hunting and white water mini-games.
In addition to featuring the standard journey from Independence to Willamette Valley, The Oregon Trail offers 11 additional journeys that players can undertake. These change the gameplay in different ways. For instance, The Nature Trail journey is easier than the standard Oregon Trail trip, as it includes "fewer hardships and more wildlife to discover." Players only have access to a few of these journeys at the beginning of the game, but they can unlock more by playing.
Finally, players can also participate in limited-time events. For instance, one event may challenge players to survive as long as possible while playing the game's rafting mini-game.
The Oregon Trail is now available on Apple Arcade. The game has an age rating of 12+.
Check out some gameplay from The Oregon Trail in our video below.