The Shack Smash Ultimate Invitational will see 16 Smash players compete to take home part of a $20,000 prize pool.
Update (03/12/20): Following the cancellation of SXSW 2020 due to concerns related to COVID-19, Shacknews has announced that the Shack Smash Ultimate Invitational has been postponed.
Update (03/05/20): Shacknews revealed two of the players that will compete in the tournament: Takuma Hirooka (also known as Tea) and Shuto Moriya (also known as Shuton).
Update (03/03/20): Shacknews has announced two commentators for the event: Terrence Kershaw (also known as TK or TKbreezy) and Phil Visu (also known as EE).
---
Original Story:
SXSW 2020 (pronounced South by Southwest) will take place from March 13 to March 22 in Austin, Texas. The event brings together companies and personalities from multiple industries, such as film, music, and video games, for a series of conferences and festivals.
At this year's event, Shacknews will host the Shack Smash Ultimate Invitational, a Super Smash Bros. video game competition. Shacknews will invite 16 of the game's best players from around the world to compete against one another, with the top eight players receiving part of a $20,000 prize pool.
The double elimination tournament will take place on March 20-21 at the "HyperX Esports Lounge powered by Shacknews."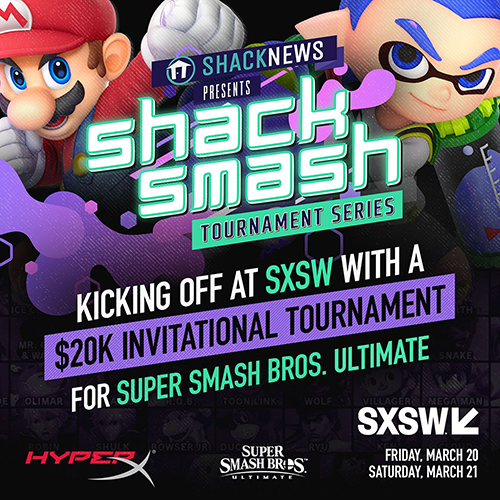 Even if you won't be at SXSW, you'll be able to watch the action live on Shacknews' Twitch channel. Plus, if you miss the live event, you'll be able to catch up on what happened by watching replays on Shacknews' YouTube channel.
Information about the event's competitors, casters, and more will be released soon.
This competition at SXSW will be the first of many events in Shacknews' Shack Smash Tournament Series. Other events will take place across the U.S. throughout 2020, though details about the other events aren't available just yet.
For more information about the Shack Smash Ultimate Invitational, head over to Shacknews' website.
Disclosure: SuperParent's parent company, Greenlit Content, works with Shacknews and HyperX as clients.