Gather around the table for some screen-free, family-friendly fun.
At SuperParent, we adore jigsaw puzzles. Whether you're into nature, cartoon characters, architecture, food, or something else entirely, there's probably a puzzle out there that fits your tastes.
If you're shopping for a puzzle lover this holiday season, or you just want to pick up a few puzzles for your own family to enjoy (perhaps even after the holidays are over), here are some of our top picks.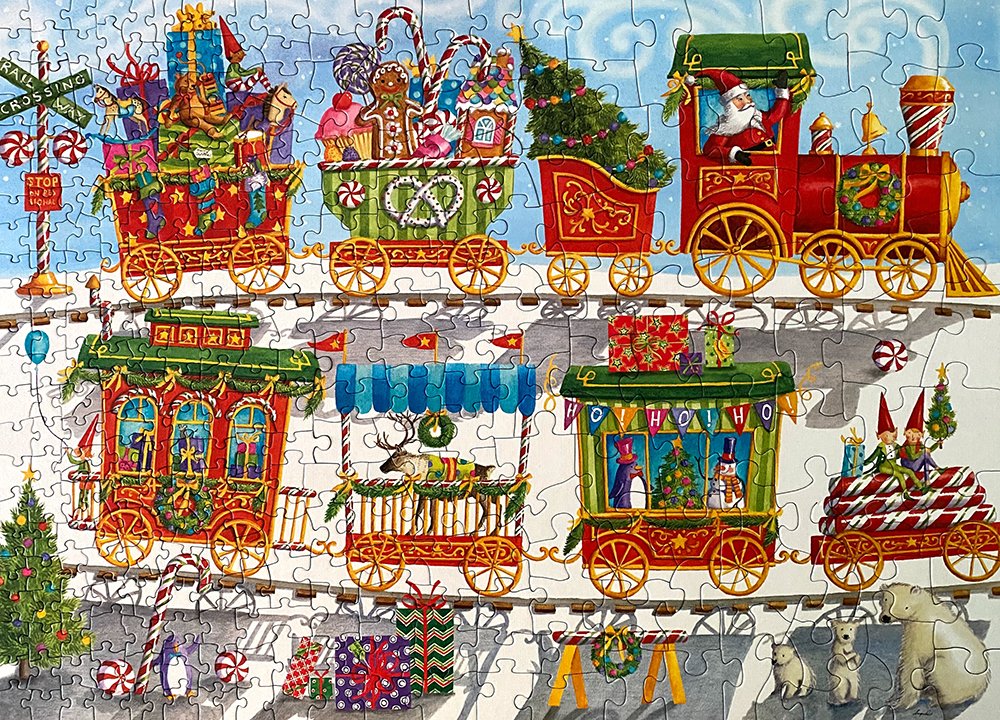 Christmas Train Puzzle from Cobble Hill
This adorable 350-piece Family Pieces puzzle lets you put together a festive Christmas-themed train with eight cars full of presents, yummy treats, and even Santa himself. Since it's a Family Piece puzzle, it was specifically designed for puzzlers of all ages to work on together. It has pieces in three different "sizes" — small, medium, and large — so, in theory, younger family members can work on the larger pieces, while those who are older can work on the smaller ones. The finished puzzle measures 19.25" x 26.625", so you'll need a relatively large surface area to work on.
You can pick up this Christmas Train puzzle on Cobble Hill's website for $15.99. The company will ship to both the U.S. and Canada.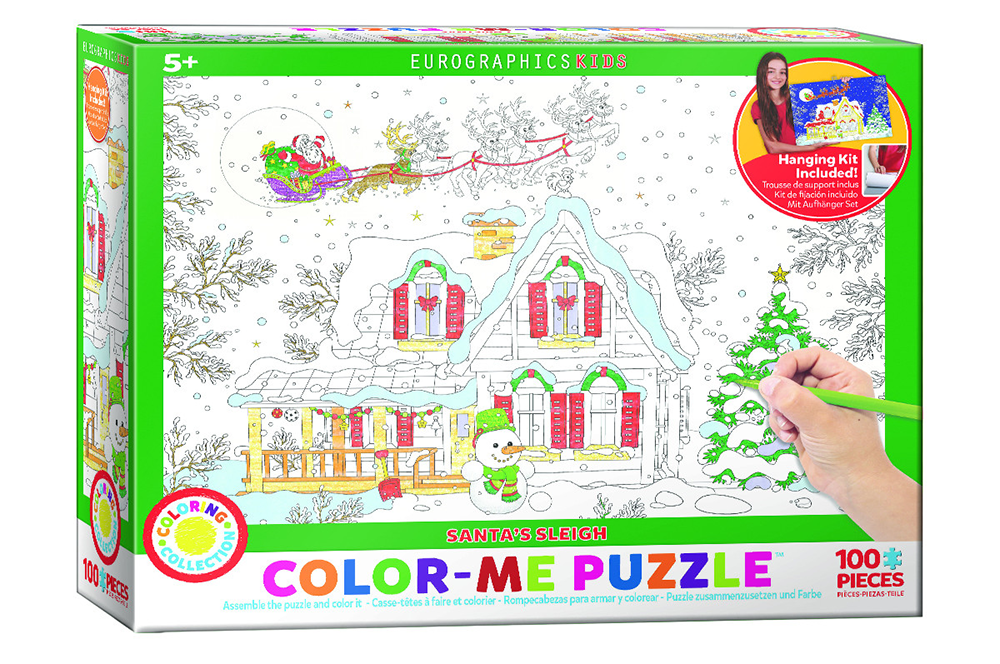 Santa's Sleigh Color-Me Puzzle from Eurographics
This puzzle is actually two activities in one. First, it's a 100-piece puzzle for kids 5+ that features a cute little house with a snowman out front and Santa flying through the night sky. Second, it's a coloring page, since you can color the black and white pieces once you've put them together. Once your littles are finished, the puzzle includes a hanging kit so they can proudly display their work throughout the holiday season and for years to come.
You can grab this one on Puzzle Warehouse's website for $13.99.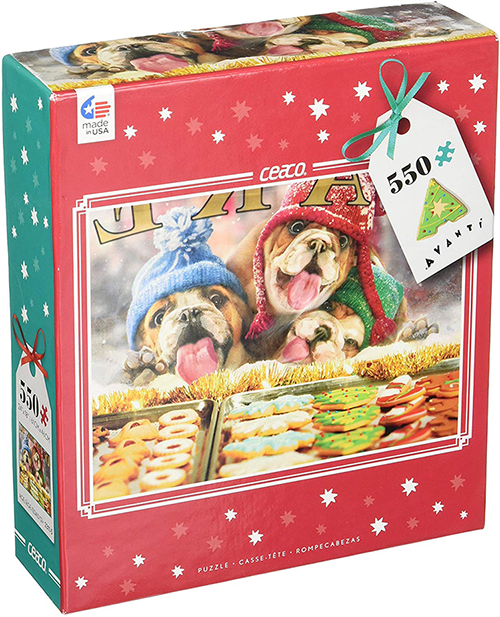 Holiday Window Shopping Puzzle from Ceaco
Ceaco's Holiday Window Shopping puzzle features three cute pups who are staring longingly through a bakery window at some yummy cookies on display. It has 550 pieces and measures 18" x 24" when it's fully assembled. Since that's a standard poster size, you could glue this one together and easily frame it to use as art, or take it apart and bring it back out each holiday season to put together year after year.
Amazon has this puzzle available for $14.93 (as of this writing).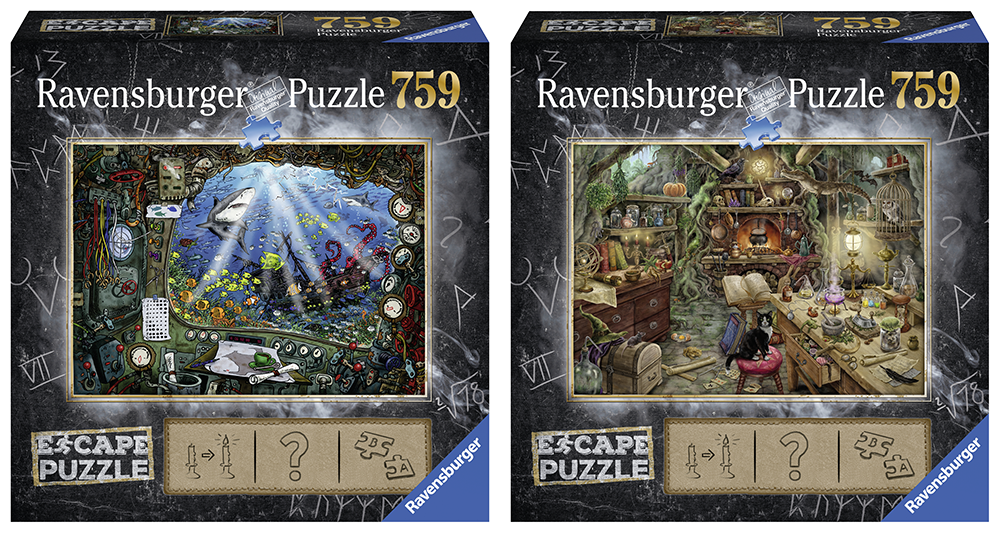 Escape Puzzles from Ravensburger
Combining the popular escape room trend with jigsaw puzzles, Ravensburger's Escape Puzzles challenge you to put together a scene representing the place where you're trapped and then solve riddles found in the puzzle's image to figure out how to escape. There are four puzzles to choose from, each with 759 pieces: Space Observatory, Witch's Kitchen, Submarine, and Vampire's Castle. They all have an age rating of 12+.
To add to the challenge, the puzzle image on each box doesn't exactly match the actual picture you'll put together. Once you're finished with the picture, you can visit Ravensburger's website for hints if you need help solving the puzzle's riddles.
You can pick up these four puzzles on Ravensburger's website for $19.99 each. To learn more about them, check out our previous coverage.
Mini Cereal Boxes from White Mountain Puzzles
Remember how we said there's a puzzle for every taste? Here's a great example of that. If someone you know is a cereal aficionado, they'll probably love this pack of puzzles that lets you put together six different cereal boxes: Cheerios, Cinnamon Toast Crunch, Lucky Charms, Trix, Cocoa Puffs, and Honey Nut Cheerios. Each puzzle has only 100 pieces, so even younger puzzlers should be able to handle them with ease, though White Mountain's website does point out that the pieces are a "little smaller than our usual piece size." Each puzzle is 7" x 9" when it's finished.
Here's an extra tip: You can easily give this six-pack as a single gift to a single person, but if you've got multiple kids to shop for, consider splitting them apart and giving one to each child. That's six stocking stuffers for the price of one, and you can't go wrong with that!
This pack of Mini Cereal Boxes is available on the White Mountain Puzzles website for $13.99.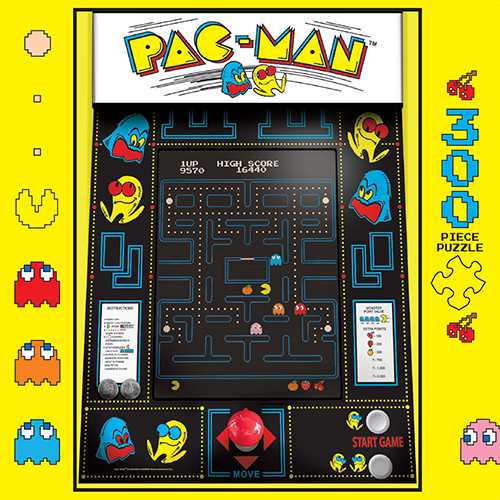 Retro Pac-Man Puzzle from Buffalo Games
This one combines two of our favorite things here at SuperParent: video games and puzzles! It's based on an old Pac-Man arcade cabinet, with the picture showing off the actual game screen as well as the controls at the bottom. While the image only has a few colors, plus a lot of black, it's easier to put together than you might expect since it only has 300 large pieces. The box also includes a poster you can reference, which may help more than the picture on the box. This one measures 15" x 21.25" when it's finished.
The Retro Pac-Man puzzle is available on Buffalo Games' website for $10.95.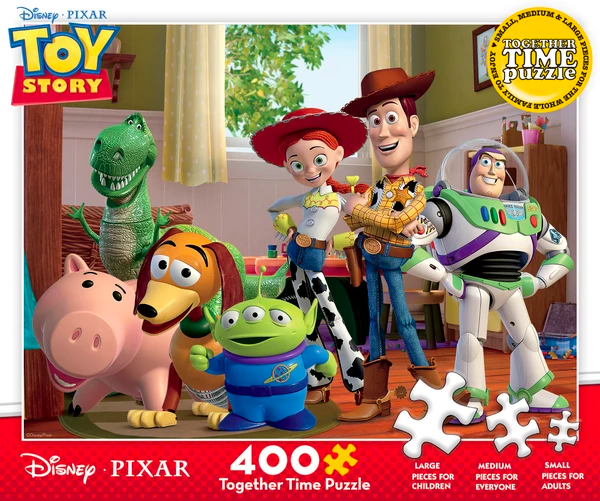 Disney/Pixar Toy Story Together Time Puzzle from Ceaco
Similar to Cobble Hill's Christmas Train puzzle above, this "Together Time" puzzle from Ceaco has pieces in three different sizes so everyone in the family can work on their own section. However, where Cobble Hill's Family Pieces puzzles have 350 pieces, Ceaco's Together Time puzzles have 400, so there's slightly more to do. This image features lots of familiar characters from the Toy Story films, including Woody, Buzz, Hamm, and even Rex! The puzzle measures 18" x 24" when it's finished. Again, that's a standard poster size, so you can frame this one and hang it up in a kid's room if they want to show off their work.
Ceaco sells this puzzle on its website for $11.99.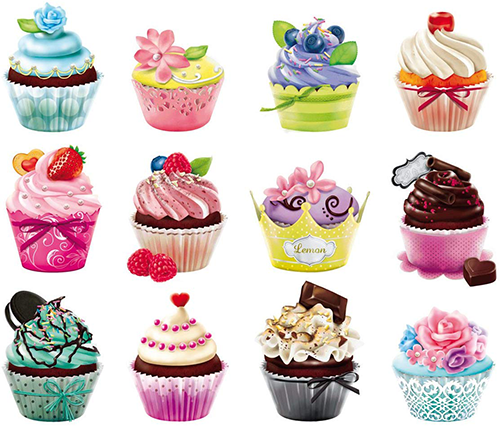 Multi-Shaped Cupcakes Puzzle from Cra-Z-Art / Lafayette Puzzle Factory
If you're looking for something that's different than a standard jigsaw puzzle, try this one. It includes 12 different puzzles to put together, with each one being a colorful cupcake. Instead of being squares or rectangles, the puzzles are actually shaped like each cupcake in the set. This one has a total piece count of 500 pieces, and all of them are mixed together in the box when you open it. This makes it more challenging, since you'll need to separate the pieces into the proper "piles" to put each cupcake together, but to help you out, the back of each piece is color-coded so you know where it goes (if you choose to use the help!).
You can find this Multi-Shaped Cupcakes Puzzle on Cra-Z-Art's website for $9.99.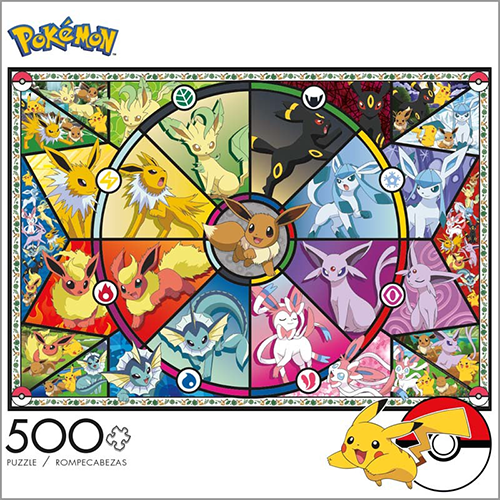 Pokemon Eevee Evolutions Puzzle from Buffalo Games
For the Pokemon fan in your life, this colorful 500-piece puzzle stars Eevee, along with its eight evolutions, in a stained glass pattern. Like the Pac-Man puzzle we featured above, this one comes with a poster to help you put the picture together (or you can just hang it on the wall – bonus!). This Eevee Evolutions puzzle measures 15" by 21.25" when it's finished.
Buffalo Games sells this Eevee Evolutions puzzle on its website for $10.95. Or, if you want something even more challenging, a 2,000 piece version with the same image is available for $19.95.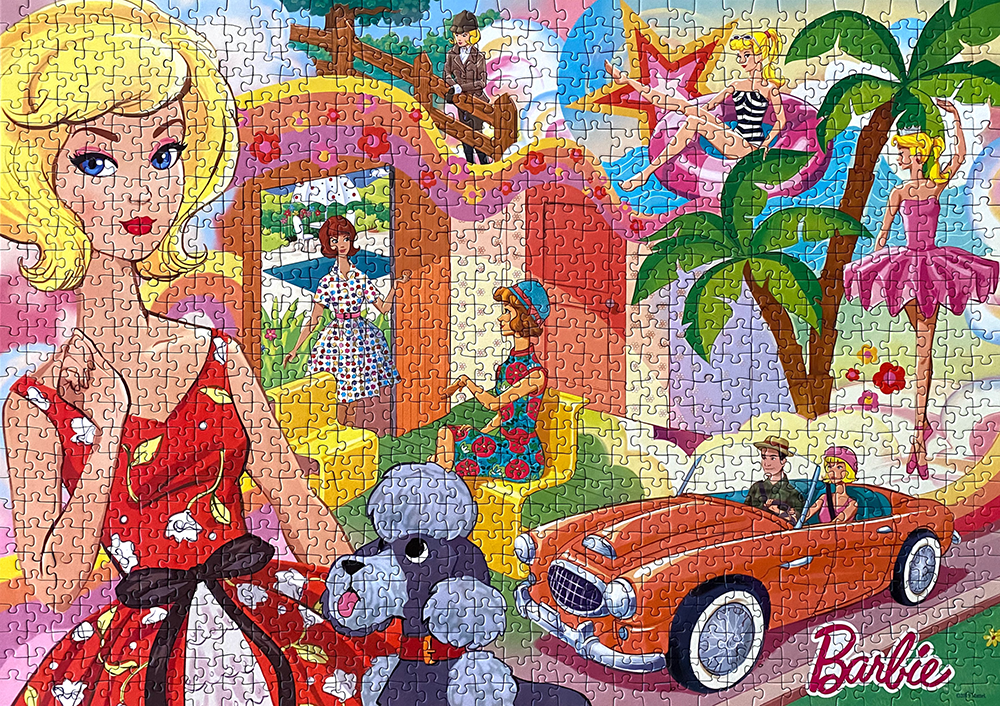 Vintage Barbie Puzzle from Ravensburger
This puzzle celebrates Barbie's 60th anniversary, and it features lots of different scenes from Barbie's life throughout the 20th century. It has 1,000 pieces and an age rating of 14+. Even though this is one of the most difficult puzzles we've featured on our list, Barbie is a brand that lots of us can relate to, so we love the idea of multiple generations coming to the table to work on this one together.
A quick heads-up, though: There is a slight issue with the picture on the box. One section of wallpaper appears green on the box, but is actually more of a cream color on the actual puzzle pieces. So long as you know that going in, though, it doesn't ruin the experience. It just adds a bit of extra challenge when you're working on that particular area.
The Vintage Barbie puzzle is available on Target's website for $21.00. You can also buy it at other stores, but not on Ravensburger's website.
Disclosure: SuperParent was sent the Christmas Train and Vintage Barbie puzzles, along with three of the four Escape Puzzles for coverage purposes. Our coverage remains objective.
Top image © Jukov studio / Adobe Stock