There are new ways to design your own courses in this sequel on Switch.
The original Super Mario Maker was released on Wii U back in 2015 and on 3DS in late 2016. It let players create their own Super Mario-style levels and share them with other players around the world, as well as play through levels created by others.
While Nintendo has re-released many of it Wii U titles on Switch in updated forms (see Captain Toad: Treasure Tracker and Donkey Kong Tropical Freeze, as examples), for the Super Mario Maker franchise, Switch players are getting a full sequel instead.
Super Mario Maker 2 has the same basic premise as the first game — players can create their own levels, share them, and play levels created by others — but it comes with a ton of cool updates that let players create levels in new ways.
When creating a level in Super Mario Maker 2, players will be able to choose from different game themes, which make their level look like it came from a particular game in the Mario franchise. For instance, players can choose from games like Super Mario Bros. 3 and Super Mario 3D World, with the latter being a new addition for this sequel that has its own unique elements to toy around with. Players can also choose a particular theme for their stage, like Desert or Snow.
From there, they can create the path other players will take through their level by placing each individual element, from blocks and power-ups to pipes, enemies, and other obstacles. For this sequel, players will have tons of new tools to use to design their stages. As examples, you will be able to create slopes for players to slide down, add the Angry Sun to a stage that will chase the player, customize the water level in a Forest stage, and much more.
Players will also be able to create levels with a friend in the same room, where both players have their own controller and can work on the stage at the same time.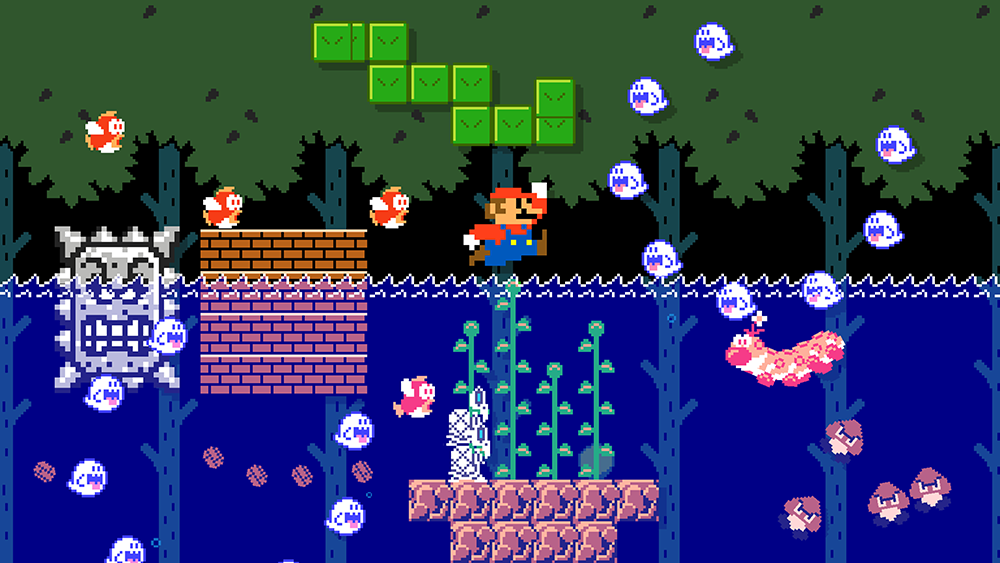 When players finish a stage they want to share with the world, they'll be able to share it to the game's Course World section. In the Course World area, players can browse levels created by other players and download any that they want to try. You can also compete with or against others in various multiplayer modes. Since this is an online feature, players will need to be Nintendo Switch Online subscribers to access Course World, but once they've downloaded a course, it can be played offline.
Finally, a new Story Mode will help players become familiar with some of the game's many design elements across 100 stages created by Nintendo itself. In Story Mode, players will be challenged to rebuild Princess Peach's castle by completing stages to collect coins to spend on the construction.
The original Super Mario Maker was tons of fun, and we expect the sequel will be as well. If you're looking for a game that can engage your children's creativity that's also great for adults, this will likely be a great place to start.
Super Mario Maker 2 will be released for $59.99 on June 28. The game is rated E for Everyone by the ESRB.