There are games based on Pac-Man, Frogger, and more.
In time for the holidays, toy and novelty company Super Impulse has released new Tiny Arcade and Micro Arcade machines that are the perfect (small) size to fit into anyone's stocking.
These Tiny Arcade machines are small (but totally functional) versions of some of the most popular arcade games from decades past, while the Micro Arcade machines are flat, electronic games that are the size of a credit card.
We had the chance to check out the Teenage Mutant Ninja Turtles, Ms. Pac-Man and Hello Kitty Pac-Man Tiny Arcade machines, as well as the Frogger Micro Arcade game.
Each of the Tiny Arcade machines measures between 3-4 inches tall and has a 1.5 inch color screen. This is really small (hence the name Tiny Arcade), but the games are still totally playable, since each machine has the necessary joystick and buttons on the front of the unit, as well as a speaker so you can hear the action as you play (you can also control the volume on each machine). Finally, each one has a light up banner at the top of the arcade cabinet, as well as a metal keychain attached to the back so you can easily hang them from a backpack or bag.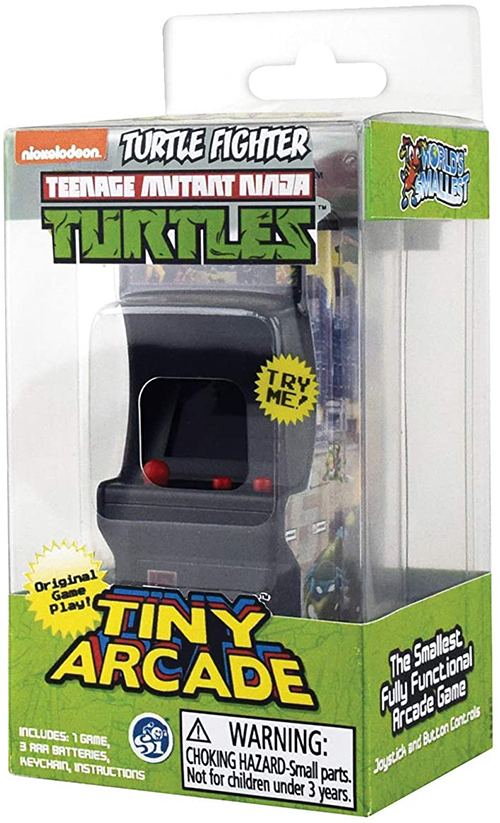 These Tiny Arcade machines come in mostly clear packages that can easily be stacked on top of one another if you want to display them on a shelf (they're very collectible). The packages also have cutouts in the front so you can check out a quick demo of each game without actually taking the machine out of the package.
Finally, these machines will automatically "go to sleep" after a short time of inactivity, so you don't have to worry about a little accidentally draining the games' batteries if they forget to turn them off (each one uses three AAA batteries).
In our experience, kids or those with smaller fingers may find the games easier to hold and play since they're so small, but these are still fun little games to enjoy in short play sessions either way.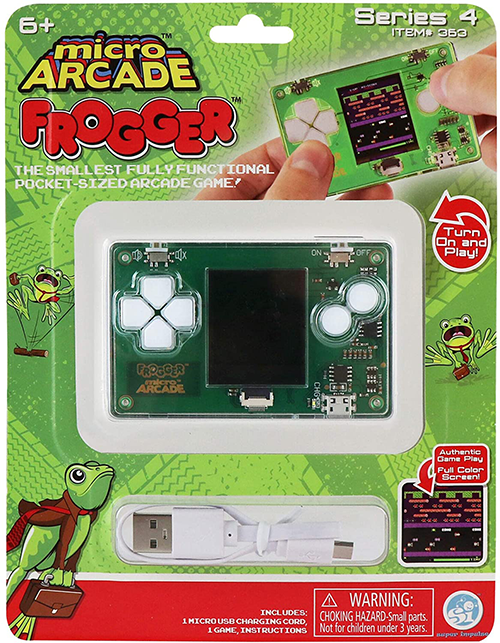 If you're looking for something a bit different (but also unique), Super Impulse's Micro Arcade machines come in the shape and size of a credit card. They also contain a single game, and they're easier to play since they have a horizontal design and larger buttons. Each Micro Arcade machine uses a rechargeable battery, and the package includes a cable you can use to charge it.
You can try each game without taking the machine out of the package (that is, until the battery needs to be recharged), but you will need to destroy the packaging if you want to actually hold these Micro Arcade machines in your hands. That means they're not designed to be displayed in a collection on a shelf. Even so, they can be easily stored away since they're so small.
Like the Tiny Arcade cabinets, Micro Arcade machines will automatically go to sleep after a few seconds of inactivity.
Each Tiny Arcade machine is priced at $19.99, while the Frogger Micro Arcade game is a bit more expensive at $24.99. They're all available to pick up on Amazon.
Disclosure: Super Impulse sent SuperParent these products for coverage purposes.