Everything you need to know!
Story of Seasons: Pioneers of Olive Town features a wide variety of machines (called "Makers"), which allow players to craft all sorts of items on their farm, from lumber and ingots to jewels, cloth, and beyond. While players can create lots of items on their own, they'll still need to head into town to create certain items, such as perfumes.
Here's everything you need to know about making perfume in Story of Seasons: Pioneers of Olive Town.
There are four different types of perfume available to create in Pioneers of Olive Town: Fruit Perfume, Floral Perfume, Bouquet Perfume, and Charming Perfume. The Fruit, Floral, and Bouquet Perfumes can be made using essences, while the Charming Perfume can be made by combining the other three perfumes.
Essences can be made in the Essence Maker on your farm using flowers, bouquets, and fruits. Check out our guide to learn everything you need to know about the Essence Maker and creating essences.
Once you have the required materials, head to the Flower Shop and tell Nguyen you want to "Make Perfume." Keep in mind the Flower Shop isn't open on Mondays.
Here are the recipes for the four different perfumes, so you can prepare.
Fruit Perfume – 3 Fruit Essences
Floral Perfume – 3 Floral Essences
Bouquet Perfume – 3 Bouquet Essences
Charming Perfume – 1 Fruit Perfume, 1 Floral Perfume, and 1 Bouquet Perfume
Each perfume also costs 1,000 gold to create.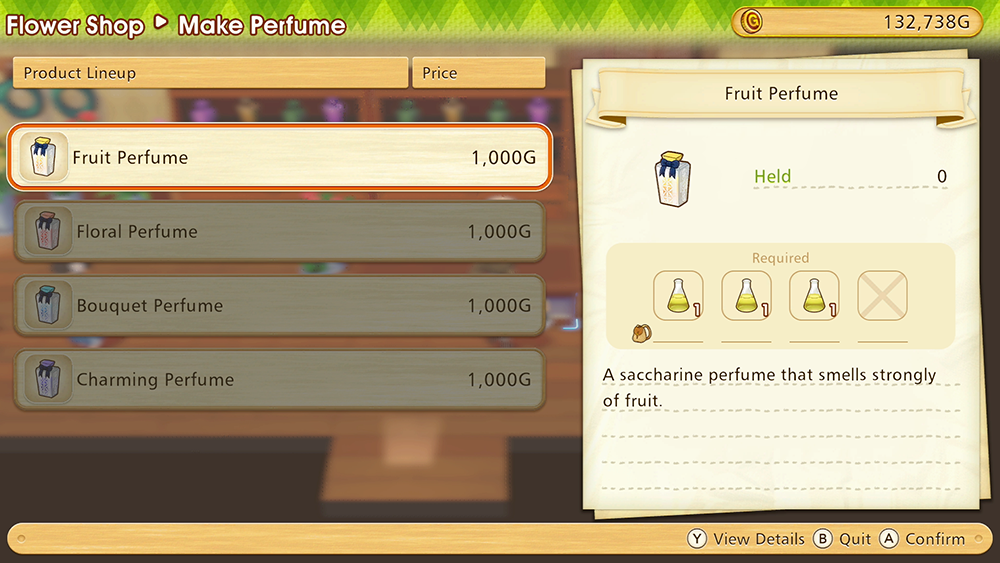 It may take you a while to craft all of the essences necessary to make your favorite perfume(s). That being the case, you may want to check out the ChargePlay Clutch from HyperX. It can extend your device's battery life so you can play Pioneers of Olive Town (and other Switch games) for a longer period of time before having to charge your Switch. Head over to HyperX's website to learn more about the ChargePlay Clutch and the company's other Switch accessories.
To learn more about Story of Seasons: Pioneers of Olive Town, check out our review, or take a look at some of our other guides for the game:
Disclosure: SuperParent received a code for Story of Seasons: Pioneers of Olive Town for coverage purposes. HyperX is a sponsor of SuperParent.