Look at the lovely flowers!
There are lots of different flowers available to grow and collect in Story of Seasons: Pioneers of Olive Town. While you can sell flowers on their own to make some quick gold, you can also use flowers in "machines" around your farm to create other items. For instance, you can place a flower in front of a beehive to create honey.
You also have the option to take the flowers you've collected to the Flower Shop in town, where they can be turned into bouquets.
When you want to create a bouquet, just visit the Flower Shop and tell Nguyen you want to "Make Bouquet." Keep in mind the Flower Shop isn't open on Mondays.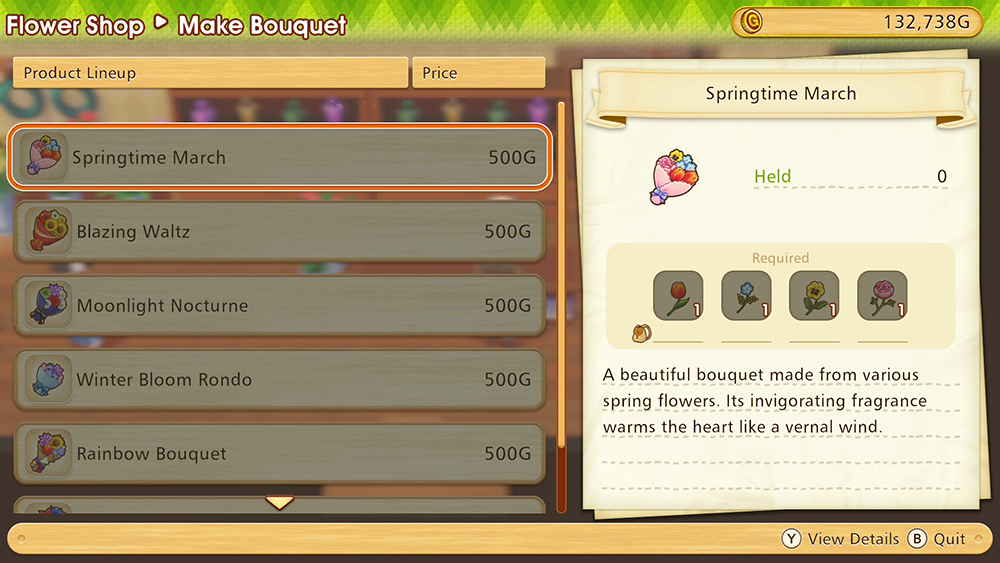 There are six different kinds of bouquets available to create. Here are their recipes:
Springtime March – 1 Tulip, 1 Nemophila, 1 Pansy, and 1 Buttercup
Blazing Waltz – 1 Hibiscus, 1 Petunia, 1 Marigold, and 1 Sunflower
Moonlight Nocturne – 1 Rose, 1 Mum, 1 Clematis, and 1 Daisy
Winter Bloom Rondo – 1 Cineraria, 1 Primrose, 1 Begonia, and 1 Campanula
Rainbow Bouquet – 1 Tulip, 1 Sunflower, 1 Clematis, and 1 Primrose
Earth Concerto – 3 Moondrop Flowers, 3 Pink Cat Flowers, 3 Magic Blue Flowers, and 3 Magic Red Flowers
Each bouquet also costs 500 gold to create.
Remember, if you ever want to create a Bouquet Perfume, you'll need to first create bouquets and then turn them into Bouquet Essences in the Essence Maker on your farm. Just keep in mind that the Earth Concerto bouquet can't be turned into Bouquet Essence. Check out our guides to learn everything you need to know about making essences and perfumes.
It may take you some time to collect all of the flowers you need for your favorite bouquets. That being the case, you may want to check out the ChargePlay Clutch from HyperX. It can extend your device's battery life so you can play Pioneers of Olive Town (and other Switch games) for a longer period of time before having to charge your Switch. Head over to HyperX's website to learn more about the ChargePlay Clutch and the company's other Switch accessories.
To learn more about Story of Seasons: Pioneers of Olive Town, check out our review, or take a look at some of our other guides for the game:
Disclosure: SuperParent received a code for Story of Seasons: Pioneers of Olive Town for coverage purposes. HyperX is a sponsor of SuperParent.