Take some of the work out of caring for your crops!
In Story of Seasons: Pioneers of Olive Town, players can grow crops, raise animals, go fishing, explore mines, tend beehives, and much more. While some of the game's features need to be unlocked over time, growing crops is available right away.
Crops need to be watered every in-game day. Depending on the number of crops you plant, watering all of your crops may take a long time, and this process may also drain quite a bit of your daily stamina. Thankfully, you can unlock sprinklers that can water your crops for you!
Once you've unlocked the Sprinkler crafting recipe, you can create a single Sprinkler using five Iron Ingots and three Silver Ingots.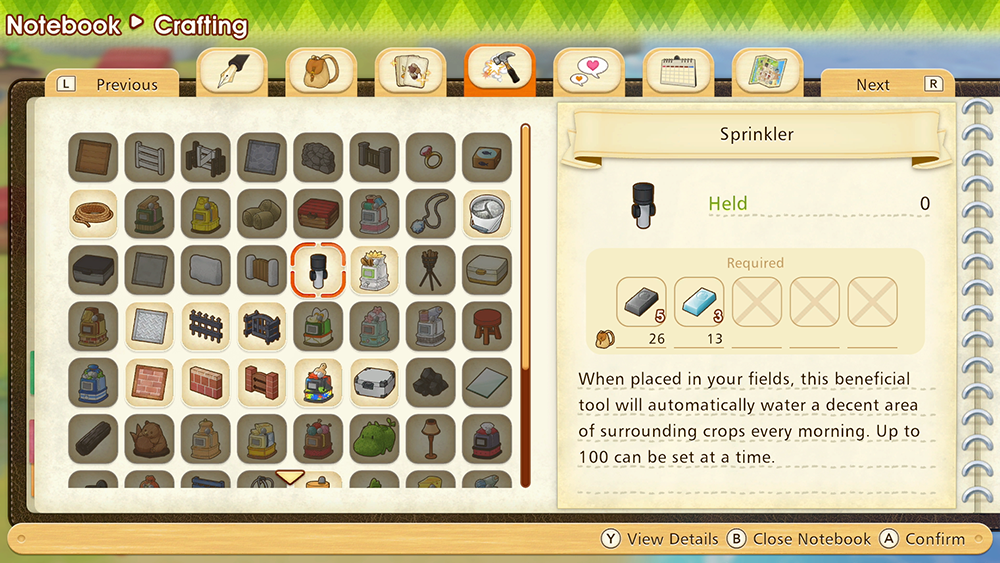 When you place a Sprinkler on the ground, it will automatically water the eight squares immediately surrounding it each morning. You can have up to 100 Sprinklers on your farm at the same time, allowing you to manage tons of crops with relatively little effort.
If you plan on planting dozens or even hundreds of crops, it may take you a while to create the number of Sprinklers you need to automatically water them all each day. That being the case, you may want to check out the ChargePlay Clutch from HyperX. It can extend your device's battery life so you can play Pioneers of Olive Town (and other Switch games) for a longer period of time before having to charge your Switch. Head over to HyperX's website to learn more about the ChargePlay Clutch and the company's other Switch accessories.
To learn more about Story of Seasons: Pioneers of Olive Town, check out our review, or take a look at some of our other guides for the game:
Disclosure: SuperParent received a code for Story of Seasons: Pioneers of Olive Town for coverage purposes. HyperX is a sponsor of SuperParent.