They may be helpful, but they can still get in the way!
When you first arrive on your grandfather's farm in Story of Seasons: Pioneers of Olive Town, you'll find it's covered in trees, plants, grasses, rocks, and more. Even after you clear some of these objects away to make room for crops, machines, and other structures, some of these objects will randomly appear each day around your farm.
Another obstacle you'll have to deal with are puddles, which will appear in random locations around your farm. And unlike trees, grasses, and rocks (which you can clear from the very beginning of the game), you won't be able to clear puddles until you unlock the right tool: a bucket.
You won't receive a bucket until Clemens arrives on your farm in a short cutscene. During this cutscene, he'll give you the bucket you need to clear puddles! For us, this cutscene occurred on the 7th day of Spring.
Once you have a bucket, clearing puddles is super simple: Just stand next to a puddle and press "Y" to scoop it up.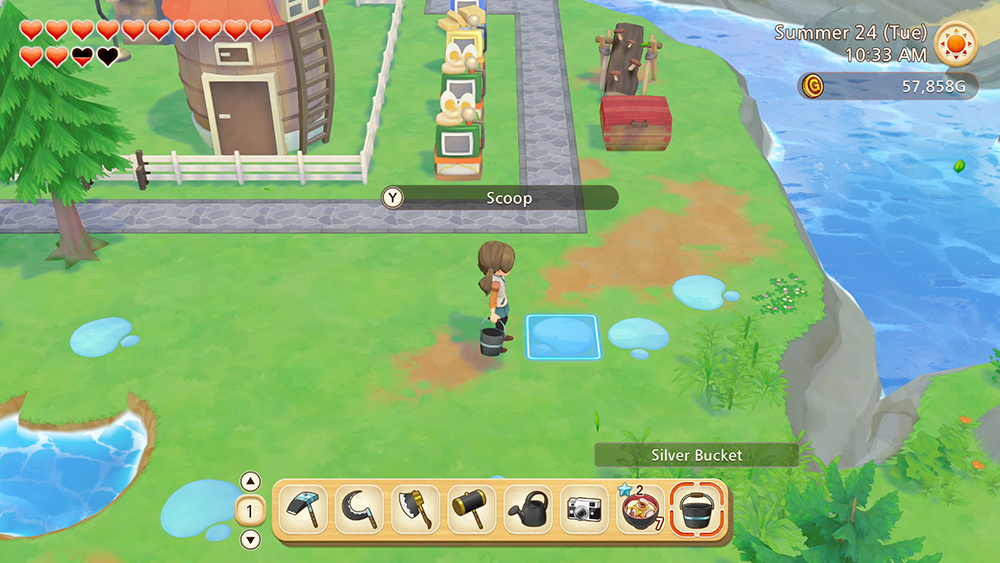 When you clear a puddle, you'll collect clay (a valuable resource that can be used in crafting recipes and machines), and you'll also have the chance to collect artifacts that you can donate to the game's museum (though this is fairly rare).
Finally, as you use the bucket to clear puddles and ponds around your farm, you'll raise your Draining skill level, which allows you to unlock certain permanent bonuses for your game.
If you rarely take the time to clear puddles from your land, it may take you a while to clear them all once you actually start. That being the case, you may want to check out the ChargePlay Clutch from HyperX. It can extend your device's battery life so you can play Pioneers of Olive Town (and other Switch games) for a longer period of time before having to charge your Switch. Head over to HyperX's website to learn more about the ChargePlay Clutch and the company's other Switch accessories.
To learn more about Story of Seasons: Pioneers of Olive Town, check out our review, or take a look at some of our other guides for the game:
Disclosure: SuperParent received a code for Story of Seasons: Pioneers of Olive Town for coverage purposes. HyperX is a sponsor of SuperParent.