Make room for more animals!
The Barn is one of a few buildings you can have on your farm in Story of Seasons: Pioneers of Olive Town. This structure can house a variety of different animals, like cows and alpacas.
Once you repair the dilapidated barn on your farm, you can adopt up to five barn animals. If you want to raise more than that, you'll need to purchase another Barn for your farm.
Nigel sells two kinds of Barns at the Carpenter's Workshop — regular Barns and Big Barns. Here's how to add a Big Barn to your farm!
When you want to purchase a Big Barn, go to the Carpenter's Workshop and tell Nigel you want to "develop farm facilities." (Keep in mind that the Carpenter's Workshop isn't open on Wednesdays.)
The Big Barn costs 10 Supple Lumber, 10 Gold Ingots, 50 Tough Grass, and 10,000 gold. To be especially clear, the Big Barn is an entirely new building for your farm. This isn't an expansion to your existing Barn.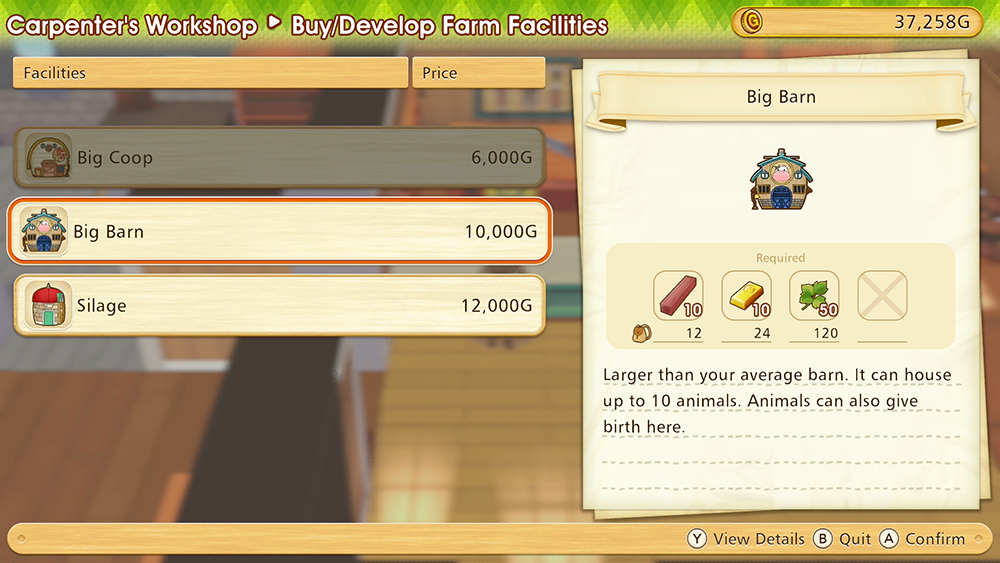 Once you purchase a Big Barn, the building will be added to your inventory, and you can place it wherever you'd like on your farm.
Each Big Barn can hold up to 10 barn animals and 20 Fodder at once. Animals can also give birth inside Big Barns.
If you ever want another Big Barn, you can head back to the Carpenter's Workshop with the necessary materials and purchase one from Nigel. You can have up to 10 total Barns (Barns and Big Barns combined) on your farm at the same time.
It may take you some time to collect the materials and gold required to purchase a Big Barn. That being the case, you may want to check out the ChargePlay Clutch from HyperX. It can extend your device's battery life so you can play Pioneers of Olive Town (and other Switch games) for a longer period of time before having to charge your Switch. Head over to HyperX's website to learn more about the ChargePlay Clutch and the company's other Switch accessories.
To learn more about Story of Seasons: Pioneers of Olive Town, check out our review, or take a look at some of our other guides for the game:
Disclosure: SuperParent received a code for Story of Seasons: Pioneers of Olive Town for coverage purposes. HyperX is a sponsor of SuperParent.