It's time to do some remodeling!
When you first arrive on your farm in Story of Seasons: Pioneers of Olive Town, you won't have a house to live in. Instead, you'll need to sleep in a tent. However, you can quickly upgrade that tent into a Log Cabin to unlock access to a kitchen, bathroom, and more.
Once you've upgraded from a tent to a Log Cabin, you can upgrade your house even more to access more space and more room for pets.
To upgrade your Log Cabin, head to the Carpenter's Workshop and tell Nigel you want to expand your house. Keep in mind that the Carpenter's Workshop is closed on Wednesdays.
Each expansion requires a variety of materials, as well as gold, to build. Here's the list of house expansions you can unlock over time.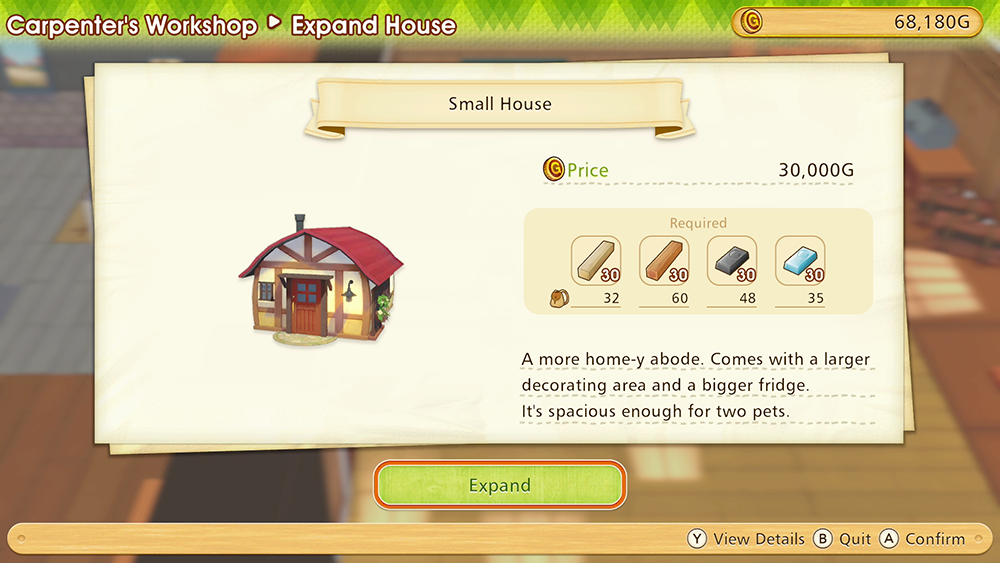 Small House – 30 Lumber, 30 Solid Lumber, 30 Iron Ingots, 30 Silver Ingots, and 30,000 gold
When compared to the Log Cabin, the Small House features a larger refrigerator and additional space for decorations. The Small House also has room for two pets, which you can purchase at the Animal Shop.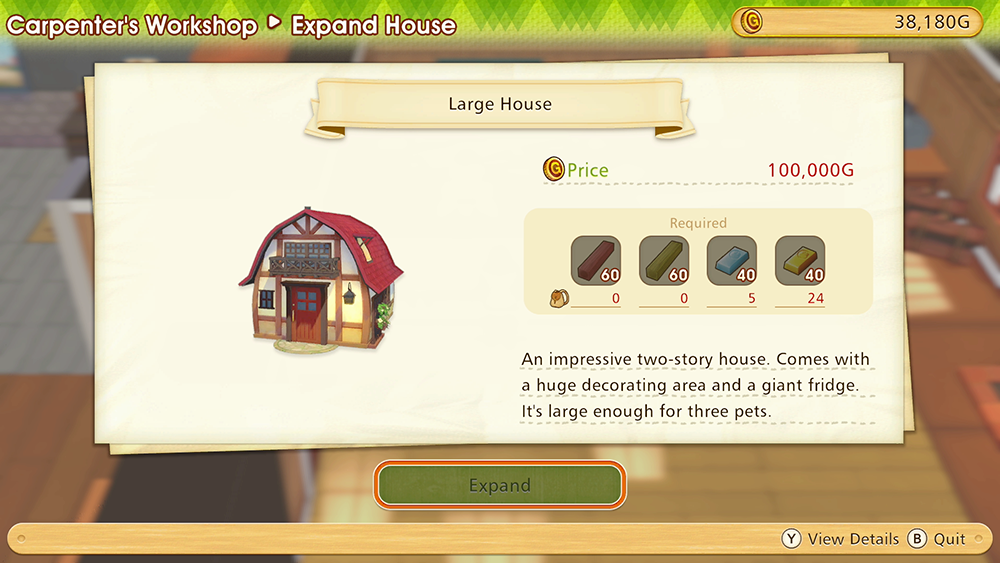 Large House – 60 Supple Lumber, 60 Durable Lumber, 40 Silver Ingots, 40 Gold Ingots, and 100,000 gold
The Large House has a second story, a larger refrigerator, and even more decorating space. Plus, it has enough space for you to own up to three pets.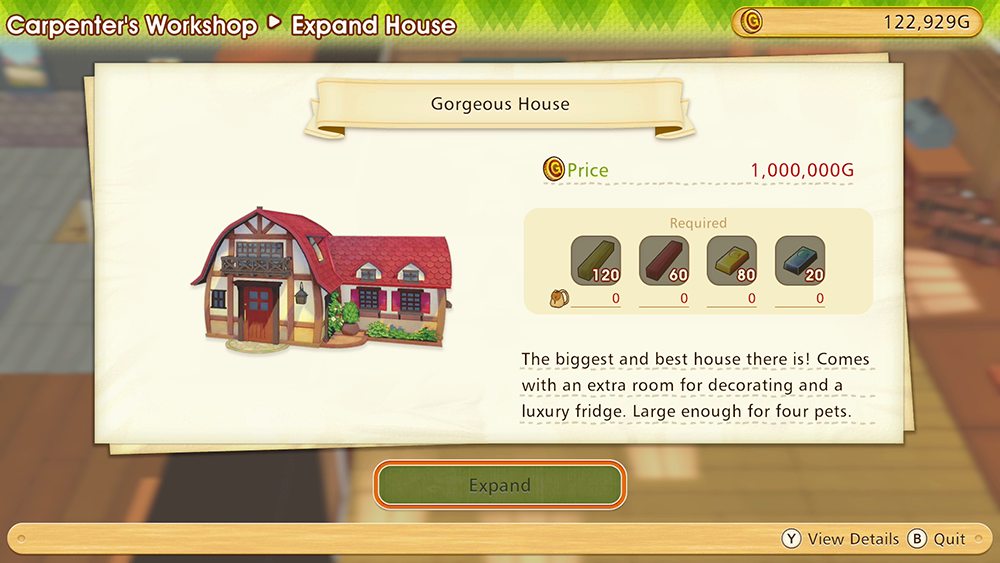 Gorgeous House – 120 Durable Lumber, 60 Mirage Lumber, 80 Gold Ingots, 20 Orichalcum Ingots, and 1 million gold
The Gorgeous House has a luxury refrigerator, as well as an extra room where you can place decorations. When you upgrade to the Gorgeous House, you'll be able to own up to four pets.
It will likely take you quite some time to completely upgrade your house in Pioneers of Olive Town. That being the case, you may want to check out the ChargePlay Clutch from HyperX. It can extend your device's battery life so you can play Pioneers of Olive Town (and other Switch games) for a longer period of time before having to charge your Switch. Head over to HyperX's website to learn more about the ChargePlay Clutch and the company's other Switch accessories.
To learn more about Story of Seasons: Pioneers of Olive Town, check out our review, or take a look at some of our other guides for the game:
Disclosure: SuperParent received a code for Story of Seasons: Pioneers of Olive Town for coverage purposes. HyperX is a sponsor of SuperParent.